It's no secret that blue is my favourite colour and that I love to decorate with it, especially in my own home. In this post I'm going to share with you some of the beautiful blue accents I've seen in some of my favorite show homes as well as share all of the bold blue spaces I've created in my home, too!
This isn't going to be a blog post about using rugs or pillows or easy swappable accents to add colour to your spaces. What I'm going to share are painted doors, cabinetry, millwork and more to inspire you to create bold spaces in your home.
Also, just because this post is all about blue doesn't mean you couldn't use your own favourite hue to bring a beautiful space to life!
A Feature Wall: The Easiest Accent!
I feel like paint is the quickest renovation and way to change a space, but it is also the least risky (because it's so easy to reverse!). If you're not sure about diving into decorating with a bold hue, then paint is for you! I love having a mostly neutral space with one big splash of colour.
I love this deep teal accent wall. It's fun and feels trendy, but is super easy to change as your style and tastes evolve. I mean, how hard is it to paint one wall?! Want to see a few more accent wall ideas? Scroll down to see what I've done in my home. (Credit: Calbridge Homes, Calgary)
Colourful Doors: An Unexpected Statement
I'm usually one for keeping doors and trim to a neutral shade because they can be a lot more labor-intensive to swap a colour on down the line (wall colours are much easier to change!) but I've seen a few homes that are making me change my mind!
I'd always been one for white, off white or just super neutral interior doors in a home until I saw these gorgeous light blue ones shown above! The house they're from is a gorgeous modern beach-chic custom home that features mostly neutral spaces (see more here). These pale blue doors just fit the otherwise white and white oak home so so well, I'm truly inspired. (Credit: Trickle Creek Homes)
A less-committal way to incorporate coloured doors in your space is to use colour on accent doors only, like this stunning set of barn doors. Barn doors themselves tend to be a bit of an accent piece, so why not add a pop of colour to them so they really stand out in a space?! (Credit: Calbridge Homes, Calgary)
Because barn doors seldom feature any trim or casing and are so easily removed, you can repaint them just like you would a feature wall. Changes to simple features like this can make a whole space feel new again with a can of paint, just like a feature wall will do.
Trending Hard: Colourful Kitchen Cabinetry
Colourful kitchen cabinetry isn't exactly a new trend but it hasn't been going anywhere either. My favourite is of course a navy blue island or rich hued base cabinetry like in this kitchen. (Credit: Trickle Creek Homes) Other shades that we're seeing are a return to darker stains as well as that gorgeous emerald green that seems to be popping up absolutely everywhere in decor trends. See more of this kitchen here.
Colourful Storage Spaces
It's no secret that storage spaces are some of my favorite spaces! There's something about rooms that offer a place for everything with everything in its place that just do it for me. That being said, just because a space is designated as storage doesn't mean it needs to be bland and boring.
A Bold Walk-In Closet
If you're going to paint everything out in one hue, then why not make it something fun? I love that this pale shade of blue acts like a neutral tone like an off-white would, rather than a statement making like a bold yellow or cerulean blue. (Credit: Trickle Creek Homes)
Statement Making Mud Rooms
A mud room is a space that you likely spend a lot of time in – and it's often the space that greets you when you come home. It's no secret that mud rooms are some of my absolute favorite spaces in homes, so you knew this post would not be complete without a number of great mud room spaces.
Yes, it's this beautiful shade of baby blue again! I love how these cabinets go from floor to ceiling to maximize as much storage space as possible. This light blue shade feels so cheerful, too. I can't get enough! (Credit: Trickle Creek Homes)
I love the simplicity of this mud room and how it is likely what most people have space for in their own homes. This walk-through space features a bench with storage below and plenty of hooks for grab and go. I love that the blue used adds a pop of colour but without being too much. (Credit: Trickle Creek Homes)
I absolutely love this mud room look in this modern farmhouse home. So often I find that people opt for all-white finishes in farmhouse style homes, but this pop of colour in the mud room changes all that! I find that using a colour like this is less risky in a closed space like a mud room, rather than an open concept kitchen.
I know this space leans more grey than blue, but the clean lines that this custom closed mud room storage offers made it impossible not to include. I realize that these tones pull more neutral than bold, but it also shows you that a deep moody hue can create a statement in a space, too. (Credit: Shane Homes, Calgary)
Bold Accent Cabinets
So often we opt for traditional wood finishes or lacquered white tones when it comes to built-in storage cabinets. Although neutrals are never a bad choice, why not take the opportunity to turn these storage spaces into statement makers?
Bold Built-Ins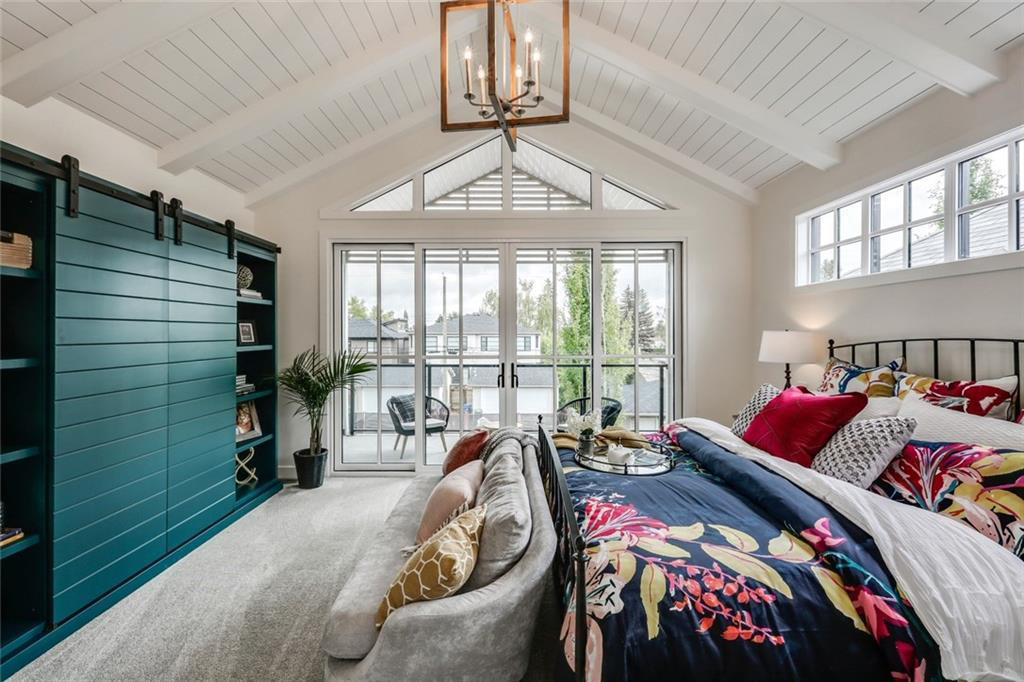 This bedroom storage cabinet offers open shelving to display personal items with barn doors to house the TV and other components that you might not always want on display. The bold shade of teal really pops in this neutral farmhouse space. The bold bedding plays well with the cabinet, but all of the other elements in the space are completely neutral which allow these things to shine. (Credit: Trickle Creek Homes)
Inspired Linen Storage
This linen cabinet is one of my favourite built-in cabinets ever. Rather than just having a standard interior door to close off a set of shelving to house linens and other household items, this builder decided to make a splash with the linen storage in an otherwise boring hallway. A little bit of custom cabinetry and a creative paint colour really make this something special. (Credit: Trickle Creek Homes)
Blue Spaces In My Home
I've added navy blue accent walls in a number of spaces in my home. I love navy because it's deep and moody while feeling chic, classic and timeless. Our style leans quite mid-century modern and I love how the navy pulls it a little more modern when required.
Master Bedroom Accent Wall
Our master bedroom is quite wide and we were tired of the space feeling like a flat open box, so we decided to add some dimension with this custom millwork. The DIY Board and Baton wall was really simple and inexpensive to do and kept the navy blue accent wall from feeling too flat and dark.
Powder Room
In our powder room, I decided to go with a semi-gloss paint rather than an eggshell finish just to reflect a little more light in the smaller space. We painted three of the four walls in this navy blue with a wallpaper accent wall to keep things bright. I love how it all came together and how the navy looks with the walnut vanity cabinet.
Home Office Accent Wall
This was actually our first accent wall in our home! I wanted to create a feminine space for my home office, but also wanted it to be a clean, classic statement as it is visible to the rest of the main floor of my home. The white bookshelves and other furnishings in front keep it from feeling too dark and the grey mid-century modern sofa contrast beautifully. Navy is such a classic neutral and I love how it works with whites, greys and blush tones.
Nursery Accent Wall
Our first baby's nursery features a navy blue accent wall in the same shade as our master bedroom. I love the deep, rich tones that this wall brings to the space.
Confession: I am feeling like just a plain painted accent wall is falling a little flat for me and plan to add custom board and baton millwork similar to what we did in our master bedroom. I think swapping out the adjacent grey walls for a blush pink will be really cute with the navy blue, too! Stay tuned!