I love cozy bedrooms and bathrooms (and of course dream-worthy closets!). In this post, I am going to share some of my favourite bed, bath and closet features from Trickle Creek Homes' Cassidy Home. I hope you love these inspiring photos as much as I do!
Main Floor Master Bedroom
This main floor master bedroom is accessed from a few different points, which is super convenient (we'll get to that later). Most importantly, it is tucked away from the main living spaces on the main floor, making it a quiet and peaceful retreat.
The bedroom is found down a long, spacious, light-filled hallway and looks out upon the large deck and backyard through pretty blue double doors.
I know this space looks quite cozy, and you might think it's just the staging, but it's not. There's something about the window placement, the paint colours, the ceilings and other details that really make it what it is.
I think what I love most about the master retreat is that it feels quiet and secluded from any chaos that might be found in the rest of a family home. The space not only offers what a bedroom should (a place to sleep) but has enough space for a quiet reading corner.
One side of the bedroom features access to the master closet. The home is staged with a large full-length mirror just outside that not only reflects all of the natural light in the space, but provides the perfect transition into the dressing area.

The Master Closet
Access to everything! The master bedroom features access to the walk-through main floor laundry space via the master closet. The laundry is also accessible from the home's mudroom. (see more on this here)
The large custom master bedroom walk-in-closet features the same pretty blue paint colour that you'll see in a few other spaces in this home. It's also the featured colour of many of the doors in the house.
This closet was designed with detail in mind from the custom paint colour to the ample shelves and drawers. I also love this built in dressing space where you can house accessories on shelves and drawers to perfect your look before heading out the door.
The Master Ensuite
This serene space transitions seamlessly from the master bedroom, making the entire space feel like a true master retreat.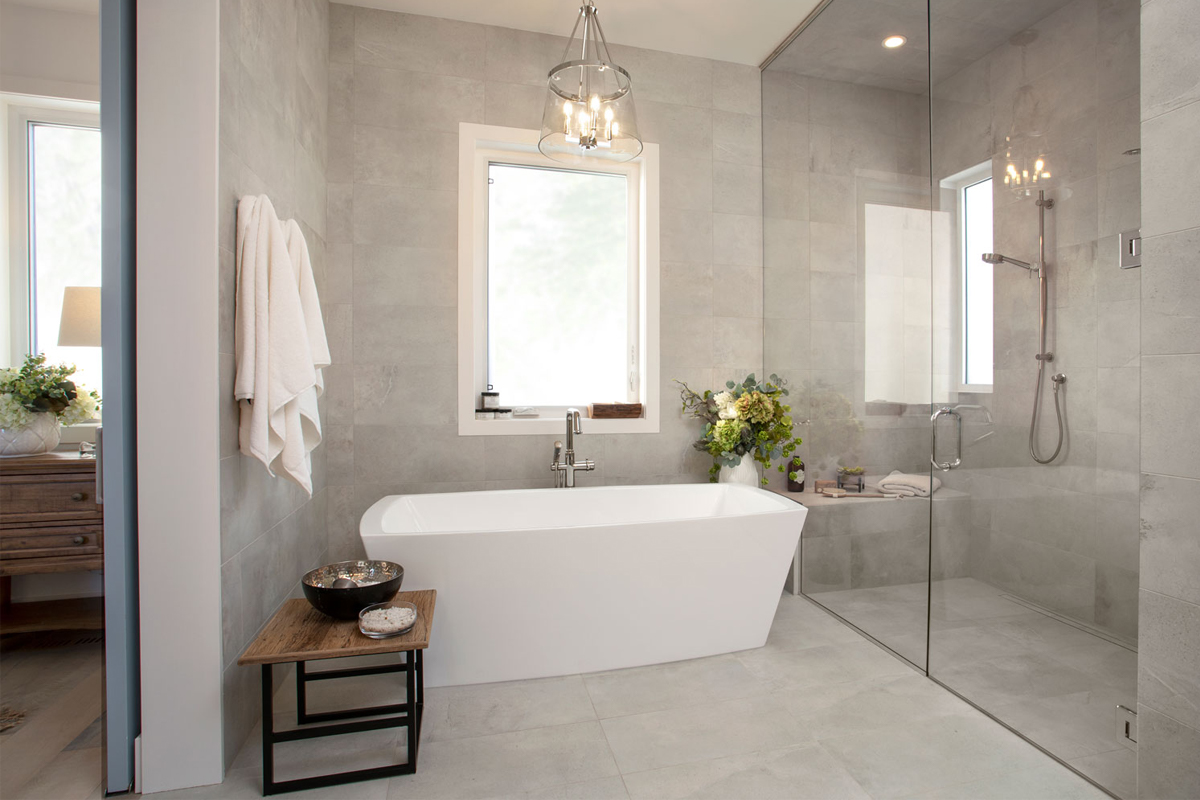 A spacious bathroom is a must-have in any home, especially for an ensuite. Trickle Creek really nailed this design, in my opinion. This bath features really high ceilings, a spacious spa shower, a large free-standing tub and double vanity.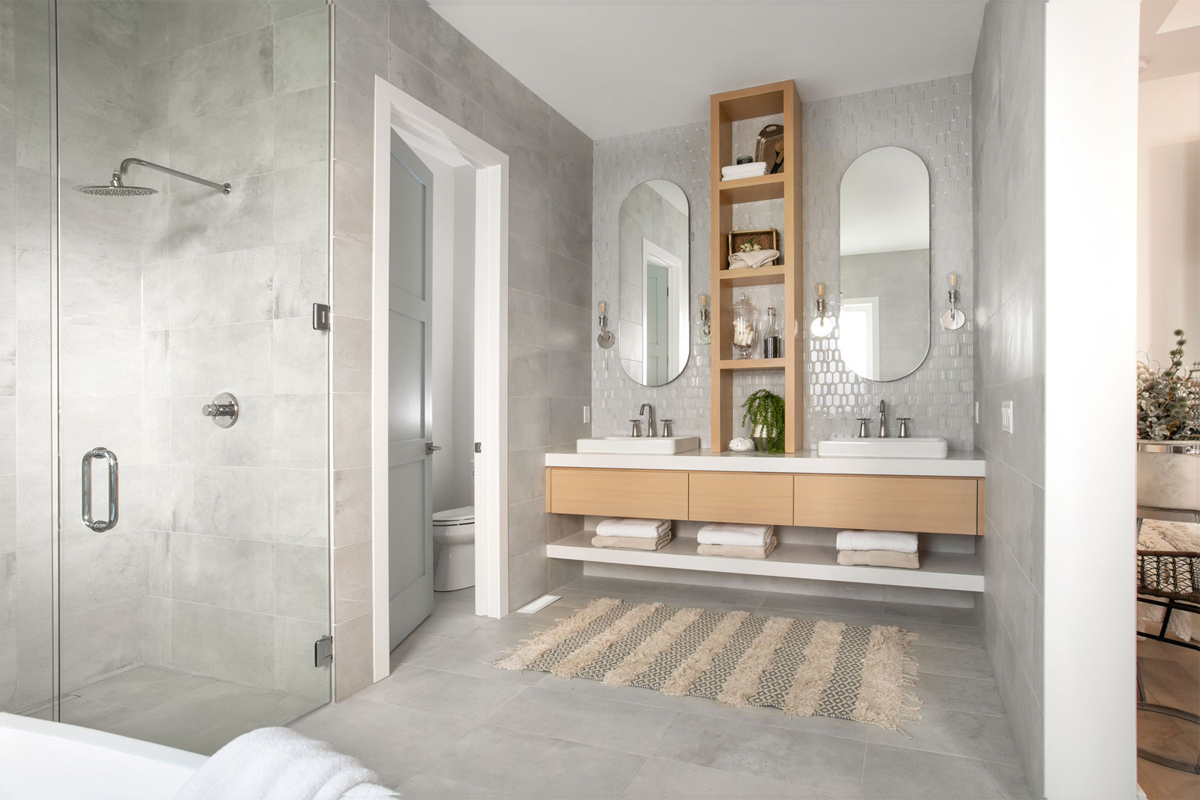 What's worth mentioning here is that although the bathroom is really well laid out and spa-like, the consideration of ample natural light and additional lighting options is also excellent. After all, don't we all need perfect lighting to do our makeup?
There is also ample storage for towels, toiletries and anything else you'd ever need right at your finger tips!
---
Let's Go Upstairs…
The upstairs of the Cassidy home features two bedrooms with an attached playroom and ensuite bath. It also features a stunning reading nook/bonus space that you can check out here.
This room features custom-built bunk beds that are both spacious and cozy. This is such a fun space for kids that will truly feel like their own.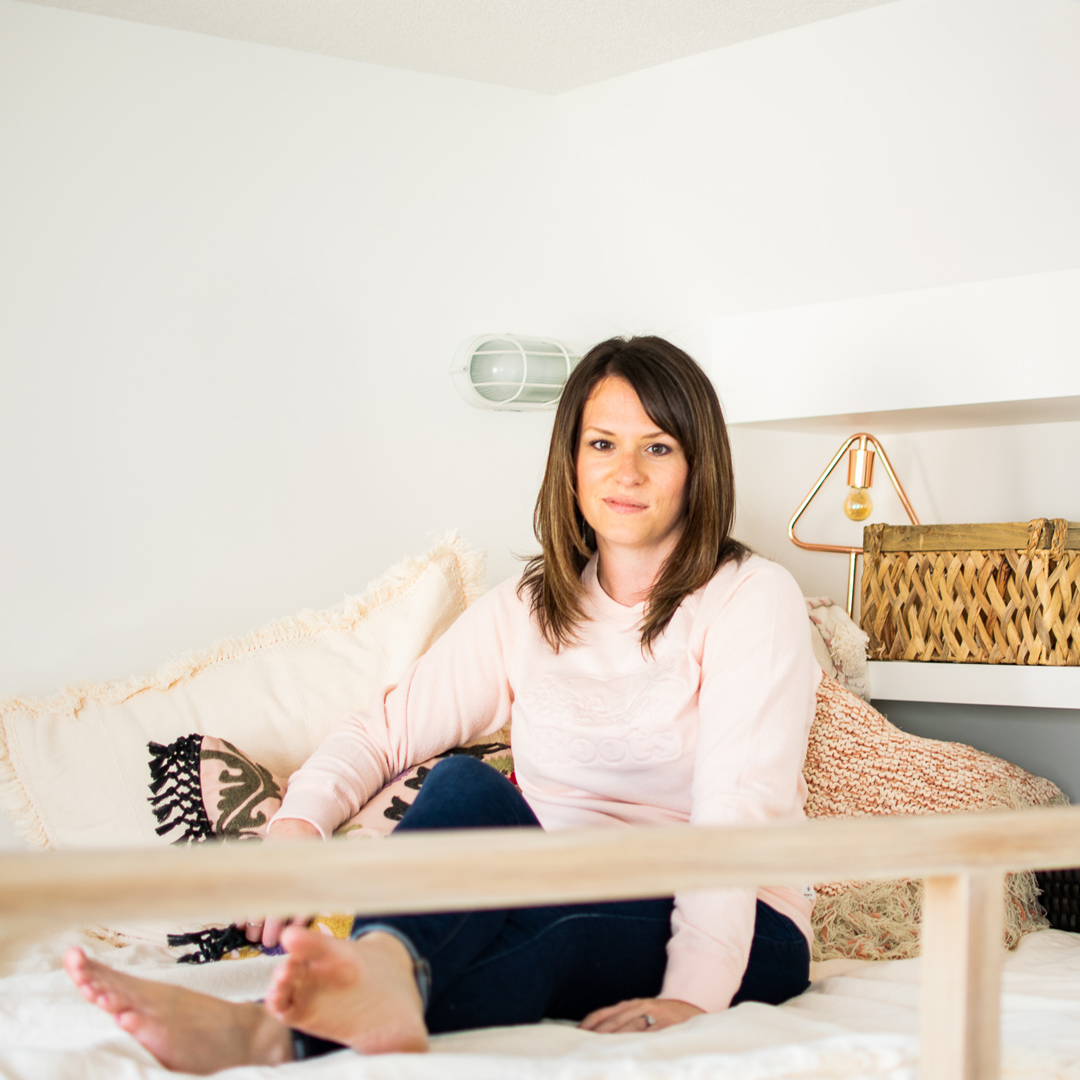 You can see by this photo that there is ample space on these bunks perfect for sleepovers or story time.
This little reading nook is a lovely addition to this space. It not provides a spot for a children's library but also allows for touches of whimsy and fun with accessories.
How much fun would it have been to have a playroom like this as a kid? I love how this space can grow with your family – easily converted from play room to homework space to teen hangout space…whatever you need it to be.
Comfy, cozy, relaxing…a room for every member of the family to unwind. This additional bedroom upstairs is a lovely size for kiddos or guests. Note that the basement also features two additional bedrooms, a full bath and a powder room for game-room guests!
---
Want to see more of this home? Check out these posts:
Kitchen-Living-Dining: Beach-Chic Open Concept Main Floor Living Spaces
Grand Spaces & Cozy Hideaways: Inspiring Custom Home Details & Extra Home Spaces
---
Photos curtesy of Trickle Creek Homes.
For daily home inspiration, follow them on Instagram @tricklecreekyyc.
Click here for information on building with them, available homes and contact.