It's no secret that I have this thing with floors. I even follow #IHaveThisThingWithFloors on Instagram! Since having our hardwood flooring done in our home by the experts at Alberta Hardwood Flooring, I feel like everywhere I go, I'm snapping photos of gorgeous flooring patterns and saving them to albums for future renovations (apologies to my husband in advance!).
When it comes to materials, I am very basic in my choices. I love something classic and timeless, but when I want to add a little interest, I always opt for a great pattern. It is important to consider that anything outside of the traditional straight flooring pattern will incur additional labor cost, but also remember that if you're only doing a pattern for high impact in a hallway, pantry or foyer, the incremental cost increase won't be as much as if it were for an entire home.
With all that being said, here are the flooring patterns that I am currently loving! I hope this post inspires your next flooring project!
Traditional Straight Hardwood Floors
I know that traditional straight hardwood flooring might seem basic and boring, but it is as classic as it gets. This pattern will stand the test of time. Need extra interest? Add a great area rug or hallway runner.
Straight Angled Hardwood Floors
I personally love this option because it's a way to add interest to a space without incurring too much additional labor cost. It's classic, and can help make a space look larger, too!
Chevron Hardwood Floors
This is one of my favorite patterns. I love chevron floors with hardwood, I love chevron floors with tile. I even love chevron tile on bathroom walls and fireplace backsplashes! I love that it can be used for high impact in a small space.
Herringbone Hardwood Floors
Just like its cousin, the chevron above, I love herringbone floors. I feel like this is one pattern that never goes out of style. You'll find it in estate homes and châteaus across Europe as it stands the test of time. I love it everywhere – from a hallway, pantry or foyer to a massive ballroom!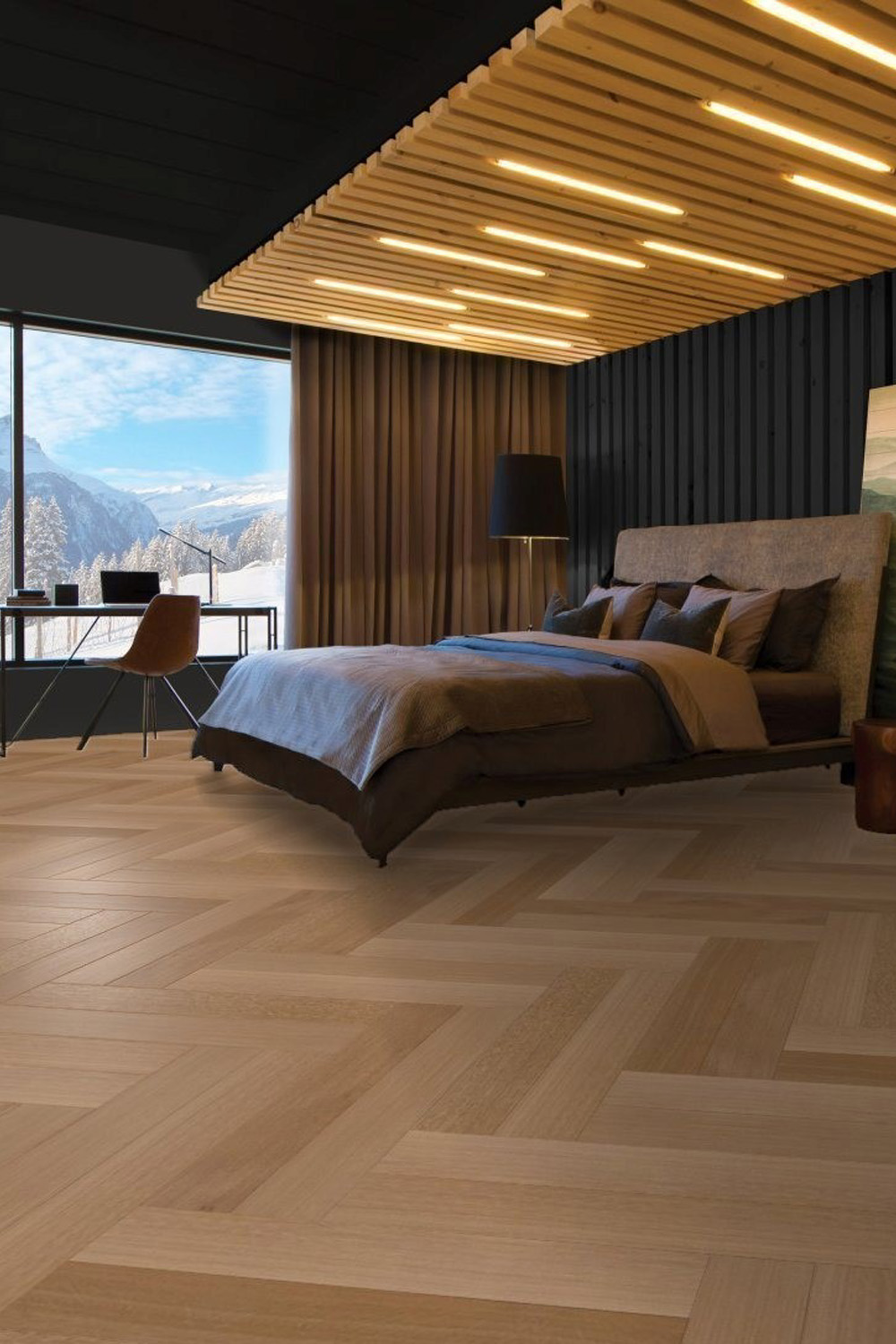 Modern Parquet Hardwood Floors
I love a modern take on an old classic! Old parquet hardwood floors make me think of mid-century homes, old dance floors and rec spaces in basements. I love that it is making a resurgence in a modern way.
Other Great Flooring Pattern Options
There are so many different flooring options out there that I couldn't capture them all in this post. The only limitations are that of your imagination (and maybe budget). I love doing different patterns in different spaces throughout a home and I hope you consider that for your next project!
I highly recommend working with a designer who specializes in flooring to help you make the right choices for your space and budget. Working with the team at Alberta Hardwood Flooring made this project in our own home so much easier than trying to navigate it all on our own.
A Pattern Guide: For Reference
Source Credit: Parquet Geometry