If you're looking for a great home builder in Calgary, then look no further than Trickle Creek Homes. Their latest build, The Maxwell, is incredible inside and out.
I was fortunate enough to do a photoshoot in their now for sale Show Home in Altadore. Want all the details and specifics on the home? Check out the full listing here.
Because this home is so large and features a long list of incredible features, I've broken it up into a series of three posts as to not overwhelm you!
In this post, I'll be sharing:
The details on the cozy Master Retreat!
The French Provencal-Style Ensuite
A sneak peak of the his and hers closets!
Additional Bedrooms + Ensuites
The Spacious 2nd Floor Laundry Room
A Basement fit to entertain guests young and old!
The incredible 3rd level bonus space!
P.S. Don't worry – all these images are pin-able! 
---
The Master Retreat
There are so many incredible features to this master retreat that I'm sure I'll miss something! It's something you'll have to see in person to get the full effect.
To start, the room features vaulted ceilings making it feel grand and airy.
Shop This Look: Camisole | Jeans
This spacious room has more than enough space for a king-sized bed! It also features a custom-made cabinet to house the television and offer up additional storage, if need be! (isn't this color great?!) I think I'd use this to keep my piles and piles of magazines…and maybe display a few family photos!
The master suite also features a private covered balcony. It's a great place to enjoy the morning sun or spend an afternoon curled up with a book listening to the rain!

His & Hers Closets
As you walk from the bedroom to the ensuite, you'll walk through a small hallway that has entrances to closets on both sides. This stunning his-and-hers closet is incredible. I cannot get over how much custom built storage is in these closets!
Shop This Look: Earrings | Camisole | Jeans
I think I would meditate in this closet…the organizational elements bring me to a place of zen!
French Provencal Ensuite
This 5-piece ensuite is what bathroom dreams are made of! The marble details are classic and beautiful.
This is a bathroom I could spend all day in. I don't know if it's the split vanities that offer endless storage, the makeup table or the architectural details of the vaulted ceilings!
Maybe it's the massive shower or all of the marble tile detail. Or perhaps it's the free-standing statement-making bathtub that makes you want to have a champagne bubble bath every night of the week!
I think this side of the bathroom (above) is definitely "his", wouldn't you say?!
Shop This Look: Dress | Earrings
This space makes me dream of organizing my makeup and displaying brushes in pretty jars! Imagine the possibilities!
Shop This Look: Dress | Earrings
---
Additional Upstairs Bedrooms
This second floor of the home boasts 2 additional bedrooms, each complete with walk-in closets and ensuites.
There's no fighting for space or privacy with your own bathroom. Plus, having a great sized walk-in-closet all to yourself means you don't need a ton of extra bedroom storage.
Something that I like about these bedrooms is that they are on the opposite side of the second floor from the master bedroom. They're also nice and close to the upstairs laundry room!
---
Laundry
Upstairs laundry rooms are becoming increasingly popular and I can understand why! The convenience of having them upstairs where most of the laundry is actually created is fantastic.
This home not only boasts a stylish room where you'd actually want to do laundry, the space also offers up a ton of extra storage (opposite the laundry machines) for linens, extra towels and bedding and so much more!
---
3rd Level Bonus Space
The third level bonus space might be one of my favorite spots in the entire home! The extra finishes and possibilities plus the spectacular roof top patio make this space a well-kept secret!
You could have your very own yoga studio up here or just a place to relax and meditate!
The room isn't overly large but offers enough space to stow away any items you might need for its activities.
Don't worry – there's even a two piece bathroom tucked away up there, too so you don't have to go downstairs if you need to go.
Shop This Look: Dress | Earrings | Wedges
Isn't it incredible how much light pours through these windows? And the ceiling vault over the stairs makes this feel like a secret hideaway!
---
Not Your Average Basement
Basements are interesting spaces. Sometimes they're an afterthought when building and designing a home, but not in this case. The designers at Trickle Creek were able to create an inviting space that provides a ton of function.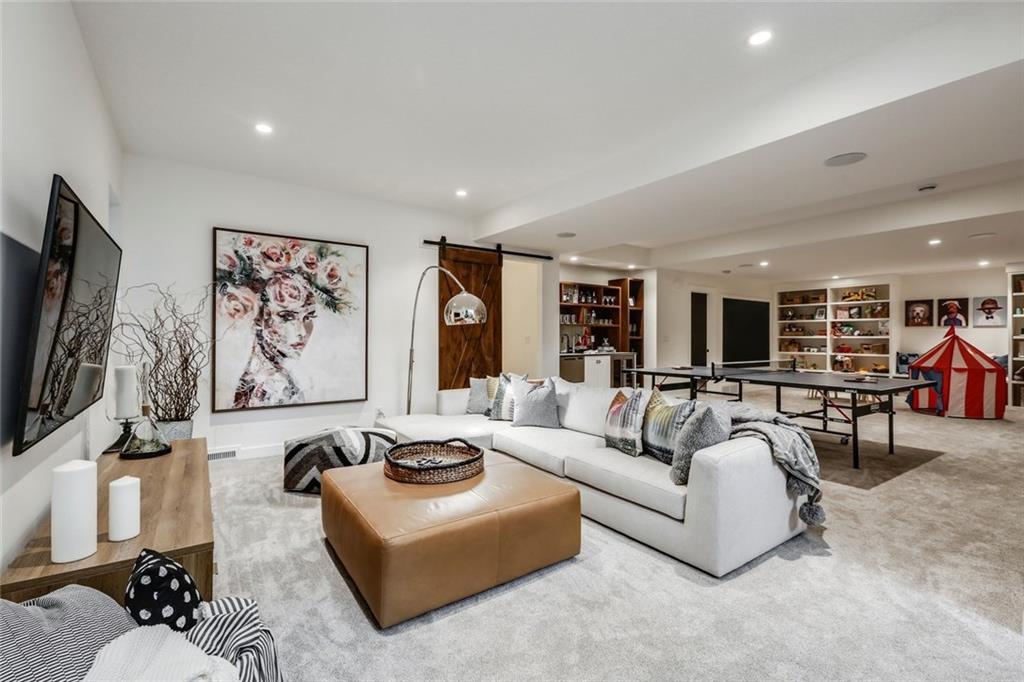 Just because this is traditionally a family space does not mean it has to lack style! Modern furnishings not only add to the grown-up feel of this area, but provide a touch of fun, too.
Shop This Look: Pink Jeans | Off-The-Shoulder Top
The open-concept rec room offers adults place to relax and watch television or read a good book along with a stunning bar with refrigerator and dishwasher.
It also offers a play area with tons of storage for toys and games for kids of all ages! Tucked just off of this area behind a set of glass doors is the home gym.
This basement features an additional (4th) bedroom and full 4-piece bathroom.
Last but not least in this area of the home is the theatre room! A perfect and cozy spot to curl up and watch a movie!
---
Final Thoughts
If you loved this post but you want to see more of this stunning home, then check out my other blog posts on The Maxwell:
This house is even better in person so make sure to check out the full listing for all the great details and for open house times!
---
Shop What I'm Wearing In This Post