As the 'Social Stylist' here at Vine Styles I get the pleasure of developing our tastings, and guilty as charged, sometimes they're skewed my personal preferences, like whiskey. My love affair with brown liquor began with bourbon. I'd been a long gin kick, but when an agent tasted me on a few bourbons, namely Four Roses Small Batch, I knew I'd found a new drink. Like wine, whiskies are so diverse, and I wanted to share that with our customers and get to know the nuances better myself.
We tasted 7 very different whiskies from 5 different countries, and here is the (long winded) low down…
Park Distillery, Unaged Glacier Rye (Canada)
If you haven't heard, there is now a distillery in Banff! Park distills with Six Glaciers water (high in minerality) and grains from family farms in the Alberta foothills, they hand-mill, hand-mash and hand-distill their products to preserve purity. Releasing an unaged spirit is a common move for young distilleries to generate capital while the others age. Bear in mind, the unaged spirit is very different from the final product! It pours crystal clear, and had you not known you were at a whiskey tasting, I doubt the average nose would guess it's a rye! The most obvious element on the nose (to me) was red licorice, but as you dig a little deeper you find citrus and floral notes. I definitely recommend giving this a try, or better yet, visit the distillery!
Glendalough, Double Barrel Whiskey (Ireland)
A main point of differentiation for Irish whiskey is that is must be triple distilled, this results in (generally) a lighter style spirit, but some more muscular expressions exist. When you think Irish whiskey, I'm sure you think Jameson or Teeling but the big boys are going to get a run for their money from Glendalough, Ireland's first craft distillery. This whiskey is aged for 3.5 years in first fill American oak and then finished for 6 months in Oloroso sherry casks – hence 'double barrel'. The American oak imparts toasty notes with chocolate and caramel, while the Oloroso finish gives the spirit a nutty (almond) and fruity quality with very pleasant softness. If you enjoy Writer's Tears, you'll enjoy this!
Templeton, "Small Batch" Rye Whisky (USA)
Al Capone's drink – legend has it that the "good stuff" even found its way into Alcatraz when Capone was arrested. The distillery recently ran into some legal trouble with their labelling and recipe, but this is a close to the original recipe as legally permissible (see the story here: Templeton Legal Struggles). Capone and legal struggles aside, this is a great whisky! The ryegrass used gives the whisky a distinct grassy nose as well as more bitter taste and oily mouthfeel. There is caramel, butterscotch and allspice with a pronounced orange rind note. Wonderfully balanced and the biggest surprise of the evening for me!
Nikka, From the Barrel (Japan)
I'm always surprised to hear that people don't have Japanese whisky on their radar, if you're not up to speed, here is a very short history of Japanese whisky: it made its debut in 1937 under the Suntory label, an importer (Shinjiro Torii) wanted to make whisky, he met the incomparable Masataka Taketsuru. Taketsuru studied chemistry in Scotland and developed an affinity for distillation, he worked at Hazelburn and Longmorn, and even married a Scot before returning to Japan! After working with Suntory he left and opened Nikka. Today, Nikka has a quite a reputation for world class whisky, some we can hardly keep in stock. From the Barrel is a blend of malt and grain that could silence any Single Malt purist. This whisky has character and depth, with notes of fresh cut flowers, oak and plum. The palate is full bodied with notes of winter spices, caramel and long warming finish – if you had a long day at work, you need a dram of this!
Talisker, Storm (Scotland)
Talisker is a distillery that needs no introduction. Storm was distilled to pay homage to the wild seas that characterize the Isle of Skye, and it does so impeccably! This single malt has no age statement but the quality of the spirit speaks for itself. The nose has an unmistakable brine backbone, complimented with smoke and white pepper. It has a wonderful mouth coating texture with campfire smoke, brine and red chilli on the finish. While this is likely the style I'm least likely to reach for at home, I was seriously impressed by the balance and finesse on the palate. If you can imagine the taste of standing on the rugged coastline during a storm, this is it!
Tullibardine, 225 Sauternes Finish (Scotland)
Much like wine, whiskies from one country can be wildly diverse, and leave it to the Scots to have perfected stylistic differences. Tullibardine has excelled at finishing their Single Malt, Tullibardine Sovereign in various casks, each showing unique and expressive character. The 225 is finished in Chateau Suduiraut Sauternes casks. If you're not sure, Sauternes is a lusciously sweet white wine produced in Bordeaux with notes of honey, peach and apricot. The Scotch aged in these barrels takes on those same notes of honey, tropical fruits and orange peel. This is an excellent Scotch to pour for someone just getting into brown liquor, for bourbon lovers and enthusiasts alike!
Cabot Trail, Maple Whiskey (Canada)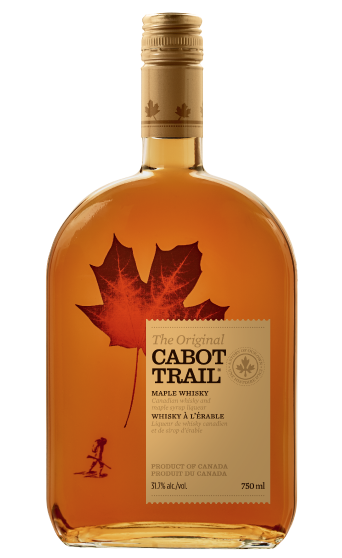 Before you stop reading because we included a flavoured whiskey, trust me when I say, this one is different! Cabot Trail is a mix of whiskey and pure, premium maple syrup, that's it, that's all. The maple trees are even on the company property, Domaine Pinnacle, so all production processes are closely monitored. On the nose, it may smell a touch cloying, the maple shines through but upon first sip you'll see that the alcohol balances the sweetness and you're left with a creamy whiskey, rich with baking spices and of course – maple!
To my delight, each of the whiskies were a favourite for at least one guest at the tasting. We're looking forward to our next whiskey tasting and when we announce it, I suggest you move quickly to get a ticket as our last event did sell out!
Article originally posted on VineStyles.ca.