The fall breeze is in the air, cooler temps are on their way and adorable outfits are everywhere. There's something about fall that makes us dive into fashion like no other season! I seldom keep up with my manis over the summer because I feel like they don't last through my gardening endeavours or trips to the lake so when Labour Day has passed, I'm back at the nail salon! Here are some of my favorite fall nail trends this year!
The Fall White Manicure
I love white nails for summer. I love how they play off my tan from the days I sent on the beach! Just because the leaves are falling doesn't mean you have to give up this summer fave for your fingers!
I love this photo of the white mani, too, because it shows how well it goes with long sleeves, sweaters and layered basics.
Glossy Black Nails
I love short black nails. There is something so cute about the glossy black digits in time for Halloween. They can be a combo of classy and spooky without having to feel "themed" or like a "fall-only" colour. Here are some of my faves:
I also love that 'black goes with everything'. From cozy plaids to cocktail dresses, this is one of my seasonal go-tos from Labour Day to New Year's Eve!
Black & Tortoise Shell Mixed Mani
I love this combination so much because all black on a longer mani feels a little much to me, and a full set of ten fingers all in tortoise shell would be too much as well. This combo is the perfect mix!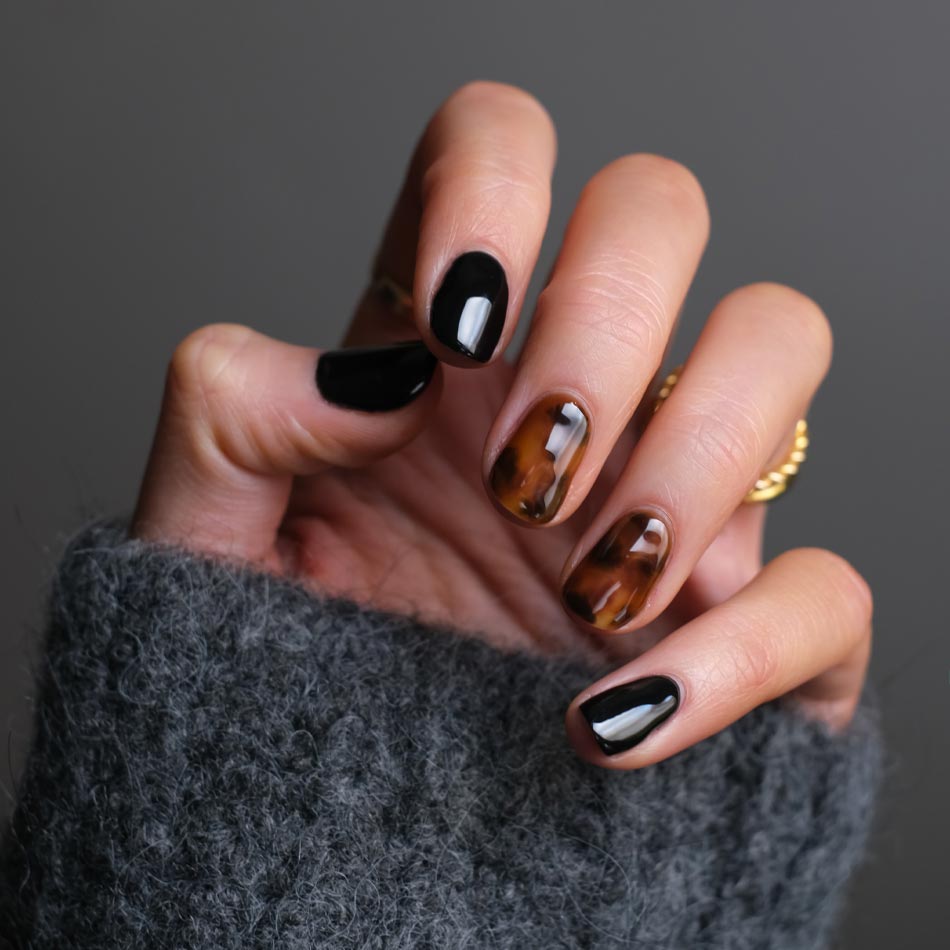 I love black leather handbags and tortoise shell sunglasses because they never go out of style. This mani is adorable with a Moto jacket, too!
Subtle Halloween Patterned Nails
I'm never one to paint my finger nails to look like pumpkins or anything that is too cutesy, but this little combo feels like it pulls in some Halloween whimsy while still being on-trend before and after October 31st.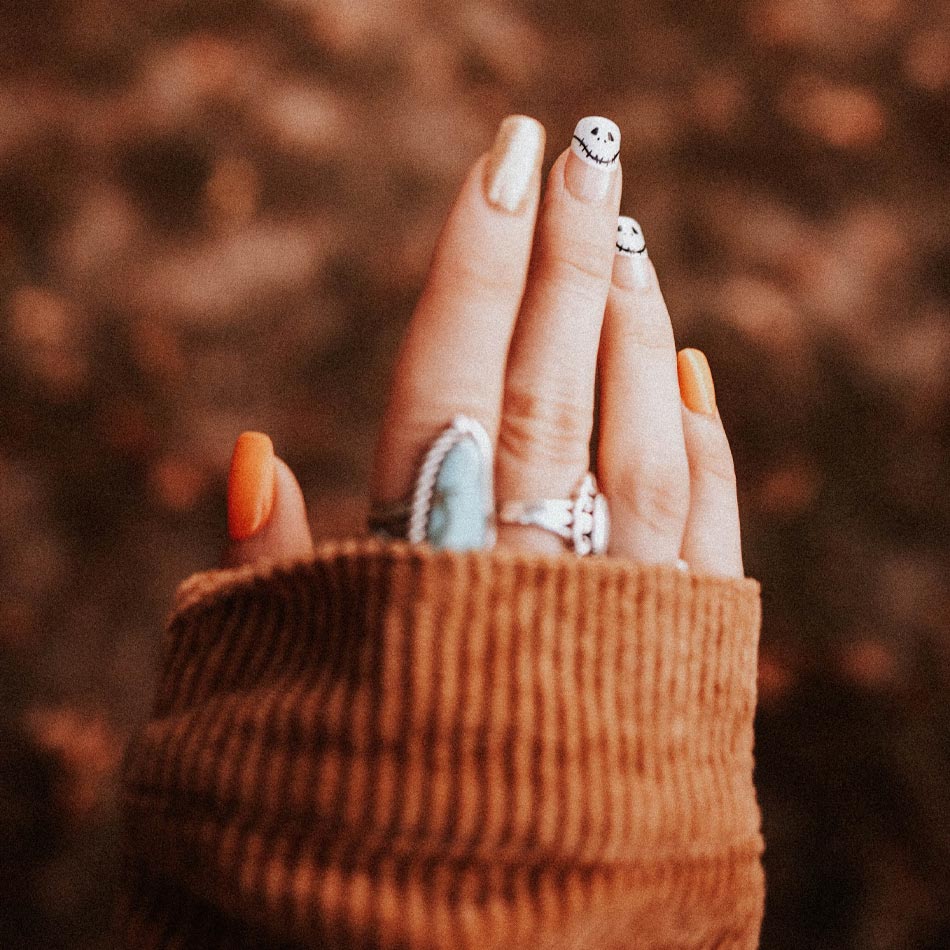 I love that the details are subtle, the tones are neutral but still in a fall palette and that the mani design features clean lines.
Candy Apple Red Nails
Red nails aren't a go-to for me except for fall and holiday manicures. One of my favourite things about fall are all of the plaid scarves and tartan skirts and these glossy red nails play perfectly off of those!
This photo honestly has me longing for glossy red Hunter rain boots to pair with this plaid blanket scarf!
Neutral Nails With Some Bling
A neutral manicure is my usual go-to all year round, but it can start to feel a little boring when you're always going nude. These glittery combinations are some of my favorite for sweater weather!
I love that this mani features one glitter accent digit and some small sparkle on the others. It's like a nude mani with a pop of fun. It's not too flashy while still being really fun.
I love adding a pop of sparkle whenever possible in a mani. I love glittery nails but I also love nude nails, so this is the perfect compromise. It's a lovely combination of business and party!
Pretty Posh Pastels
Pastel manicures are usually associated with spring nail trends, but I'm loving them for fall this year. Pastels can act like a nude polish, they can pop against a summer tan like a white mani, but they are a fun way to add colour.
I love how pastel nails go with jeans, chunky knit sweaters and all the fall fabrics. Don't be afraid to experiment with what might be meant for another season!