We recently took a last-minute, last-chance baby-moon weekend away to Emerald Lake Lodge in Yoho National Park. Emerald Lake is located just inside British Columbia near the Alberta border.
There are few places in the Canadian Rocky Mountains as magical as Emerald Lake. Its stunning green waters surrounded by snow-covered mountain peaks and dense forest make it a bucket list destination for many.
Being located in Calgary we are fortunate enough to be only 220km away from this beautiful destination making it the perfect weekend destination. We've popped out there for the occasional day trip in the past, but this time decided to stay for the entire weekend for some much needed rest and relaxation before the arrival of our first child.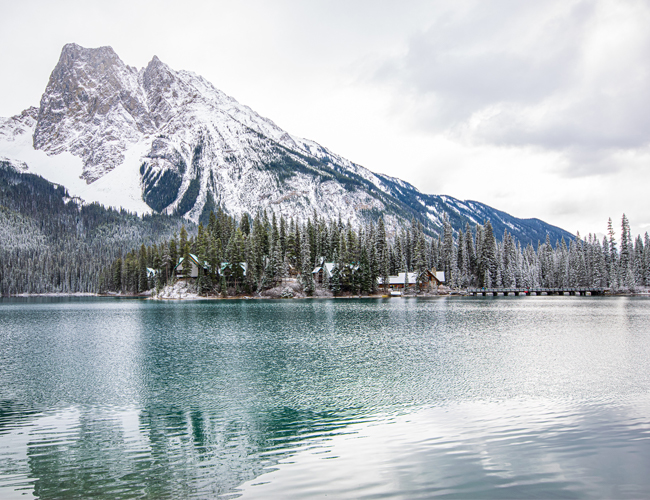 Spending a weekend in nature and breathing in the fresh mountain air just does something for the soul. Being able to connect with nature and each other is something that not all mountain destinations are able to provide which is why we try to return to Emerald Lake as often as we can.
Emerald Lake Lodge
Emerald Lake Lodge is one of the most stunning properties to stay at in the Canadian Rocky Mountains. I've recommended it to more people than I can count as the perfect quiet getaway and a way to experience what I think is the real essence of Canada.
Accommodations
Rather than being one large building along the lake, Emerald Lake Lodge features a large main lodge and then several small sets of cabins. Some are multi-bedroom, some are semi-detached, all are wonderful. The rooms feature views of the lake and mountains (depending on location) and feature private balconies where you can sit and immerse yourself in the stillness of nature.
No matter which accommodation style you choose, you'll have your own wood-burning fireplace complete with unlimited supply of lumber and fire-starting materials. This might be one of my favorite features of the Canadian Rocky Mountain Resorts! (P.S. S'mores kits are available for purchase at the front desk!). In-room coffee and tea also make for a lovely treat for enjoying by the fire!
Something that is important for me when I travel is pet-friendly accommodations and Emerald Lake Lodge is a great place to get away with your furry friend! Hattie was so excited to enter our cabin and discover that a memory foam dog bed and a set of dishes was already set up for her!
Emerald Lake Lodge features quite a few lovely amenities that are worth mentioning! The main lodge is where you'll find the bar, dining room and lounge. There's a games room and plenty of wood-burning fireplaces surrounded by comfy sofas and wingback chairs where guests can curl up with a good book or a glass of wine.
Outdoor Hot Tub & Fire Pit
What would a mountain getaway be without a 4-season outdoor hot tub from which to enjoy the scenery? For me there is something magical about relaxing your muscles in the warm water while gazing at the lake and snowy covered mountains through frost-touched trees.
A soak in the hot tub is a must-do after a long hike, snowshoe or day of skiing. The lodge hot tub area is complete with change rooms (+ towels!), shower facilities and a small fitness centre as well. (don't worry, I only relaxed my feet in the hot tub while pregnant!)
There's also a fire pit area where guests can sit around the outdoor fire, making s'mores and recalling the memories of the day. This area also features beautiful lake and mountain views.
Where to Eat
The food at Emerald Lake Lodge is nothing short of outstanding. Believe me when I tell you that you will not go hungry here! There are a few spots to eat in the main lodge as well as a snack bar near the bridge by the creek. The main lodge is where you'll find the bar, lounge and dining room.
The main dining room features a daily breakfast and weekend brunch buffet complete with selections for every dietary need and preference. I've seldom found a breakfast buffet that featured such a large variety of items! I found that there was no need to eat lunch (except for maybe a small snack) because I was so full from the wonderful breakfast.
For dinner, there are a couple of options at the lodge! You can choose to dine in the main dining room or for a more relaxed setting, you are welcome to dine in the bar or lounge areas where the same menu is available. The dinner menu features locally-inspired dishes, much of the ingredients sourced locally. I highly recommend an appetizer, dinner and dessert as there are so many amazing dishes to choose from you will want to experience as many of them as you can!
Let's talk about the food for a minute. I cannot recall a weekend away where I enjoyed the food so much as I did at Emerald Lake Lodge. I highly recommend their stay and dine packages that include both your accommodations and meals for the full experience.
Things to Do
One of the most amazing things about Emerald Lake Lodge is that it forces you to unplug. The cabins and rooms don't have televisions or wifi (or cell service) providing a much needed and welcome digital-detox. If you do need to check your messages or be in touch with loved ones, there is free wifi in the main lodge.
I think my favorite thing to do at Emerald Lake is the simplest – I love walking around the lake (about 5.5km). This walking trail is flat in most areas and then about 1/3 is a more complex nature trail so there is something for everyone. I love how the views and scenery change from season to season on this walk.
Because this is a year-round destination each season offers something different. We visited in the late fall so we were able to take in the beautiful fall foliage along with some of the first frosts and snowfalls in the mountains. I love these locations in the shoulder seasons, too – there seem to be fewer tourists and there is a particular stillness in the mountains that you just can't beat.
If you're looking for a more active weekend away, I suggest the following:
In the winter, try snowshoeing or cross-country skiing or even an easy winter hike.
In the summer, I suggest more intense hiking, a trip to view the nearby Takakkaw Falls and Natural Bridge. I also suggest renting a canoe or kayak and paddling across the lake for a truly Canadiana experience.
What to Pack
What I love about the Canadian Rockies is that really anything goes when it comes to what to wear. You can of course get dressed up for dinner and be as fancy as you like, or you can wear your hiking clothes and multi-layered outfits in and around the lodge.
What you'll see is a lot of jeans, leggings, wool socks, sweaters, layers and vests, scarves, boots and sneakers and toques. I always pack a pair of comfy pjs or lounge clothes to wear in front of the in-room fireplace! I also suggest a swimsuit and a pair of flip flops for the hot tub.
I do have a few suggestions of seasonal specifics to pack, though! Layers are always a must for mountain travel as well as the appropriate clothing for whatever outdoor activities you have planned. Appropriate and comfortable walking shoes or boots (depending on the season) are also a must. In the summer, I suggest packing sunscreen (it gets hot and sunny despite being in the mountains!), bug spray and even bear spray or a bear banger.

Tips For Visiting Emerald Lake Lodge
Like any destination, Emerald Lake Lodge has a few quirks that are good to know about before visiting. Here are a few tips for making your stay as seamless as possible!
National Park: Emerald Lake Lodge is located in Yoho National Park which means you'll need a National Park Pass displayed in your vehicle window for parking. Passes are available at the Park Gates.
Park & Shuttle: There is no parking in front of the individual cabins/rooms. Guest parking is in a separate and fully secure lot that is located slightly off-site from the lodge. Park your vehicle here and the shuttle will pick you and your luggage up and take you to the main lodge for check in and return you to the lot whenever you require!
Everything You Need is On-Site: Everything you need is on-site and within walking distance. It only takes a minute or two to get from your room to the lake, the hot tub, fitness facility or to the main lodge!
Meals: There is no need to make a reservation for breakfast or for dining in the lounge, however, if you do plan on eating in the main dining room, I recommend making a reservation with the front desk staff as space does fill up quickly.
Ask The Staff: Looking for a hiking recommendation or for things to do in the area? Don't be shy about asking the staff. They are all knowledgable and happy to help!
---
Reservations & More Info