I am one of those people that enjoys camping in the summer months, especially in the Canadian Rockies. What I don't always love is the amount of set-up and tear down that camping can require. I always feel like by the time we get the tent set up and navigate the pegs and the rain fly and setting up an air mattress whose amount of air will fluctuate with temperature changes overnight no matter how fancy it is, that I'm tired and don't always enjoy the experience as much as I should.
Then I discovered Sundance Lodges. Sundance Lodges offers traditional tenting and trailer sites, but they also offer Trapper Tents and TeePees to rent. It's important to note that the Trapper Tents and TeePees don't offer your traditional 'glamping' experience – they are far more rustic than that, but still well worth it in and glam enough for this girl!
Our Trapper Tent Experience
This summer we took a trip out to Kananaskis Country (a mere hour from home) and set up camp at one of Sundance Lodges' Trapper Tent sites. Here is a little about my experience and why I'm definitely going back!
What you'll find at your site: A trapper tent set up on a wooden platform that features a covered front deck with picnic table (so you can still eat outdoors in the rain!). You'll also have a fairly sizeable campsite complete with fire pit (with cooking grill). Inside the tent you'll find a modular sleeping system – beds that can be set up as two king sized beds or 1 king sized bed + 2 twin beds or 4 twin beds, depending on your sleeping arrangements. The tents themselves have windows that can be zipped open and closed, a kerosene heater for cooler nights and a central hook for hanging your lantern to light the space.
Each site is nestled nicely in the woods, surrounded by tall trees and walking paths that take you down to the nearby river. You can explore the area or sit quietly by the fire listening to the wind in the trees, enjoying the peace and serenity of the nature around you.

Why I Loved the Trapper Tent Set-Up
As I mentioned above, half the battle for me is the set up and tear down of the actual camp site. I loved being able to show up with my own bedding to make the beds, toss a duffel bag of clothing inside, set up a couple of chairs around the fire and relax. I also liked the comfort and additional warmth of being up off the ground. No need to search for a flat spot to set up a tent or worry about stepping on rocks through the tent floor!
Keep in mind that we are semi-frequent campers and so we've got the rest of our gear down to a science. We pack a propane camping/tailgate BBQ and a 2-burner propane stove (+ propane cylinders) plus 2 plastic bins that house all of our other necessities (cookware, melamine dishes, paper towel, lanterns, bbq utensils, tablecloths, wash basin, roasting sticks, etc.). We also bring comfortable chairs, a rug for the front of our tent for Hattie to relax and play on and a hatchet/axe for fire wood. Don't forget the cooler of drinks and food!
Pets are more than welcome but must be tied/on-leash at all times, which I think is a fair requirement at any campsite, especially in bear country. Hattie enjoyed herself very much and loved being able to relax on the covered deck instead of having to find a spot to sit in the dirt.

All The Facilities
Here is where Sundance Lodges are a little bit glam: They offer laundry facilities, showers and bathrooms with flush toilets and running water. There are still non-flush bathroom facilities on the property, but for those of us who require certain comforts, they've got you covered.
Forgot something? The Trading Post (main office) houses a small shop with snacks, local souvenirs and other necessities such as ice, propane cylinders, batteries, firewood, matches and fire starters and other essentials you'll need to make the most of your camping adventure.
Easy For Young Families
As I am currently expecting my first child, I couldn't help but consider how much easier a set up like renting a Trapper Tent would be for camping with a little one. There is ample space inside the tent for a travel crib or play yard and one of the twin beds could easily be used as a changing station. Hot running water at the shower facilities means you don't have to boil the kettle for bath time either.
A Great Intro To Camping
Not everyone grew up camping like my husband and I did, so venturing into the unknown of sleeping in the outdoors can be a bit daunting for some. Renting accommodations that are easier than traditional camping but still have you sleeping in a tent in the woods is a great way to get into it without all the hassle and set up.

Outdoorsy?
Check Out Kananaskis Country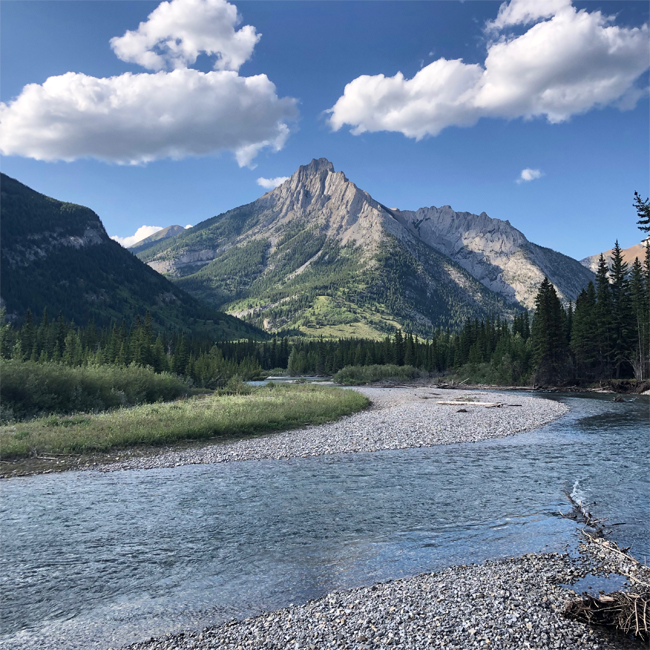 Kananaskis Country offers so much great hiking, fishing, paddling and other wonderful outdoor activities that Sundance Lodges serve as a great home base for a week or weekend of outdoor wilderness fun. Full of lakes, streams, creeks and ponds, trails and back country areas, K-Country is a favorite of mine because it's not as busy with tourists as other nearby mountain retreats such as Canmore, Banff or the National Parks. It's less than an hour from the Calgary city limits and is where the locals come to play.