When we set out to renovate our kitchen, there were some definite must-haves on my wish list. I wanted an upgrade and a facelift but not entirely a full-scale renovation. Our current kitchen was DARK. Dark cabinets. Dark counters. Dark floors. Glass tile backsplash that just felt bleh. I wanted a change and I had a very specific vision in my head.
I didn't want to change our cabinetry, nor did I want to paint the solid oak doors white; I felt like they were just too gorgeous and that I could make them really pop with the right surroundings. Not to mention I had Ron Swanson in my head telling me I needed to respect the wood…
I'm going to take you through the before and after photos of everything we did in our kitchen and why we made these changes.
My New Kitchen Wishlist
#1: New Countertops
With everything in our kitchen being SO dark, I knew that just brightening it up with new countertops would make a huge impact. I was also tired of how streaky our black granite countertops were; I had to dry them after each time I wiped them or they looked terrible.
For our new countertops I went with this Calcutta Gold quartz (Silestone by Cosentino) and I could not be happier. It was installed by The Granite Brothers and they did a marvellous job!
#2: A Larger Kitchen Island
When we decided to swap out our kitchen countertops I wondered if we could extend the overhang of the island – and we did, by almost 6″. It isn't a ton larger, but we had the space to extend it and I am really glad that we did. When we redid our counters, we extended the overhangs of our counters by a little bit all around our kitchen and although it was a small and subtle change, it made everything feel that much more spacious.
#3: A Larger Kitchen Sink & New Faucet
Our kitchen has a 36″ sink cabinet yet we had a super small double sink in there for some reason. I wanted a deeper and much larger sink and knew that with the large existing cabinet that we had the real estate to do so. I am a double sink girl (I can't do a single bowl) but opted for a 60/40 split rather than 50/50. I am able to wash just about everything in here. Consider how often you use your kitchen sink in a day and you'll want to make this change, too!
This incredible sink is from Pearl as is the matte black faucet. I wanted the faucet to contrast the countertops and I knew chrome just wouldn't fit the bill.
#4: Open Sight-Lines (Lighting)
We had pendant lighting over our kitchen island for years and when we removed them for the renovation we decided we didn't want to out new pendants in because we loved how much more open everything was. We had the boxes swapped out to additional pot lights instead and I am much happier with the look.
#5: High Impact Backsplash & Tile Feature
I knew I wanted something timeless and simple for our backsplash tile which is why I chose this plain gloss white subway tile. I did want it to be high impact and was looking for something to work with the black and white contrast design of the space so I went with this dark charcoal grout. I will never have white grout in a kitchen ever again (the maintenance is not worth it).
I was told that I was crazy for wanting to tile the entire wall that surrounds the door to our pantry but I am really glad that we did. It was inexpensive but really high impact. I love the French bistro vibe that it offers, not to mention the extra light that it reflects into the space.
#6: Updated Appliances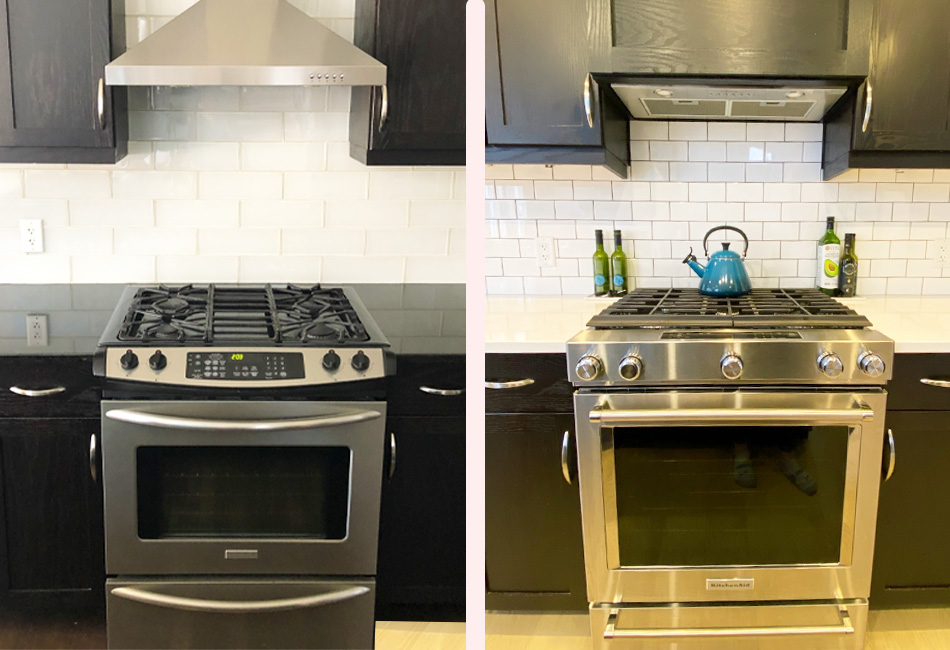 We kept our existing refrigerator and dishwasher but wanted to update our range to something that looked a lot more modern. And dare I say – what an impact it made! Just changing this one appliance in our kitchen fit the look perfectly. I can't get over how much more updated the space looks! This range also features 5 burners instead of 4, so there was a bit of an upgrade there, too!
#7: New Flooring
We had planned to have the flooring redone in our home and I knew that this change alone would alter the look of our kitchen, We went from walnut stained maple floors to these gorgeous wide-plank white oak engineered hardwood floors (from Alberta Hardwood Flooring) and the contrast against our cabinetry is amazing! Everything in this space went from dark and dated to light, bright and updated!
Source List
Countertops: Calcutta Gold Quartz, Silestone by Cosentino
Countertop Installation: The Granite Brothers YYC
Sink & Faucet: Pearl
Flooring: Alberta Hardwood Flooring
Tile: Tile + Stone Source