The number one place in a home that people want to renovate is their kitchen. I don't know if it's because we all spend so much time in our kitchens or if it's because it's what we see so much of on HGTV and social media. The truth is, a kitchen renovation is incredibly disruptive and can be even more costly.
The good news is that there are a few things you can do to upgrade your kitchen with a smaller budget that are sure to make a huge impact and really change the space. I recently renovated my own kitchen without changing my cabinetry (or cabinet hardware) and the space feels brand new!
Here are 10 ways to upgrade your kitchen without changing your cabinetry!
#1: New Countertops
New countertops can offer a huge change to the look of a kitchen. We recently switched ours from black granite to white quartz and the difference is amazing. I can't get over how much brighter our kitchen looks. I love the luxe look of quartz and how the white contrasts with our dark cabinets.
Counters: Silestone by Cosentino, Installed: Granite Brothers
#2: New Backsplash Tile
I am a huge believer in changing out the tile backsplash in a kitchen. It is an inexpensive (although tedious and dusty) renovation but it isn't hugely disruptive. The demo is fairly easy and great tile can be inexpensive, too. If you install it yourself, the price is even better!
Tile: Tile + Stone Source
#3: New Grout (Not Tile)
Changing out your tile is one thing, but have you considered painting the grout or changing the colour of your existing grout? Maybe you already have great white subway tile but want a higher contrast grout – this change could be easier than you think!
#4: New Sink
Changing the sink in your kitchen isn't a huge renovation if you aren't changing the size too much. We changed our sink to a much larger one (both deeper and wider) when we got new countertops but you can always get a deeper sink or one in a different colour without impacting its current footprint, too. Going from something with rounded corners to a more square look can really update a kitchen.
Sink: Pearl
#5: New Faucet
Changing out a faucet might sound like a really low-impact change, but trust me – it can make a HUGE difference in a space. This is one of those changes that can take a space from builder-grade to custom and modern in a matter of hours. We changed our faucet to matte black to contrast our white counters and I am so glad we did.
Faucet: Pearl
#6: New Appliances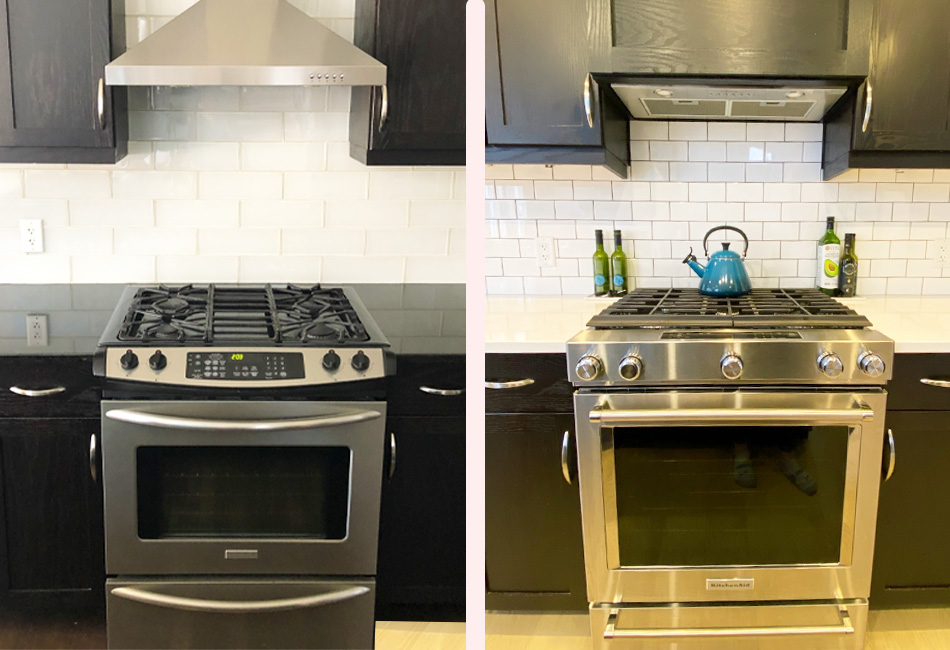 Swapping out dated appliances for something new and much more modern, or even some with a fun retro vibe, can really change the look of a kitchen. It can easily take it from builder-basic to modern chef's kitchen! Looking for new appliances on a budget? Check your local stores' scratch and dent departments.
#7: New Cabinet Hardware
New cabinet hardware is a low-effort change to make in your kitchen but it can really upgrade a space. It should be fairly easy to find handles that are the same size as your existing hardware and just swap it out for something a little more current. This is a change that can be either really inexpensive or pricy – all depending on your taste and choice!
Handles: Richelieu
#8: New Paint Colour
I always like to suggest paint because it is the least expensive and highest impact 'renovation' you can do in a space. Changing the wall colour in your kitchen might contrast your cabinetry in a way that really pops or maybe makes them blend a little nicer. It all depends on what you're going for! You can also paint your cabinetry, which is an inexpensive way to change your kitchen look. (Photo Credit: MyDomaine)
#9: New Range Hood
If you're handy, this change is a lot simpler, but changing out something like your range hood can be a huge visual change to your kitchen. We recently changed ours from a stainless steel open concept look to a closed in shaker style box and the change was dramatic!
#10: Add Wallpaper
Adding wallpaper to a kitchen might sound like a strange idea, but if you have a lot of open wall space or even a breakfast nook, adding wallpaper instead of a new paint colour can be high impact in a space like this. It's often inexpensive and is easily changed if you get tired of it. (Photo: Wallpaper Safari)
My Kitchen Source List
Countertops: Calcutta Gold Quartz, Silestone by Cosentino
Countertop Installation: The Granite Brothers YYC
Sink & Faucet: Pearl
Flooring: Alberta Hardwood Flooring
Tile: Tile + Stone Source