My little girl's nursery has to be one of my favorite rooms in our home right now. I found the perfect shade of pink for the walls and every finishing touch that I dreamed of for this space. All that was missing was the perfect closet!
It's no secret that IKEA PAX Wardrobe systems are among my favorite to design but I knew I didn't have the real estate in this closet to do PAX-only configurations like I have in other spaces in our home. I had to do a bit of a work-around to make it what I needed it to be and it turned out spectacularly (if I do say so myself).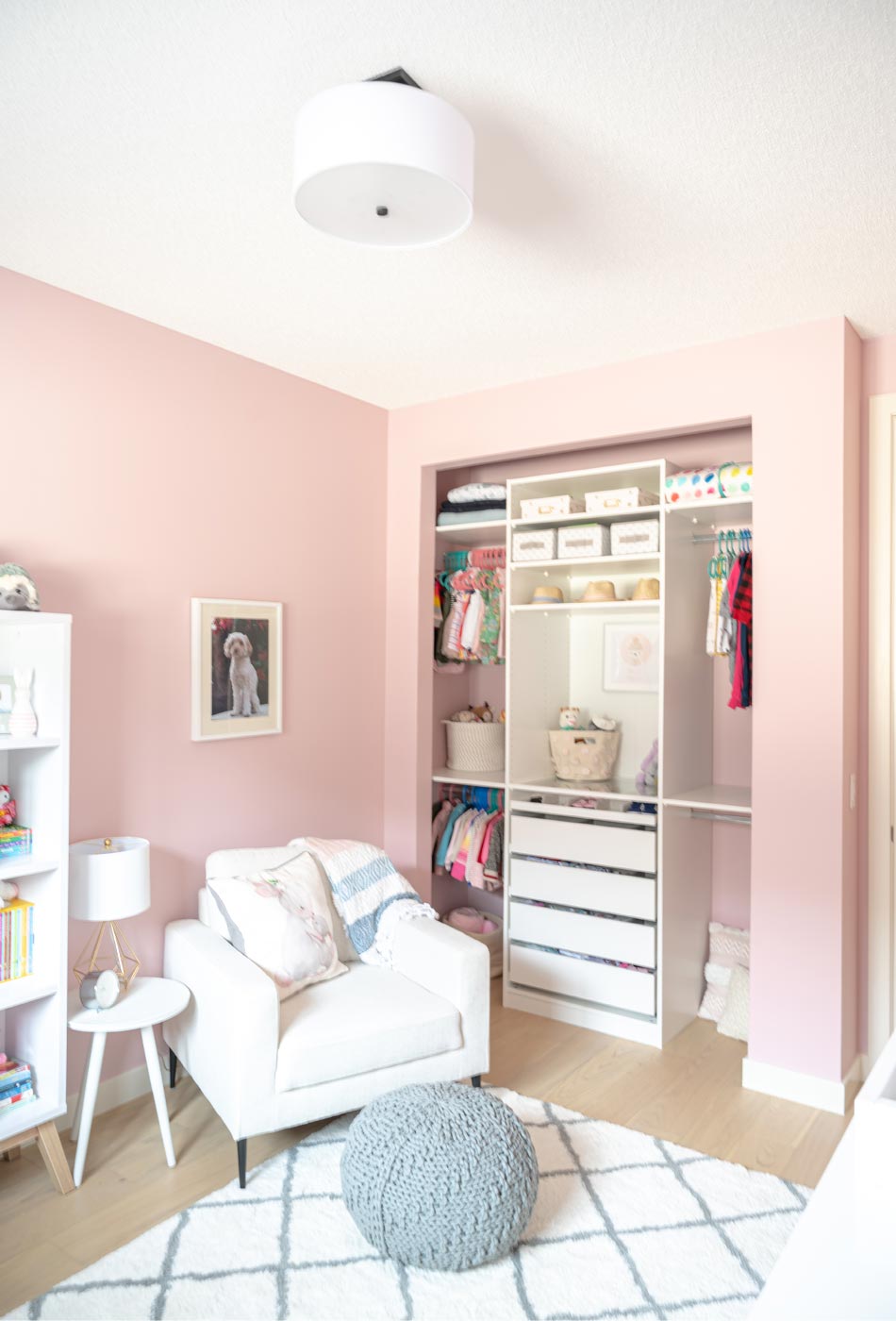 In this post I'm going to show you why I chose to design this closet the way that I did, walk you through our 'renovation' and IKEA-Hack building process (so you can do it yourself!) and take you through my organizational journey for this space.
A Simple 'Renovation' To The Space
What's a fun project like this without a 'mini renovation', right?! When we built our home we had this closet built with a 7-foot opening with bifold doors and it honestly wasn't a big deal until someone was actually going to live in this space. Upon further inspection, it appeared that we were leaving so much space wasted in a room/closet with 9-foot ceilings so my husband sought to quickly remedy this!
We removed the doors (and sold them on Kijiji – they were in brand new condition) and removed the single wire shelf/hanging bar that was in there. We also removed the trim as it was no longer necessary as we decided we would proceed with just a standard opening.
We removed the unnecessary drywall and proceeded to cut out the 2x4s behind them. We re-framed the opening, installed new drywall, mudded, sanded and re-painted. This worked out fairly well as we were re-painting the room anyways!
We decided not to add doors and figured if we wanted to close off the closet that we could add them at a later date. I configured the furniture in the room to face away from the closet to keep it from being a focal point. I should also note that in this process, we had the floors redone in our home to this gorgeous white-oak hardwood (Alberta Hardwood Flooring).
An IKEA PAX Wardrobe With a Side of Custom
I wanted to fit the largest PAX unit possible in this closet (that made sense). I wanted to take advantage of the tall ceilings and I wanted ample drawer space without making the sides inaccessible for hanging bars. Everything you see in this photo is from IKEA. This is a 75cm wide by 236cm tall PAX wardrobe cabinet with interior fittings.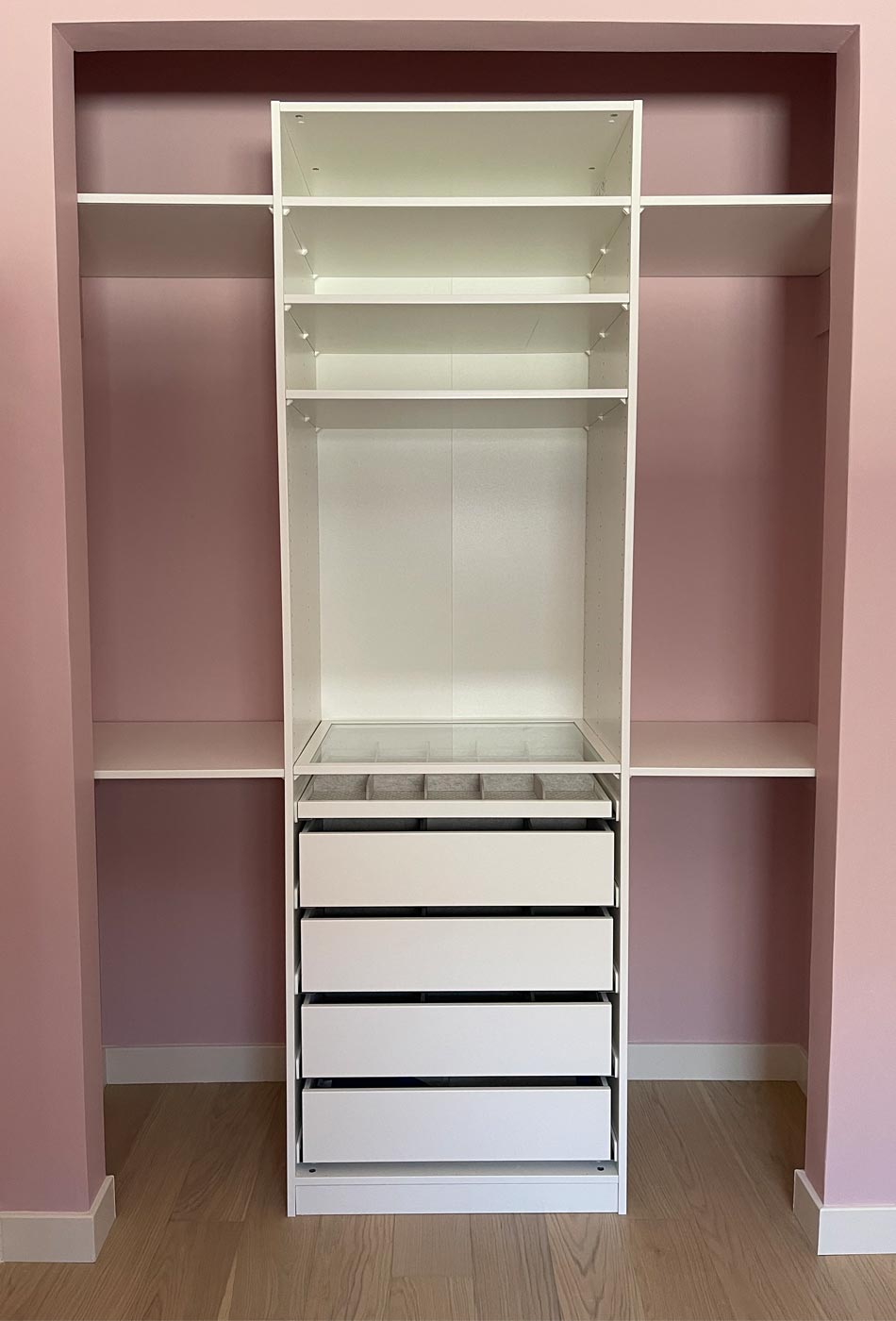 The shelves on either side are also IKEA KOMPLEMENT shelves. To install them, we drilled holes straight through the existing holes of the wardrobe cabinet so that we could use the included peg mounts to support the shelves on the inside. On the outside walls of the closet, we used painted MDF trim (in the same color as the walls) to support the shelves and to give us something solid for the hanging bars to drill into.
I even outfitted the interiors of these drawers with IKEA's KOMPLEMENT bins. My trick here? Each drawer houses a different age of clothing for my little one, so when she moves up to the next size, all I have to do is move these bins up to the next drawer – no re-folding or re-organizing required. Just one and done!
A Closet To Grow In To
I know that babies don't keep so there was no sense in designing a closet that would only work for infant and toddler clothes. I wanted to create a space that could grow with our little one from now until adulthood.
This closet provides ample hanging space that will easily accommodate clothing for either children or adults. I love that the hanging space is divided into four quadrants for easy organization, too. If additional hanging space is required in the future, the centre niche can accommodate an interior fitting from IKEA for this.
Because we have so much hanging space, I was able to create this little "niche" space in the centre where I hung an inspirational print from Cuddle & Kind and I can arrange 'fancy' stuffed animals. I added this pompom bin from Pehr designs for a pop of fun and texture, too.
What's great about children's clothes is that they aren't very long when hunt, so there's lots of space for extra throw pillows, blankets, stuffed animals and baskets of toys to be neatly displayed on the shelves and floor space below them.
Want to see the entire nursery?
There's no doubt that I'm incredibly proud of this space so if you want to check out more than just the closet, click here to see the entire room! I really think it is the Perfect Pink Nursery!
Source List
Paint Colour: Kept Love Letters (Benjamin Moore)
Flooring: Alberta Hardwood Flooring
Closet: PAX System (IKEA) + Custom Shelves, Bars
Chair: Teresa Arm Chair in Cream (Structube)
Blanket (on chair): Mini Pompom Throw (Maison Simons)
Throw Pillows: Textured Chenille Cushion in Dusky Pink, Ivory Knit Cushion, Boho Elegance Cushion (All: Maison Simons)
Baskets: Pehr Designs (Indigo), Misc (HomeSense)
Accessories: Jellycat Stuffed Animals (Indigo + Mastermind Toys)
Artwork: Inspirational Print (Cuddle & Kind)