The truth is, I kind of hate baby showers. I love tradition and I knew I wanted to celebrate the upcoming arrival of our first baby with those closest to us, but I didn't like the idea of the 'traditional baby shower'.
I'm seldom a fan of an event that is in the middle of the afternoon, making it logistically difficult for guests (I mean, 2-4pm isn't exactly convenient for anyone). I also don't love the idea of inviting people over to eat tea sandwiches and watch me open presents. No one really seems to like those games of "don't say 'baby'!" and I certainly don't like the tradition of being covered in wrapping paper and bows (this was something that I was forced into at my bridal shower and I'm still a bit miffed about it over a decade later).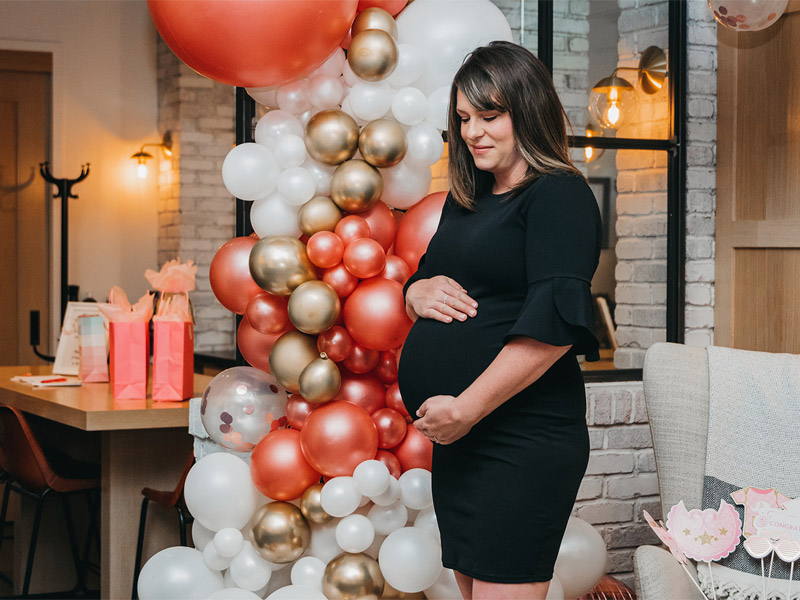 You really only get one (first) baby shower and I wanted it to be memorable. I wanted a party that felt like it was "me". A party that I myself would be excited to attend where I could mingle with guests without being put on display (in a weird way). And so with this in mind, I set out to plan my non-traditional baby shower…
Let's Throw a Cocktail Party
You'll know from reading my blog and my bio that I am a huge wine lover and spirits enthusiast, so a cocktail party just felt right. I thought, why not invite guests to enjoy an evening with a glass of wine and small plates. Now that is a party I'd RSVP 'yes' to attending! I could wear a (maternity) LBD and mix and mingle with my closest friends and family.
My Mom graciously offered to handle the party planning and logistics of everything for the event and I was happy to let her do that. What I didn't want, though, was for her to spend the entire party wondering who needed their drink topped up or if people were eating enough food or any of those things – I wanted her to be able to sit back and enjoy a glass of wine and the company of others just as much as me.

A Venue With The Right Vibe
Where to throw such a party was a pretty easy choice for me. I didn't want to host this in my home and not just because we were smack in the middle of massive renovations. I wanted to host it somewhere that could provide everything we needed – cocktails, catering, service, etc. I didn't want to be bothered with setup and cleanup (especially at 38 weeks pregnant).
Distilled Beauty Bar & Social House in Calgary is one of my favourite places to attend wine tastings and local food events, fashion shows and really anything else so I knew it would be a great venue for this. They have an amazing menu, fantastic service and the exact ambiance and vibe I was hoping for. Soft lighting, plenty of places to sit or stand and chat, good food, great service and a place that felt comfortable and intimate.

Minimal Décor
I didn't want a ton of decorations for my baby shower as I didn't want it to feel tacky or like I'd picked up a bunch of last minute items at a party store. I opted for only a balloon wall where guests could pose for photos! I also didn't want have to put up and tear down a ton of stuff either (again, less effort).
I Hired a Photographer
Hiring a photographer was one of the best things I did. There's nothing worse than trying to enjoy an event that you are hosting while making sure you capture all of the memories from the evening. This way I didn't have to rely on guests sending me their smart phone photos or worry about taking photos rather than enjoying the event.
The photographer also took care of documenting the event, taking stylish photos of decorations, gifts and games so that I could remember the details after the fact. I set up a fun selfie station, too, where guests could grab props and snap photos of themselves having a good time.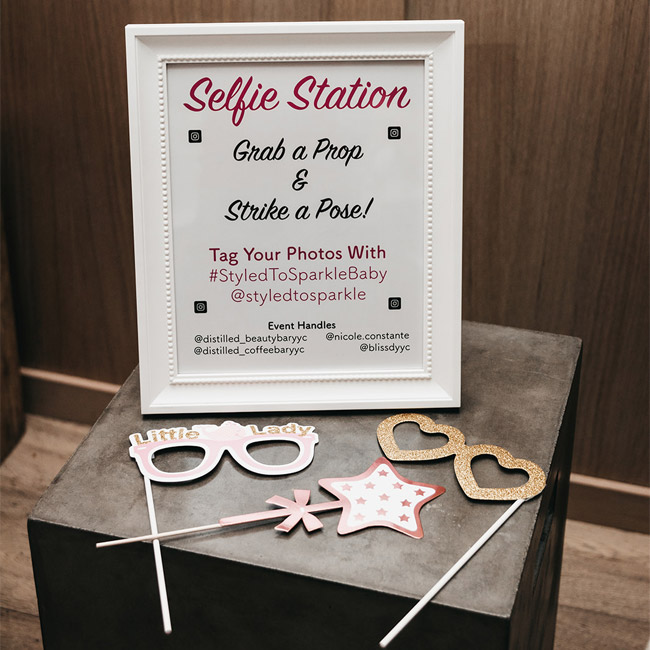 All photos by Nicole Constante Photography. 
Gifts for Baby
I was so blessed to receive so many beautiful baby gifts, but I didn't want to open them at my shower for a couple of reasons. To start, I didn't think my guests would want to spend the entire party watching me open gifts and I wanted to use that time to engage with my guests in a more meaningful way. I also wanted to open the gifts with my husband – I thought it would be something nice for us to do together.
In our invitation, we also asked that guests bring a book instead of a card to help build baby's library. I still have a number of books from my childhood and the messages written in the front pages of them by who sent them to me are a beautiful keepsake.
A Few Easy Games
Party games can be tricky in large groups, and baby shower games can often be, well, lame. I was able to order a set of games that were pre-printed on card stock – all I needed was a pen for everyone (thank you, Amazon!). Some of these games could be played at the guests' leisure, some were a timed challenge. Either way, they were quick, fun and easy.
I also ensured the prizes were fun…like a bottle of rosé or something else that I knew I would love receiving.
All in all, the evening was fantastic. We received great feedback from all of our guests saying they were excited to attend a baby shower (for once) and that they loved the concept. I was so thankful to have so many of my closest friends and family members there to celebrate which in the end is what really matters.

Thinking of planning your own non-traditional party? I'd love to hear all about it!