When it comes to home projects, I feel like the Master Bedroom is often an afterthought or a room left behind, when in reality, it's a room you use every day. What's great about a bedroom "reno" is that unless you're moving walls and changing flooring, it's more of a "referesh" or adding new elements than a full scale renovation.
A Master Bedroom is also a great candidate for the "One Room Challenge" because it's fairly contained and often doesn't take too much doing. Although we have a number of renovations on the go right now, we really wanted our Master Bedroom to be a place we could relax and retreat to. I think we also need a win among our mounting list of projects!
What do you need in a Master Bedroom? Style, storage, function and relaxation. Here is what we did to check off each of those boxes! To see the transformation, I've included before and after photos at the bottom! I've also included a source list if you want to shop any or all of the items shown!
Bedroom Style
Straight up – I wanted a stylish Master Bedroom. I wanted something "Pinterest-y" and worthy of social media and not just because I'm a blogger. I'm in my mid-30s and I think it's time to have a grown up space. I gravitate towards clean lines, no clutter, and casual elegance.
The Room Itself
A large room of any kind requires furniture and accessories that are to the proper scale. I wanted to add a feature wall, but because of its scale I wanted it to have more dimension than just a paint colour or wallpaper pattern. This is why we chose to do some custom millwork.
This was a really simple and inexpensive DIY project. I took measurements and came up with a few mockups to visualize what it would look like. We purchased some MDF trim boards, marked out our measurements, cut the boards to size and installed with a nail gun. My husband filled and sanded all of the joints and caulked all of the edges before we painted.
Navy is my favorite colour and I love how relaxing blue can be in a space. Our bedroom is quite large and gets a lot of natural light so using a dark colour wasn't a concern for me. I also wanted to use one accent colour consistently in my home (see Powder Room Reveal).
Once the wall was completed, I couldn't believe how much larger the space appeared! The millwork made our room look both wider and taller! For details and all the before, after and during details, check out my DIY Millwork Feature Wall post!
Furniture
A king sized bed is non-negotiable for us and with the size of our space, the large scale of the bed frame/headboard was required. I was pleased to be able to source this piece locally from Showhome Furniture in Calgary. I love the neutral grey, the appropriate scale for the room and the texture of the upholstery.
When I purchase large pieces of furniture like this one, I look for a few different things. I want a durable fabric in a neutral colour and a piece that is simple and timeless. A bed isn't something like throw pillows that you change every couple of years so I suggest investing in something that you love that will last a long time.
Bedside Storage & Style
I swear that these nightstands were the trickiest item to find in my bedroom, but mostly because I was so picky about what they'd look like. I really wanted something in a walnut finish because I love the way it looks with navy blue and the touch of mid-century modern flare that it adds to a space. I opted for lamps with shades that are simple, sleek and tall.
I wanted both open and closed storage, simple lines and something that was the right height next to my bed. I like to have a drawer to stow things like vitamins, lip balm, tissues, pens and other small items out of sight, but also some open storage to stack things like books and magazines (because I am a hoarder of both).
Window Treatments
I like blinds in a bedroom for privacy, but also with the option of controlling the amount of natural light that comes in. I opted for custom faux-wood slat blinds that match the paint colour of the MDF casings and trim so that they weren't the main focal point of the space. The blackout curtains also provide the option to block out additional light.
I tried to resist the trend of dusty rose, but when I saw these velvety curtains, I couldn't help myself. I found a ceiling mount rail system with hooks that allowed me to pleat the curtains for a more elegant vibe. I also love how it accentuates the nine foot ceilings and is one more element to make the space look larger. The velvet also allowed to to add additional texture into the space.
Bench
The extra square footage in our bedroom allowed us to add in an additional piece of furniture – this great bench. I love the angled legs and velvet upholstery (and the affordable price!). It's the perfect spot to sit to put on your socks in the morning or to lay your pjs.
This bench comes in a few different colours, each with black legs. For a more custom look, prior to assembly, I suggest spray painting the legs chrome, gold or something creative to really make it pop.
Storage & Function
Clothing Storage
We do have a sizeable walk-in-closet, but it doesn't fit everything or provide the drawer space that we need to store our clothing. We opted for a bank of dressers and a free-standing wardrobe unit.
I prefer closed storage whenever possible, especially in a bedroom. What's inside? Eight of the nine dresser drawers hold items like socks and underwear, t-shirts, shorts, pjs and more. The ninth drawer houses something more interesting (more on that below!).
The wardrobe unit is where we store things that can be awkward in a closet. Items like high heeled shoes, seasonal and party shoes that I don't wear every day as well as hats are stored neatly on the shelves. The shelves also provide us with space to tuck away our baskets of vitamins and supplements and foam rollers for stretching in the mornings and before bed.
The IKEA PAX Wardrobe System frames come in two depths. We opted for the shallower of the two depths here as we weren't going to be hanging any items. Being able to customize the interior of this wardrobe made it an easy sell for us. It's also not a permanent structure, so if we want to move it to another room in a few years, that's an option, too!
Let's Talk TV
Some people think having a television in the bedroom isn't a good idea…well, I'm clearly not one of those people!
Yes, our bedroom TV does seem abnormally large (although it is to scale for the space!). It also isn't cleverly hidden behind any panels. This is because our bedroom is where we watch the majority of our television. Because of this, my husband wanted to ensure that we had appropriate sound quality, but also wanted to hide any components and annoying excess cabling. I.E. We wanted the sound quality but still wanted it to look "pretty" and uncluttered.
We opted for in-wall speakers and a small sub-woofer on the floor (tucked neatly beside a nightstand). All of the components are inside the top-middle drawer of our bank of dressers – all controlled with a universal remote that only requires a small IR receiver!
Extra Space
You may have noticed that there is some extra space on the outside of each of our nightstands. Rather than fill those empty spaces with tall plants (a great idea), we left it open for Hattie's dog bed and a future space for a bassinet. Remember – not every single space in a room needs something to fill it. Sometimes less is more!
Transformation: The Before & After
I am so pleased with the transformation of this space! I finally feel like our master bedroom is a "finished" space in our home. It feels styled and elegant while feeling comfortable and inviting.
The bed itself was the only piece of furniture we didn't replace. It's something we still loved and knew would still fit the space after all was said and done.
The large windows in the space provide a lot of natural light and hanging curtains right at the ceiling helped to accentuate the 9-foot ceilings while framing the window. The velvet texture in a dusty pink added some softness to an otherwise masculine space.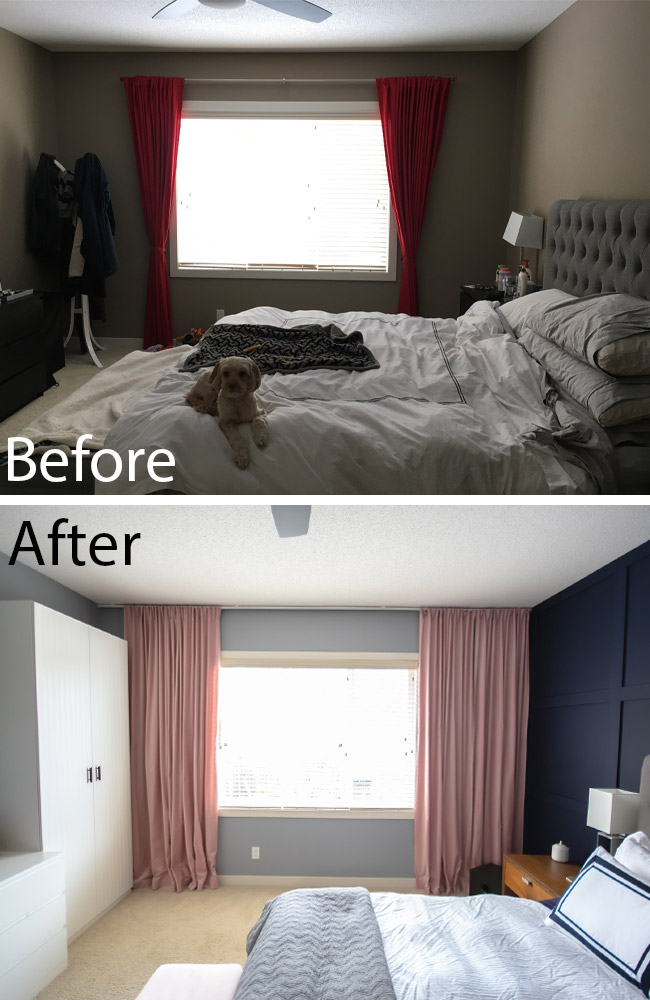 Because the room is so large, it almost required additional furniture pieces, which is good because we needed extra storage!
---
Source List:
Bed Frame: Upholstered Bed Frame (Showhome Furniture Calgary)
Pillow Shams: H&M Home
Nightstands: Walnut Nightstand (Revolve Furnishings)
Lamps: STILTJE Table Lamp (IKEA)
Bench: Iko Bench in Pink (Structube)
Curtains: SANELA Room Darkening Curtains (IKEA)
Curtain Rails: VIDGA System (IKEA)
Blinds: Custom
Dressers: MALM 3-Drawer Dresser (IKEA)
Wardrobe: PAX Wardrobe System (IKEA)
Door Handles: 3″ Gathered Brass Pull by Project 62 (Target)