They say it's the little things that count, and in the kitchen, it really is!  When I first got married my husband and I were in the process of building a new home. After a few months of eating at our parents' and at restaurants because we were staging our condo to be sold, we moved into our new home and I told myself I was going to cook all the time and needed all sorts of fancy gadgets to do so. I spent hours in stores like Crate & Barrel and Williams-Sonoma assuring myself that I needed every possible gadget to be the gourmet cook I wanted to be for my new husband.
The more I cook, bake and preserve, the more I learn that there are quite a few tools that I can live without and quite a few that I can't!
Tupperware – Silicone Spatula, $19
Flexible, stain resistant, dishwasher safe and can endure temperatures up to 400F. I love this spatula for everything from mixing dips to wiping out mixing bowls. Also, if you aren't a fan of the color available, contact a local Tupperware consultant for notification of new releases.
OXO Hand Held Mandoline, Crate & Barrel, $14.95
There are a lot of fancier versions of this tool out there and I'm sure they're all great, but this one does the job and fits nicely in the cupboard. There are three slice thicknesses available, which is plenty. I use this for salads, apples for pies, scalloped potatoes, etc. This is also an essential tool for my Summer Salad.
Cast Iron Citrus Press
Great for juicing lemons or limes. I like it for lemonade or margaritas! My pick is the Dual Citrus Squeezer from Crate & Barrel, $16.95
Tupperware – Chop'N Prep Chef (300mL capacity), $39
I love this little gadget for chopping nuts, raisins and other dried fruit, apples, fresh herbs, mincing garlic, you name it. It rinses clean and comes with a no-leak/air-tight lid to store extras.
Cherry-Olive Pitter, Target, $10.59
A tool just for pitting cherries might seem like an unnecessary extravagance, but when you pit as many cherries as I do at one time, it's worth the investment. I make jam annually and also homemade coffee cake with fresh cherries, so this is a must have for me. I still recommend wearing gloves as your hands will still see the juice. Bonus: This one also pits olives, too, which is great for charcuterie plates.
Chef'n Strawberry Huller, Crate & Barrel, $7.95
This might seem like another luxury item, but trust me, anyone out there who makes strawberry jam will tell you it's worth the eight bucks. Strawberry jam seems to be everyone's favorite, so each year, I hull more strawberries than any other fruit prep. This cuts the time down considerably.
Egg Ring, Target, $6.95 set of 2
I love a good breakfast sandwich and this helps me skip the McMuffin to make it my way! I like to make carb-free muffins and add ham, smoked cheddar and gruyere cheeses.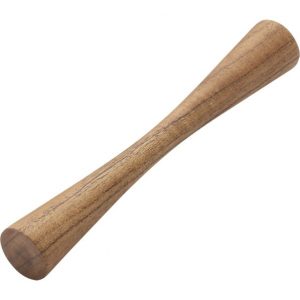 Orb Wood Muddler, Crate & Barrel, $9.95
You never know when you might need to make a mojito!  I prefer a wood muddler over some of the stainless steel varieties as it just feels safer inside a glass.
Microplane Grater-Zester, Crate & Barrel, $14.95
This little hand grater is fantastic!  I use it for hard cheeses such as parmigiano-reggiano – it makes it so light and fluffy, which allows it to melt quickly on top of pastas.  This is also a great tool for fresh citrus zest or shaving chocolate.