When designing our pantry renovation project, I knew I needed somewhere to store/display cookbooks, a cake stand and some of my colourful cookware. I know that I've shared my love of "closed storage" a number of times when sharing the results of this renovation project, but in some cases open storage is the stylish function that a space needs.
When trying to determine whether to attempt building shelves from scratch, I came across Kitch – an Alberta-based company that sells doors for IKEA Cabinets and shelves to match! Here is my experience with a little how-to on our design and installation process.
The Design Process
I started by ordering a sample box from Kitch to ensure the colours and wood tones would work in the space. I was able to find a walnut veneer that perfectly matched the butcher block counter top we had planned to use in the space.
I then took measurements of the space and realized that I would have to have custom shelves made, something that Kitch does offer but note that there are extra fees for custom work. Kitch's shelves come in standard sizing, but I wanted mine a little deeper (to fit my cake stand) and a very custom length (to fill the space wall-to-wall).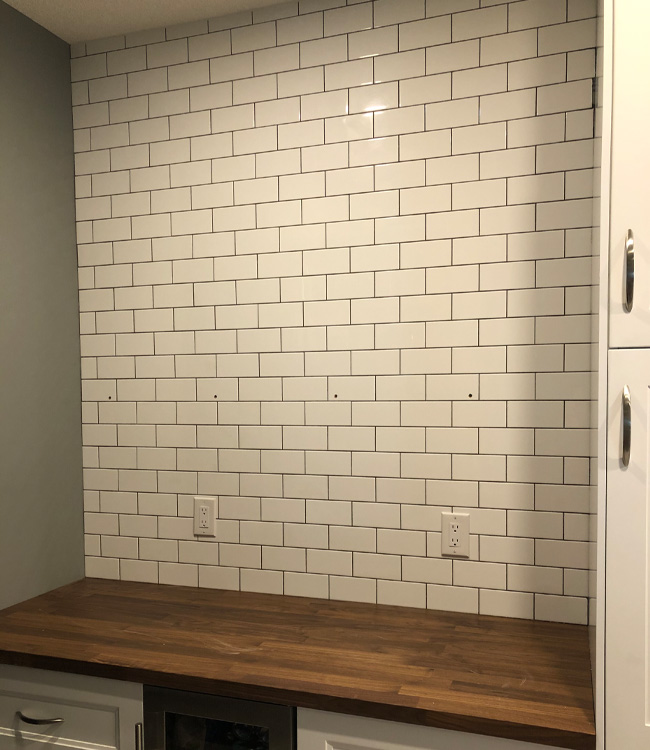 As soon as the cabinetry was in and the tile backsplash was up, I knew that contrasting floating shelves would be perfect in the space. I couldn't wait for them to arrive!
The Installation
These shelves were incredibly easy to install! They were a little trickier for us because we had the extra step of mounting them through tile (which explains the holes in the photo above!). This required a special drill bit for drilling pilot holes through tile (you can get this bit at any big box hardware store).
Tip: Before installing the tile, we measured out where all of the studs were for reference. 
One thing that I love about Kitch's installation system is it allows you to drill into as many studs as possible with the mounting piece. Once the mounting strips were secured to the wall, we filled the inside of the shelf with construction adhesive.
Next we slid the shelves onto their mounting brackets and voila! After ensuring that the shelves were level (front to back), we provided support to the shelves while the adhesive dried (shown below). We allowed the adhesive to set for 24 hours, just to be safe.
Once we felt confident that everything had a chance to cure, we removed the supports. Everything was now perfectly level on its own and looking really good (if I do say so myself!). Here is the finished space:
These shelves are the blank canvas that I've been looking for! I can't wait to display cookware, my favourite cookbooks and so much more on them!
Styling These Shelves
Our Kitch floating shelves offer me a dynamic storage solution in my pantry. As my storage requirements and aesthetic tastes change, they are the classic backdrop that I need.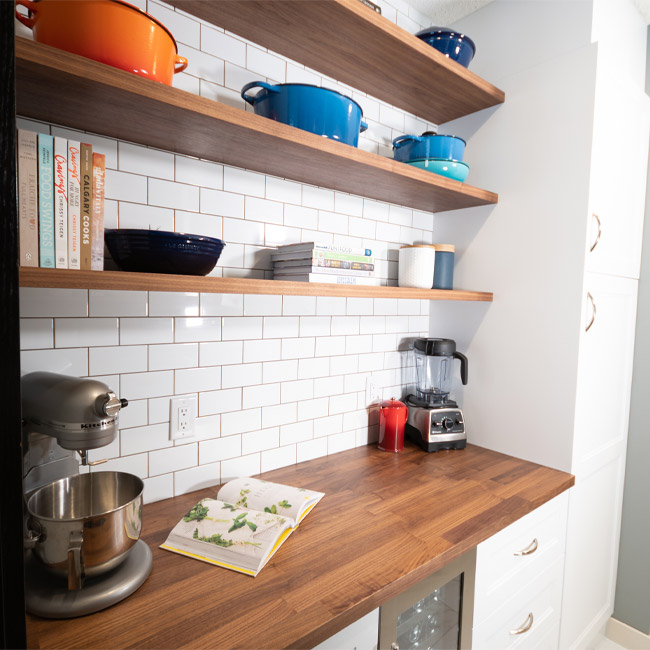 I am obsessed with buying hardcover cookbooks and I needed the right place to store and display them. I've put my books with preserving and canning recipes on the very top shelf as I only access them seasonally.
I also have quite a few pieces of Le Creuset cookware. These pieces are colourful and just ask to be displayed! A butler's pantry is the perfect spot for this. I didn't want to overload these shelves – not because they can't handle the weight, but because I don't like when spaces look cluttered.
---
A Few Links To Help!
Want to see my entire pantry reveal? Click here!
Want to learn more about Kitch and their products? Click here!
Want to order your own samples from Kitch? Click here!
Want to learn more about IKEA Cabinetry and how Kitch products can help to customize your project? Click here!