When it comes to home organization, I feel like the refrigerator often gets overlooked. Because this space is always changing with food going in and out, little ones searching for snacks, storage for meal prep and leftovers and so much more, it can seem incredibly overwhelming.
I've found a few ways to keep everything in my fridge tidy and organized and I've partnered with Bed Bath & Beyond to share those tips, tricks and products with you in this post. You'll find some of my methods in this post to be similar to what I shared for pantry organization and that's because they work!
Step 1: Clear Out Your Fridge
The best thing to do is to start with a blank canvas. My advice is to take everything out of your fridge, sorting it as you go. Be sure to check expiry dates, tossing what you need to. Next, give the inside of your fridge a little wipe down. I am a huge fan of using Babyganics All-Purpose Wipes or Dapple All Purpose Cleaning Spray and some paper towel. These are both non-toxic unscented options, which is extra important for an area where food is being stored.
Step 2: Assess Your Space
Take a look inside your empty refrigerator – take a really good look! Do your shelves move up and down or are they fixed? Do you have crisper drawers? How much space do you have for storage in the door(s)? How much of your fridge is being taken up by beverages?
This is where you're going to want to take some measurements of your shelves, potentially inside crisper drawers and more.
My Tips For An Organized Fridge
I'm going to interrupt this set of instructions with a few little suggestions. I don't want you to be reading through this and thinking "okay, I need to make a plan, but how do I even do that?!" Here are some things that work for me:
Use Clear Bins: I like to use clear bins whenever possible because you can see what's in them without having to open them.
Label Whatever You Can: It might seem silly to label things in your fridge, but with little ones at home, this can make things easier for everyone!
Store Produce Properly: Produce should be stored naked (out of packaging), dirty (unwashed) and dry. This will ensure that it stays fresh longer. I store my produce in a crisper drawer, but if bins suit you better, go for it.
Store Items By Category: Keep all of your cheeses together, all of your meats together, your veggies, etc. This way when you go to do something like make a salad, you aren't searching all over the fridge for your veggies. I like to keep all of my hot sauces in one door shelf and condiments in another.
Organize Your Beverages: Store cans in organizers, group juice boxes and pouches into bins, keep bottles together. There are some amazing can organizers that allow you to store more beverages in your fridge; if you have the height for it, many of these stack, too! Consider holders for keeping bottles on their sides. This is perfect for storing bottles of spring water or chilling white wine.
Step 3: Make a Plan
Okay, now that you've got my tips, now is the time to plan out your fridge. Start by putting things back into the fridge in groups to ensure your items are with their friends (i.e. veggies together, condiments together). Determine what could stay tidier in a bin, how many beverage bins/holders you might need. I like to pre-plan my projects with drawings so that when it's time to execute, I can follow my own instructions.
Step 4: Go Shopping!
I'm always so impressed with how many organizational solutions are offered at Bed, Bath & Beyond (both in-store and online). They offer some of my favourite bins and fridge organizers (i.e. things I can't live without). Here are some of my faves:
Shop: Bottle Holders | Egg Containers | Small Bin
Shallow Bin | Can Holder | Bin w. Divider | Berry Container
Step 5: Organize That Fridge!
Now that your fridge is clean, you've got your bins and containers, it's time to get organized! Fill up those bins, labeling where necessary. Get everything lined up and put away and you are good to go! If you're not sure where to start, here are some inspiring photos to help guide you! I've included shop links so that you can make these things happen in your own fridge!
Fridge-spiration!
The Pinterest Worthy Fridge
Pinterest worthy spaces now include refrigerators and this inspo pic is no different! The use of organizers in this space is what makes it look so tidy – and what helps keep it tidy. I love a place for everything and everything in its place!
Shop: Bottle Holders | Juice Dispenser | Egg Containers
Can Holders | Narrow Bins | Drawer Bins | Produce Containers
The Every Fridge
This particular photo looks like the inside of most of the fridges that I see. Produce, condiments, snacks, drinks and more. This option uses a lot of produce saver containers, which can be really effective for keeping fruits and veggies fresher for longer! I love them for berries and lettuce, in particular. I love how in this fridge they have stored them inside crisper drawers. They've also used can containers for items like apples, to make them easy to grab. Don't be afraid to think outside the box in your own fridge.
Shop: Produce Containers | Bottle Holders | Water Bottle Holder
Can Holder | Shallow Bins | Bin w. Divider

The Family Fridge
When you have a busy family with young kiddos at home, organization is key. This fridge uses labeled bins for items like snacks and lunch foods, which not only keeps them organized, but also helps when taking a quick visual inventory before heading to the supermarket. Notice how well they've used the adjustable shelves that were already inside the fridge, too. Don't be afraid to move those shelves up and down to make them work for you!
Shop: Snack Bins | Large Clear Bins | Juice Bottles
Bottle Holders | Produce Containers | Snap Lid Containers
The Counter Depth Fridge
Counter depth fridges are some of my favourite because you never lose anything in the back! That being said, they can offer up some organizational challenges. This example shows how you can pack the crispers, but also crate additional "drawers" by using clear bins that allow you to see what's in them. Cans are lined up on the top shelf (where some fridges tend to be cooler) and bottles are stored in the shallow crisper drawer.
Shop: Clear Storage Bins
The Narrow Fridge
Some kitchens have narrow fridge; they're often used in custom kitchens, not just those in condos or apartments. If your fridge is narrow like this one, making the most of the vertical space is key. I love how they've used a mix of bins that are open and closed. The open bins allow you to grab things quickly, while the bins with lids are stackable. Notice the symmetry between all the containers – this is what allows you to move things around, stack and store as needed.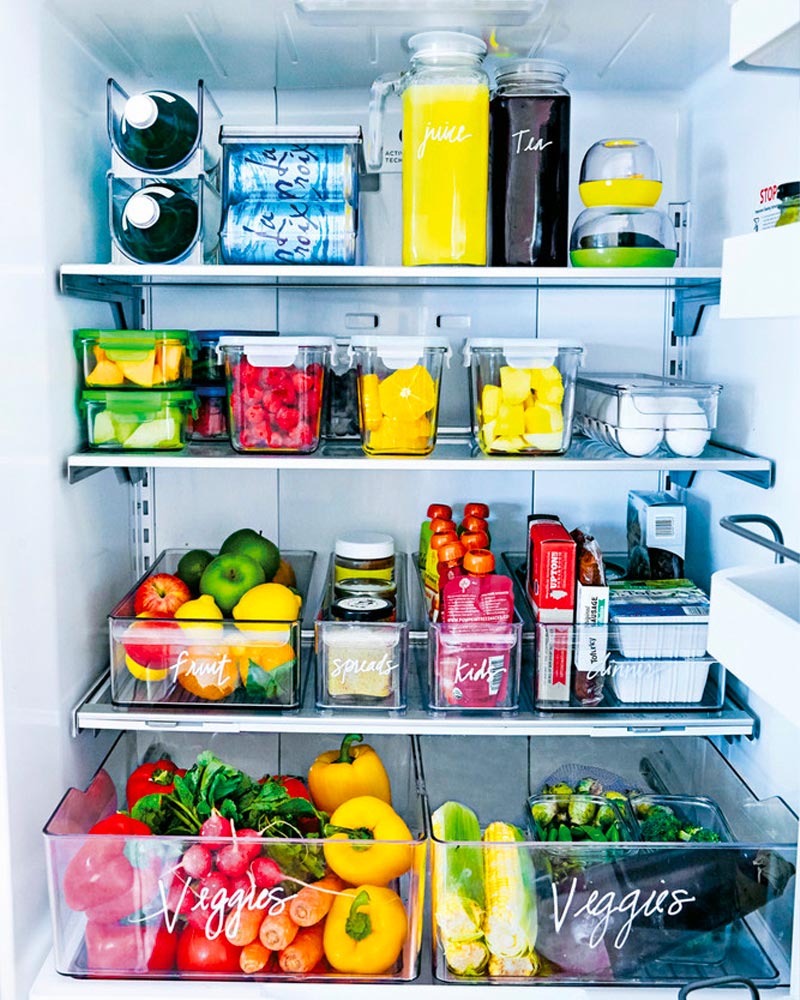 Shop: Bottle Holders | Can Holders | Glasswork Jugs | Pepper Containers
Snap Lid Containers | Egg Bin | Clear Wide Bin | Clear Narrow Bin