Designing the perfect nursery seems to be a regular part of modern motherhood. What used to just be the 'baby room' is now an extension of the interior design aesthetic of our homes. It's a room that parents want to show off to their friends, family and even Instagram followers.
A Pinterest-worthy nursery isn't just something bloggers and celebrities have anymore – it's something everyone wants and wonders how to achieve on their own. Parents-to-be know that they want a gorgeous nursery but might not have any idea of how to make it happen. With the many expenses involved with having a little one (or 2 or 3+) on the way, attention to interior design seems like an impossible hurdle for both time and finances.
You're going to be spending a lot of time in your nursery so why not make it a space that you love?
No idea what you want? No interior design experience? No idea how much a nursery will cost? No problem. Thankfully, buybuy BABY wants to help you design and create the nursery of your Pinterest-dreams. For your style. Within your budget. With complimentary help!
Complimentary Nursery Design Services
Yes, you read that title correctly. buybuy BABY offers complimentary nursery design services. They have specialists on staff that can help make your nursery dreams a reality with everything from helping you choose a paint colour to finishing touches like artwork and crib skirts. The ease of being able to make all of your decisions in one place with the help of a designer really takes the stress off of soon-to-be parents.

Not Sure Where to Start?
Nursery furniture isn't something we really consider until we need to so many of us have no idea what to look for or expect. Here are a few things to think about:
Choose a room/space in your home that will be the nursery.
Take a few measurements of the space to give yourself an idea of scale. Maybe even snap a few photos of the space on your phone.
Consider your style. Are you trendy or traditional? Do you want a room that matches the rest of your home or something completely different? Do you have specific colours in mind or maybe even a theme that you love?
Whether or not you have a clear picture of your nursery design, I suggest popping into a buybuy BABY store and checking out their nursery vignettes in person. Every store has model nurseries set up in all kinds of different tastes and styles. I find this really helpful because it not only allows you to get a sense of the size and scale of nursery furniture, but you can look, touch, sit and experience some of what is available. Be sure to check out the different bedding and linens in each of the displays, too!
No buybuy BABY store near you? Their website has a ton of inspiring photos with links to shop everything you can see and so much more. (don't worry, I'll get into this below!)
Why buybuy BABY for Your Nursery?
Why should you consider purchasing your nursery furniture from buybuy BABY? I'll be honest, I haven't found anywhere that cares as much about their customers' needs as they do. In all reality, you can buy a crib from anywhere but you aren't going to get the same care and service. Something that really sets buybuy BABY's nursery design department apart is how they really go the extra mile with their customers. They are incredibly accommodating and compassionate and really just want to help you in any way that they can.
If someone is going to offer you free services that simplify the entire process of designing, procuring and executing your perfect nursery, why would you pass that up?
Because a Nursery is More
Than Just a Crib
Of course the crib is the focal point of any nursery and it seems like the first thing soon-to-be parents purchase in terms of furniture. I often find that your choice of crib will help determine the style of the entire space, but this isn't always the case. For me, it was actually the chair that I chose that inspired my entire nursery.
For a friend of mine, it was a stuffed animal from her childhood. Whatever your inspiration is, be sure to share it with your consultant – their experience and expertise will help you to create a cohesive space for baby.
Meeting With a
Nursery Design Consultant
When you meet with one of buybuy BABY's nursery design consultants, you can have an entirely predetermined vision of what you want or no clue or direction whatsoever! These consultants are here to help so remember that this is supposed to be fun and not stressful! Having someone walk you through what you need and helping you find the right fit should take a load off of your shoulders.
Don't Forget About Your Baby Registry! You can register for items like furniture, linens and bedroom accessories – and not just from buybuy BABY! You can also add items from their sister store, Bed Bath & Beyond which only expands the possibilities of items like rugs, pillows, curtains and so much more! If you have a buybuy BABY Registry, there are extra discounts and coupons that you can make use of for your nursery purchases, too! Oh and don't forget about their lowest price matching! If you want more info on the buybuy BABY Registry, click here!
My Tips for Planning Your Nursery
Search For Inspiration: Check out the nursery vignettes at buybuy BABY both in-store and online. It also never hurts to start compiling a Pinterest Board of what you absolutely love – chances are, buybuy BABY can help you find those items, too!
Determine Your Budget: The nursery of your dreams doesn't have to cost thousands of dollars (although it can!). One thing that I love about buybuy BABY is that they have such a large selection of items available that you can find your dream pieces within your budget. There really is something for every budget.
Try To Get An Early Start: Like any furniture purchase, many of these larger items are special order and can take a few weeks or a couple of months to arrive. Also, once you've got these big items out of the way you can shift your focus to the other fun parts of decorating your space!
Pick a Chair That "Fits": We all like to have a chair that is comfortable and aesthetically pleasing, but did you know that "fit" matters, too? You're going to be spending a lot of time in this chair with baby, so it's important that you find the right fit. The nursery design consultants at buybuy BABY know exactly how to help you find the chair that both looks and feels right. There are so many chairs styles to choose from, plus the wide array of fabric colours, textures and durability ratings, too. Have a shedding pet at home? Be sure to mention this as some fabrics are more pet-friendly than others.
Size & Scale: Is your nursery a large space? Do you live in a small apartment? How many pieces can you realistically fit into your nursery? I highly recommend taking measurements of your space and sharing them with your nursery design consultant. They'll be able to help direct you to the size and scale of the items that will work best for you. For example, buybuy BABY carries mini-cribs and their associated bedding for smaller spaces!
Furniture That Converts: Many cribs today convert into toddler beds and even into double beds making them practical for the long term.
Consider Your Skills: Are you handy? Do you have the tools and the time to assemble everything? If you don't, buybuy BABY offers delivery and assembly services for an additional cost. This just might be the stress saver you're looking for!
Do You Need to Paint?: Did you know that buybuy BABY's nursery design team can help you choose paint colours, wallpaper, provide you with DIY instructions for murals and anything else to customize your space? Oh, and they've got a list of local painters and installation pros to help you, too!
Shopping: The Fun Part!
Shopping In-Store & Online
Because buybuy BABY has so many pieces to choose from, there is no way that they could display it all in store. The selection on their website is incredibly large and their in-store design consultants also have plenty of catalogues on hand that you can order from, too!
I understand that shopping online can be overwhelming for some, even when just searching for inspiration, so let me show you how buybuy BABY makes it a little easier for their customers:
There are filters for everything! You can search by item type, style, colour, brand, material and even price to find what you're looking for.
There is also a similar set of filters to help you find the perfect bedding and linens for the space because we know that you're going to need more than just crib sheets! Whether you're looking for sheets, swaddles or complete sets, you'll be able to find them here!
Everything starting to look the same and you can't tell the difference from one crib to the next? There are a lot of items of similar styles out there and you want to make sure you get the right one for you. Be sure to check out the 'compare' feature on the buybuy BABY website, too! It will give you a detailed breakdown of item specifications so you can make the right decision for your purchase!

All About the Accessories
buybuy BABY carries a countless list of amazing brands and their stores should have at least a few items from each in stock for you to see and touch to get a sense of what they're like to find the right one for you. Linens can be tricky to purchase online as it is something everyone wants to get a sense of the feel and quality of first. Then for a wider selection, I head online!
Something that I absolutely love about buybuy BABY is how you can create a cohesive nursery with a few easy clicks! When shopping online in particular, check out their different nursery collections. Each one allows you to order not only a bedding set that matches, but also pairs wall décor and decals, room accessories, mobiles and even stuffies to completely finish the space!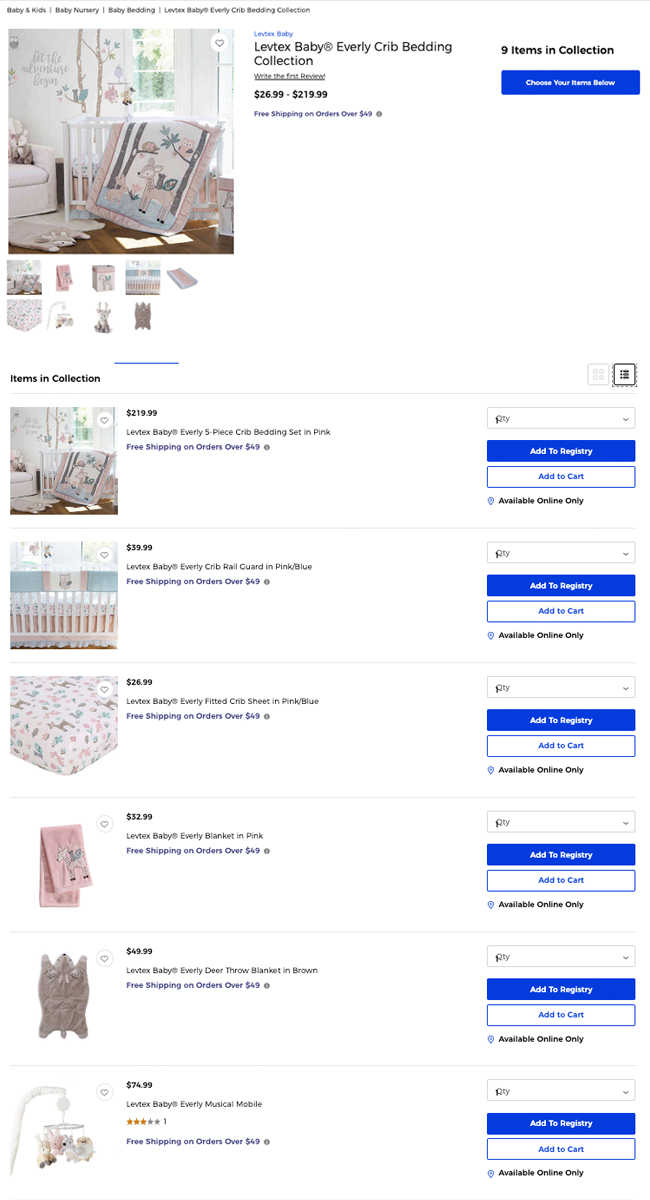 This is another scenario where I highly suggest checking out both the buybuy BABY and Bed Bath & Beyond websites as they have so many more options than what you can find in store! You can also read product reviews from other customers on quality, durability and style.
My Nursery
For our little girl's nursery, I wanted something that was feminine but not overly girly. I wanted mid-century modern and scandi-style furniture pieces with a colour palette of navy, grey, white and blush. Oh, and throw in a minor theme of woodland creatures for some added whimsy.
buybuy BABY was able to help me achieve this diverse vision and even had the perfect linen set to match! From the mid-century styled walnut crib to the quilt that incorporated my colour palette and character theme with extra linens and stuffies to top it off, I felt like no style choice was too difficult to execute.
Interested in buybuy BABY's design services but you're already past the nursery stage? Their consultants can help you design the perfect playroom, too!