I could not be more excited to be a first-time mom, but I'd be lying if I didn't say that the amount of gear I need to acquire for our little arrival isn't a tad overwhelming.
There are a few things that I've found help keep my mom-to-be feelings of overwhelm at bay – list making, research and staying organized! If you know me well, you know this is my M.O. for business, blogging and life in general, so I'm going to tell you how I have managed to be excited and not anxious when picking out everything we need for our little girl's arrival.
Everything in this blog post is what I've been preaching to my girlfriends (and strangers!) who are also expecting: why shopping and registering at buybuy BABY is going to make the entire process easy, fun and stress free!
Why I Shop at buybuy BABY
I am fortunate that buybuy Baby opened a brand new store in my city the year my first baby was set to arrive, however, I was fully prepared to drive to another city 3 hours north just to shop there (keep reading, I promise you'll feel the same way). Why? Because buybuy BABY has literally everything you need all in one place. They carry all of the top brands so there is something for every style and budget. It's also a really relaxed and fun place to shop.
Let's just get this out of the way, too: baby gear can get expensive and it all adds up! That's why buybuy BABY offers a price match promise. Between that and the extra coupons, referral rewards and completion discount, registering with buybuy BABY can help you make the most of your baby gear budget.
Let's Talk About Baby Registries!
Why I Chose buybuy BABY For My Baby Registry
I chose buybuy BABY for my baby registry for the same reason I shop there – everything is in one place. I don't have to seek out products at a ton of different stores when they have everything I need right there. If I have a question about a specific piece of gear, if I want to browse baby outfits and toys or get help with my nursery design, buybuy BABY's staff can help me out with all of it (at no additional cost, I might add!).
Shop: Diaper Bags
Why You Need a Baby Registry
If you're not sure about registering at all, let me try and convince you! I'm a big fan of gift registries in general for a few reasons:
Easy List Making! It lets you choose the items that you want/need and keep them in a detailed and itemized list all in one place (for your own info). With the amount of gear you need to acquire and consider, a registry allows you to compile ideas and edit as necessary. Don't want to share your registry with the world? buybuy BABY allows you to keep your registry private for your own list-making purposes!
Gifts! Registries help people purchase gifts for you during this special time in your life. Whether or not you want or expect gifts, you are going to receive them, so it may as well be something you are going to use and love. Some people just don't like to send money or gift cards, so this eliminates the need for returns.
Discounts and freebies! Most registries (like the one at buybuy BABY) give you a goodie bag just for signing up, additional coupons and a 'completion discount' which means you get an extra discount when it's time to close out your registry!

Why buybuy BABY is Easy
for First-Time Parents
Most baby boutiques see you coming when you walk in the door and they try to sell you all sorts of things you don't need and won't ever use. The knowledgable staff at buybuy BABY sees you as a first-time parent, not as a dollar sign – they genuinely want to help you make the best decisions for the items you'll be needing to care for your new arrival. And when I say knowledgable, they are exactly that. Each department has a consultant that specializes in a set of gear (carriers, feeding, bathing, furniture) so they can provide you with information on different brands, pros and cons and so much more.

Self-Directed or Personalized Shopping Services
At buybuy BABY you can shop however you'd like. If you're looking for personalized one-on-one attention and assistance, you can book personal shopping appointments. If you want to wander through the aisles without being bothered, you can certainly do that, too. Just know that if you have any questions, a consultant with the answers will be easy to find!
Test Drives & Personal Fittings
With specialists in every department, you know you'll be getting the right gear for you, your baby and your lifestyle. I highly recommend working with a consultant for items such as baby carriers. At buybuy BABY I was able to try on carriers to both figure them out and determine if they would fit both myself and my husband (I didn't want to have to get two!).
Shop: Carrier Shown | All Carriers
Not sure how to choose from the countless number of strollers on the market today? Speaking with a consultant can definitely help. If you share your budget, lifestyle needs, preferences, etc. they'll be able to help you choose the right stroller/carseat/travel combination, complete with test drive! (Shop: Strollers + Gear)

Choosing the Right Gear For You
I personally found choosing feeding items a little tricky, especially when it came to breast pumps and bottles (some of these things are completely foreign until you need them!). One of the department specialists was able to help me out. I literally said to her "I have no idea about which brand is best, which bottles are best or anything related to this. I need all the info you can give me – pros, cons, otherwise. Go!" and she did. She walked me through the ins and outs of everything I could possibly need to know, providing me information but never pushing me one way or another. (Shop: All Feeding)
Sometimes hearing all of the specs of a set of products can be a lot to remember while you're in store and you want to do some additional research yourself. Thankfully, buybuy BABY's website has a product comparison tool that allows you to choose the products you're considering and lay the specs out side-by-side to help determine which best fits your needs.

Decorating Services For The Perfect Nursery
You don't have to be an interior designer to have a Pinterest-worthy nursery! buybuy BABY offers decorating services and a vast assortment of furniture and décor to help you create your perfect baby room. Whether you've got a Pinterest board full of nursery inspo or no idea what you're looking for, one of the interior design consultants at buybuy BABY can help.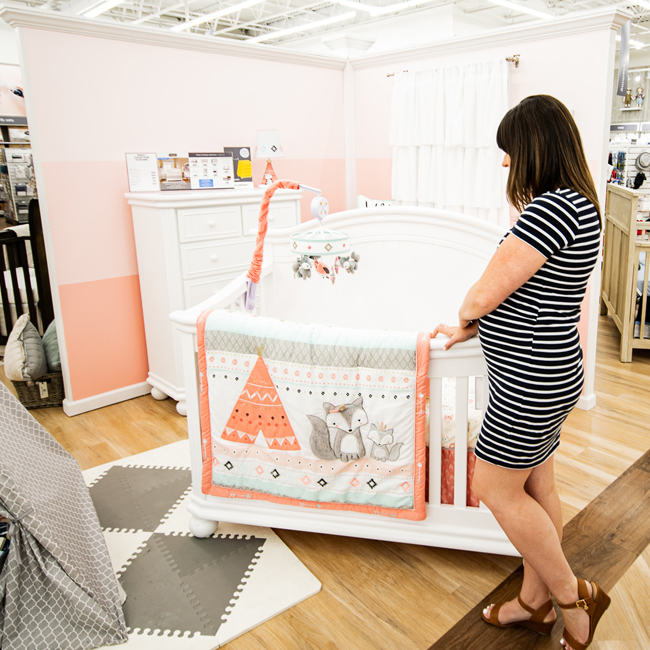 I love that in-store there are a number of different nurseries set up to help provide both inspiration and scale of furniture. This can help inspire themes, colour palettes and the overall look and style of your own nursery. (Shop: Nursery Furniture)
If there is one thing you'll need for your nursery, it's a comfortable chair! You'll be spending a lot of time there. As much as I love to shop online, sitting in a chair and getting a real feel for it is really important. At buybuy BABY you can test out a ton of different chair options and even flip through fabric swatch books to make sure your selection is as stylish as it is comfortable.
How To Start & Use
Your buybuyBaby Registry
Let's get down to it. Now that I've told you all about why I love my buybuy BABY registry so much, let me show you how to get started so that you can start your own!
First off, you can sign up either online or in-store at the registry desk. I personally recommend signing up in-store just so that one of the consultants can share the benefits of the buybuy BABY registry with you and provide you with your goodie bag!
Now let's get items added to your registry list! There are a few different ways to do this:
#1: Scan Items In Store The Traditional Way: You can head to a buybuy BABY store and ask for a scanner at the registry desk (this is the same method as a bridal registry) and either scan items yourself or have a consultant help you. This is a helpful thing to do if you've scheduled a personal shopping appointment.
#2: Add Items Online: You can head to the buybuy BABY website and add items to your registry with the click of a button, just like adding them to your shopping cart! Find the item you want and click "Add to Registry", choose your quantity and colour preference and you're good to go.
#3: Use the App! This is my favorite way to add items to my registry! I highly recommend downloading the buybuy BABY App (US only) or the BedBath&BeyondCa App (Canada). Using the app is simple and fun! Just like through the buybuy BABY website, you can add items to your registry, find the registry checklist to make sure you've listed everything you'll need plus you can track how many gifts you've registered for by price or category which is really helpful when planning for a baby shower. Plus, instead of requesting a scanner while shopping in-store, you can use the camera on your smartphone to scan items directly into your registry!
The buybuy BABY registry app has some really cool features that you can check out in this short video:
Final Thoughts
I hope that this article has helped to reduce the feelings of overwhelm that you might be experiencing when it comes to shopping for baby. My goal with this post is to share how wonderful and stress free my experience with buybuy BABY has been. They've really managed to take the stress out of shopping for baby and to keep it both fun and exciting!

Happy Shopping!!!
This post has been sponsored by buybuy BABY, however all opinions and experiences have been my own. 
Love This Post?
Subscribe to get posts like this delivered to your inbox every week