Wine tourism is something that I very much enjoy. When I visit a new place and discover that there is a vineyard nearby, I am anxious to learn all that I can about this growing region that was otherwise new and unknown to me.
You may be familiar with BC Wines, but did you know that Vancouver Island's Cowichan Valley now boasts one of the fastest growing wine regions in the country?
Last fall I took a visit to one of the most architecturally stunning wineries that I have every visited: Blue Grouse Estate Winery & Vineyard located in the greater Duncan, British Columbia area.
You may notice me repeating myself a bit throughout this article, but I was just so taken with the winery that I cannot emphasize it enough.
A Bit of Background…
People can sometimes be wary of wines that aren't grown in traditional regions of the world, but I am not one of those people. Wine from historically good regions can be awful and wine from new regions can be delightful, as is the case with Blue Grouse.
It's worth noting that the vines here aren't as young as you might think they are. Vines were originally tested in the area circa 1920 and then we saw a surge in growing attempts in the 1980s as well.
Blue Grouse Wines
Why do I love Blue Grouse wines so much? First of all, I love the look of the bottles and the labels that they use (you may recognize them from my Holiday Tablescapes post). Most importantly, though, I love their wines because of the quality and depth of flavours and characters that they offer.
It certainly helps that my current favourite wines all seem to start with the word "Pinot" be it Noir, Grigio or bubbles! My favourites are of course the Estate Pinot Noir and Paula Sparkling – however, I didn't try a single one of their wines that I did not enjoy!
Looking to enjoy their wines year round? Why not join their wine club! Bottles are shipped three times per year and there are different membership options for different tastes.
The Blue Grouse Estate
I love when a winery offers more than just tastings and a wine shop. Blue Grouse Estate Winery is full of surprises for the wine lover, the foodie, the architecture aficionado and anyone who enjoys the serenity of nature.

The Main Building & Tasting Room
The main building is where you'll find the wine making facilities, the cellar, the tasting room, the offices and a number of other spaces. This grand structure is one of the most stunning examples of west coast architecture that I have ever seen. I fancy myself to be quite an architecture nerd (I prefer it to say, traditional art) and I found myself speechless by its grandeur.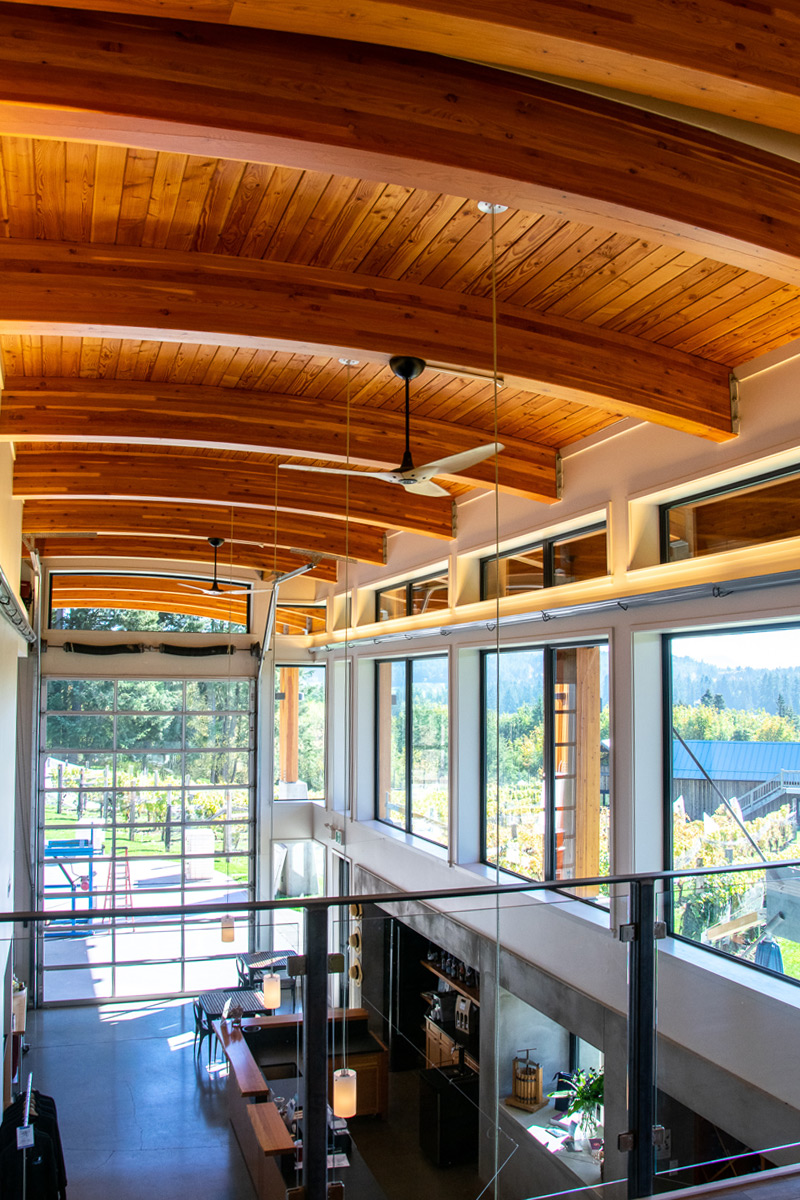 The mix of timbers, steel beams and glass that make up the estate buildings' construction is incredibly well executed. I love the way that light pours into the tasting room that overlooks the stunning grounds.
The Blue Grouse Estate is definitely a must-see in person. The gorgeous upper floor patio is the perfect spot for an afternoon or early evening glass of wine. It's situated perfectly to enjoy the views of the vines, rolling hills and nature that surround the winery.
Much of the building pays homage to the original winemakers featuring elements of their history, their stories and how it all began. I love when you are able to learn the detailed history of a winery and its evolution. It adds a little extra for me when I'm pouring a bottle at a dinner party or enjoying a glass at home.

The Winery, Orchard and Grounds
There are pathways throughout the winery perfect for exploring the grounds. You can enjoy walking around the grapevines and fruit trees and even stopping for a rest to take in the serenity of the nature that surrounds you.
Strolling through the grounds, my immediate instinct was "this would be a breathtaking place to get married – just think of the photos you would have!" Sure enough, this is a place where you can host a special event! (more details on bookings here)

The Grouse House
Walking in to The Grouse House, I felt immediately relaxed. I can just picture myself sipping a glass of wine while enjoying a good book by the fire…
I know that I can't do this place any justice explaining it on my own, so here is what their website says:
Delight in your "Bed & Bottle" retreat among the vines. Relax and take in the quietude of the surrounding vineyard while absorbing the natural serenity; or drive a short few minutes to the unique and historic waterfront community of Cowichan Bay. The Grouse House's two-bedroom suite sleeps four, ideal for two couples or a family.
The modern and well-appointed kitchen is the perfect place to make the most of your farmer's market finds. A panoramic outdoor patio features a barbecue and ample space to sit and unwind over a glass of wine. It's the perfect spot to make the most of your "Bed & Bottle" service: one bottle of wine is our gift to you on check in.
Other amenities include luxurious linens, gas fireplace, air conditioning and complimentary WiFi.
This is definitely somewhere I'd love to stay the next time I am in the area! (Note that The Grouse House is not pet-friendly)

Why I Love Blue Grouse Estate Winery
I love wine tours and tastings and have visited countless wineries over the past number of years, but I haven't wanted to spend hours somewhere like I did at Blue Grouse.
We were fortunate enough to be given a private tour by the estate proprietors, Bailey and Jenny, who even let us bring our little pup along! Their passion for what they do is incredibly genuine and that comes through in every aspect of Blue Grouse. It's not often you meet a pair as warm and inviting and as passionate for what they do that these two.
Next time you are on Vancouver Island, I invite you to visit Blue Grouse Estate Winery & Vineyard when passing through the Cowichan Valley. It's worth the trip for even a few hours of tranquility. If you can spend a couple of nights enjoying The Grouse House, all the better!
---
The Details of Getting There
For more details on the winery, tours & tastings and booking information for The Grouse House, click here.
Getting There: Directions Here!