Before our little one was born, we embarked on a renovation of her bathroom. We wanted to update and modernize the space to something that would work for her from infancy to her teenage years (if we stay in this house that long). You can check out the full before and after of the reno here.
What I'm excited to share with you in this post is how I personalized this space with all of the bath time essentials for baby while still maintaining a classic, neutral space. It's also a chance for me to share my favourite baby bath time gear with you, too! I like my baby items to be fun but also stylish. Thankfully, my friends over at buybuy BABY were able to help me find everything I needed for this space and I've partnered with buybuy BABY to write this post!
Baby Bath Tub
For safety and peace of mind, I purchased the Boon SOAK 3-Stage Baby Bath Tub and used it inside of our existing bath tub. This tub is contoured to baby's body and is super comfy. It works for multiple baby stages, too. I love that I can just empty the tub out and then tip it over to dry once I'm finished.
This tub is really portable, too, because it's so nice and lightweight. My favourite thing to do is use it as a gift basket full of linens, toys and other baby must-haves for a first time mama! I opted for grey to match our neutral decor, but watch in-store at buybuy BABY as they sometimes come in bright accent colours!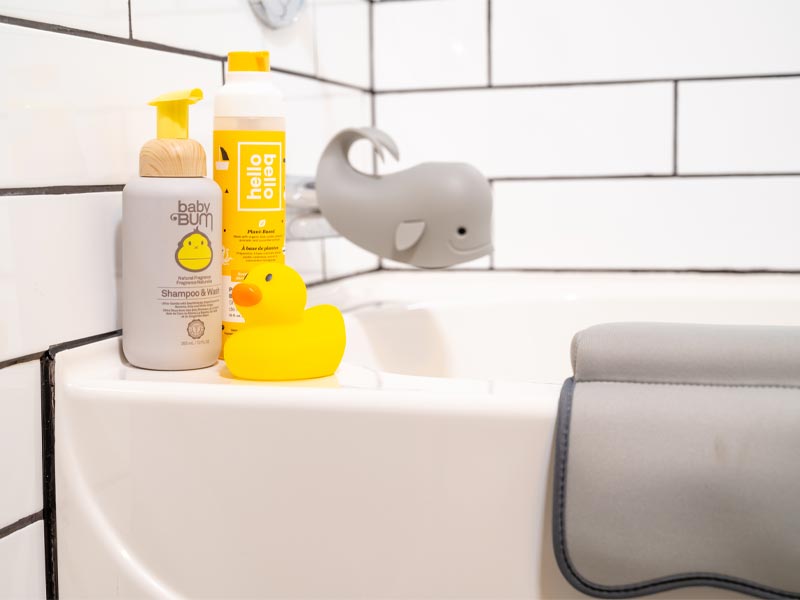 If you're a first-time parent, a good buy is the White Hot Safety Bath Ducky. This little ducky floats in the tub and lets you know if the water is too hot for your little's skin.
Bath Comfort, Safety & Fun
The second I saw the Skip Hop Moby 4-Piece Bath Time Essentials Kit at buybuy BABY, I knew it was exactly what I needed to get! This set offers safety, comfort and a neutral touch of whimsy to baby's bathroom.
No more sore knees or elbows from bathing baby; the elbow pad has suction cups to keep it in place, too! No more worries about bumping the faucet or trying to find a safe water scoop for hair washing; the scoop has a soft rubber edge that is soft and curved for safety around baby's face.
Best Bath Toys!
Bath time should be fun time and so I tried to find some of the most interactive toys that I could. I love things that inspire imagination not only for your little one, but for parents, too. I chose these items because of how much fun they are, but also because of their versatility.
The Munchkin Farm Bath Squirters can also be used in the pool or just on their own on a play mat – no water, required. My little loves chewing on them, too. Why not build little pens for each of the animals? So many possibilities here. We love to name all of the animals and learn all of their sounds!
The Skip Hop Zoo Dog Basketball Bath Toy is something I recommend getting creative with. Why not use it outside the bath – again, in the pool or play area. It's folds down so it's easy to take on trips, too! I also love the Skip Hop Zoo Monkey Pull & Go Submarine because he is just so cute. This toy will be a ton of fun in the pool or with a water table. I also recommend the Skip Hop 5 Piece Zoo Stack & Poor Buckets. They can be used in water, in sand or just on their own for interactive play time. The bright colours and stack-ability are great for baby's development.
The Munchkin 4-Piece Fishin' Bath Toy Set is a toy I knew we needed the second I saw it. Our family loves to go fishing so why not start the littles early! This fun play set is great in the bath or pool, but also fun if you let your kiddo pretend to fish while you hide and give the line a tug when you attach a fish (to simulate real fishing!).
Another one of our favourites is the Munchkin Penguin Bubble Bath Blower! This is fun in the tub, in the pool and all over the back yard! The amount of joy that bubbles bring to children is incredible for the investment required!
Baby Bath Products
When it came to choosing bath products for baby, I was sure to test them all on myself before using them on her. I immediately fell in love with the Baby Bum Shampoo & Wash because it dispenses as a foam, making it super easy for bathing and washing baby's hair.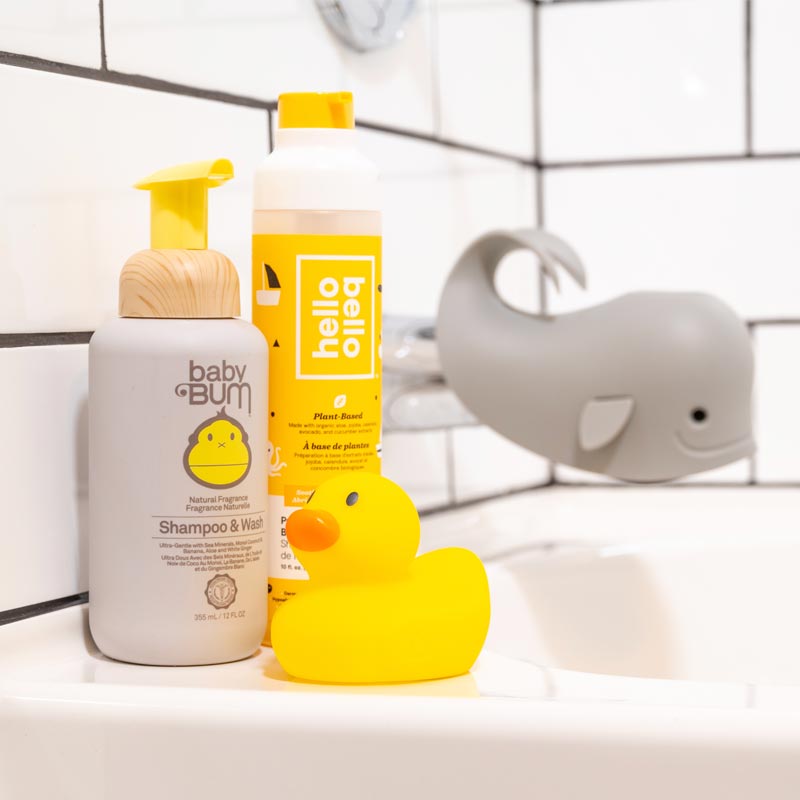 Once baby had more hair, we needed to move on to a deeper cleansing shampoo which is when we started using Hello Bello's Tear Free Extra Gentle Shampoo & Body Wash (there's a conditioner, too, if your babe needs the extra moisture for their locks!). Read all the details on Hello Bello here.
If baby suffers from cradle cap at all, I highly recommend using the FridaBaby DermaFrida Skin Soother Silicone Bath Brush. It is great for exfoliating baby and giving their skin a little massage!
Hooded Bath Towels
Hooded bath towels are a must-have for babies! They make snuggling a little one dry so much easier! I'm a huge fan of the ones by aden + anais. They're 100% cotton terry and have a really nice soft hood, all with cute patterns!
I always like to have wall hooks in the bathroom. They're much easier for hanging baby's towels to dry and for accessing them when I need them, too.
Shop This Post
all of these lovely products are available at my fave spot: buybuy BABY! 
Boon SOAK 3-Stage Baby Bath Tub
Skip Hop Moby 4-Piece Bath Time Essentials Kit
Skip Hop Zoo Dog Basketball Bath Toy
Skip Hop Zoo Monkey Pull & Go Submarine
Skip Hop 5 Piece Zoo Stack & Poor Buckets
Munchkin 4-Piece Fishin' Bath Toy Set
Munchkin Penguin Bubble Bath Blower
Hello Bello Tear Free Extra Gentle Shampoo & Body Wash
FridaBaby DermaFrida Skin Soother Silicone Bath Brush
aiden + anais Hooded Bath Towel