Some projects take a lot of planning. If I'm going to be straight with you, this project has been in the works for a couple of years. We knew we wanted to make some changes to our pantry area to make it more functional, but went back and forth on a variety of plans, layouts, finishes and renovation ideas before finally committing. This project sought to alter a large space on the main floor of our home.
Our pantry is walk-through style and connects with our main floor laundry and mud room spaces so with any major changes to the pantry space came changes to the adjoining areas as well.
This post is the first of many about this renovation project. I am beyond thrilled to be sharing it all with you – from why we did the project, how we chose everything and what has now made us fall back in love with our home.
The Pantry Renovation Process
I hated our pantry. I hated the wire shelving. I hated how "builder grade" everything in the space looked. I hated the dark and dingy brown tile and the walls that seemed to cut off the flow of the entire space. Style aside, I needed more storage and more effective storage, too.
When we took a really hard look at the space and what we wanted to achieve from a design perspective, we knew we had to remove the small (and useless) broom closet in the space. That meant removing walls, relocating HVAC and electrical, new flooring and ceiling repair. Sounds extensive for such a small space, but very, very worth it.
Just removing that small closet and adjoining walls opened the space up SO much. I couldn't believe how much bigger it looked! With everything demo'd, we now had the opportunity to change up lighting (we added new pot lights), move some electrical switches and add some new outlets!
For the full details on the renovation process of this space, check out my Renovation Process blog post! In that post I share tips and tricks for planning and executing a renovation like this in your home as well as the things that you can't see (i.e. the changes behind the drywall that sometimes need to happen). Now on to the pretty part!
Why I Wanted a Butler's Pantry
A butler's pantry isn't a feature that you'll find in many subdivision builder homes. To be honest, we were fortunate to have a walk-through pantry with ample space before this project – it just wasn't the right use of the space we had. I wanted something that would give us additional space and storage while also providing a little 'wow factor' for us, too.
Once this project was completed and I was able to move everything into the space, I felt like my kitchen grew! Just being able to move the stand mixer and coffee maker out of the kitchen seemed to free up so much additional counter space in the kitchen! Goal = Achieved.
What's In A Butler's Pantry
To make this space a true butler's pantry, there were a few features I knew I needed to include:
Counter Space: Something perfect for small appliances or any extras when entertaining! This also meant having electrical outlets installed to be able to plug any appliances in. Rather than splurge on stone counters, I thought that a walnut butcher block counter would add warmth and style to the space.
Cabinetry: I'm a big fan of drawers whenever possible, so I opted for drawers for all of the lower cabinets. These drawers allow me to store kitchen items like aluminium foil, freezer bags, compost bags, etc. I also have a bin for recycling and a place to store containers of dog food. One of the big pros of going with IKEA Cabinetry was that they have an infinite number of combinations for interior fittings, drawer accessories and more so that I could customize my storage space to fit my needs.
Fridge: Something else that I wanted was a beverage centre. I opted for this stylish wine fridge over a traditional beverage centre because it took up less space (i.e. giving me more space for cabinetry). This small refrigerator gives me the flexibility to store cans, wine bottles and more. TIP: when setting up the space, be sure to have your electrician install a dedicated plug/breaker for this larger appliance.
A Real Pantry Cabinet
At the end of the day, the real purpose of a pantry is to store food! I hate clutter so much and our previous set-up of open wire shelving just looked like stacks of food in a room.
What I really wanted was a real pantry cabinet with pull-outs. Pull-outs keep things from getting lost (and expiring!) in the back and multiple shelves and drawers allow maximization of vertical storage space. Keep in mind that pantry items such as canned goods aren't very tall so more shelves/pull-outs = more space for storage!
It's amazing what you can hide behind this big white cabinet door! I am obsessed with IKEA Cabinetry and knew that their cabinets were the perfect solution for the space because again, you can customize the interior to fit your needs.
This pantry cabinet is 24″ wide, which is the same measurement as the interior dimensions of the broom closet that used to be in its place. This cabinet is FAR more functional that the broom closet ever was. TIP: If you need a cabinet to act as a broom closet, IKEA offers specific interior fittings for that purpose!
Storage Space Can Be Pretty, Too!
Although I am a lover of closed storage to keep clutter hidden, I wanted somewhere to display some of my favourite brightly coloured cookware and store and show off my collection of cookbooks, all within arms reach. Open shelving was the clear answer here. My goal of stylish and practical storage was achieved!
I opted for floating shelves that matched our walnut countertop. I wanted clean lines and something classic. When searching for the perfect shelves, I found Kitch – a Canadian company that offers custom doors and floating shelves for IKEA Cabinetry! To learn more about the shelves themselves, click here!
For the backsplash, I wanted something classic, so a white subway tile with dark grout was just the answer. The tile also helps reflect additional light in the space while adding style points.
All The Custom Shelves
At the end of the day, this space needs to be a functioning pantry and that means as much storage as possible! Our walk-through pantry space has two walls for shelving and I think it's important that I share this wall, too! This space is a little bit awkward – it originally had 5 wire shelves spaced too far apart (i.e. not a good use of space). Here's a view from both sides in the finished space!
By removing the wire shelving (yay!) and building our own custom shelves out of MDF, we were able to make use of the additional storage space on this wall. The wire shelving did not take advantage of the angle of the wall like these custom shelves do. I painted them the same colour as the wall so that they would blend in. Not every space needs to be a focal point.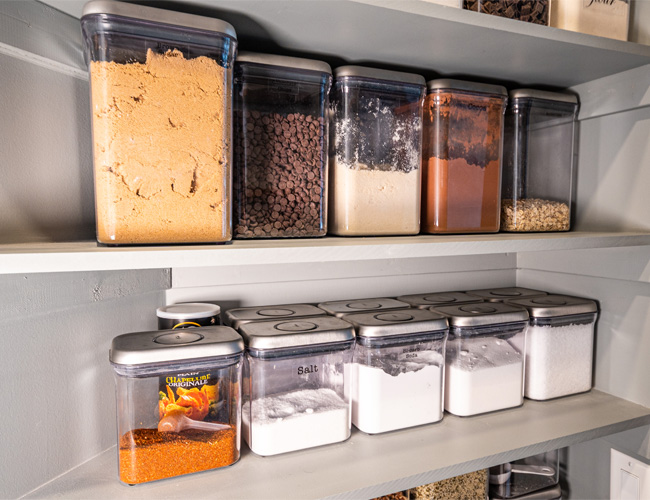 This space is where I store all of my decanted baking goods in these clear sealed containers. I love the continuity that these containers provide and the fun labels that I found for them!
I needed somewhere to store items like potatoes, onions and garlic and found these wire baskets at IKEA which are perfect! They allow air flow and add a fun pop of colour to the space! TIP: To ensure they slide in and out smoothly, I attached felt pads to the bottom corners of each basket.
---
Want to see the rest of the project?
Check it all out here:
Want to learn more about IKEA Cabinetry? Click here!
Want to order your own samples from Kitch? Click here!
Want to see my laundry room reveal? Click here!
Want to see my mud room closet reveal? Click here!
Want the info on our planning and renovation process of this space? Click here!
Want to learn more about IKEA Cabinetry? Click here!
---
Source List:
Paint Color: Grey: Valspar 'Metropolis' (4005-1C) 
Tile: Tile & Stone Source
Cabinetry: SEKTION, IKEA, Door Style: AXSTAD, IKEA
Counter Top: KARLBY counter top (walnut veneer), IKEA
Containers: OXO GoodGrips POP Container Collection, Bed Bath & Beyond
Container Labels: Kitchen Labels: Pantry Labels, StuckOnYou
Wire Basket: RISATORP, IKEA
Cookware: Le Creuset Cookware, Hudson's Bay
Cake Stand: Hearth & Hand with Magnolia, Target
Cookbooks: Various Cookbooks, Indigo
Coffee Maker: Philips Saeco Espresso Maker
Stand Mixer: KitchenAid Professional Stand Mixer, Bed Bath & Beyond