Clearwater Beach is one of my favourite spots to visit in the USA. It has been voted the best beach in America multiple times and ranks in the top ten beaches in the world. If you've ever visited, you'll know why it's such a great spot!
But where do you eat when you're at the beach? There are a ton of unique places to grab a bite here and plenty of places that offer beachside and waterfront dining. With that in mind I'm sharing my favourite places to eat in Clearwater Beach, Florida as well as places to eat in neighbouring Clearwater and Dunedin, Florida.
Best Places to Eat in
Clearwater Beach, Florida
My #1 Pick: Frenchy's
Frenchy's is a must-visit when in Clearwater Beach. This staple is well-known in the area. They have their own fishing fleet so you know everything is fresh-caught daily at each of their four locations. Wondering which location is best? Well, that all depends!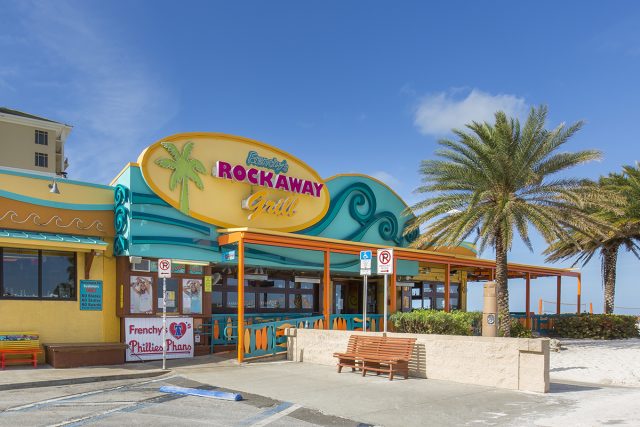 I love Frenchy's Original Cafe because they have great food and a big souvenir shop called Frenchy's Off The Hook. Frenchy's Saltwater Cafe is accessible by boat and you can check out their fishing fleet! Plus they have a dog-friendly patio! Frenchy's South Beach Cafe features a Key West bistro vibe! Frenchy's Rockaway Grill might just be my favourite. Located right on the beach, it's the perfect spot to grab lunch and a game of beach volleyball or have cocktails and dinner while watching the sunset.
What to eat at Frenchy's: My favourite dishes at Frenchy's include The Original Grouper Sandwich (a must-try fried the first time), stone crab legs (sustainable and delicious), fish tacos (my fave are the California Baha Fish Tacos at Frenchy's Rockaway) and of course their famous Peanut Butter Pie. Note that all Florida Grouper dishes are available fried, grilled, blackened or cajun style – so why not try them all?
A Little More Upscale
When I say 'upscale', do consider that it's still Florida and we're still at the beach! This is a great opportunity to break out those linen shorts and polo shirts, pretty sundresses and wedges.
Bob Heilman's Beachcomber Restaurant
The Beachcomber restaurant in Clearwater Beach looks like the fanciest place on the block! For me, it has an 'Old-Hollywood-Palm-Beach-Casual-Glam' vibe to it. The menu is fantastic and the ambiance is great for dates and groups alike.
Marina Cantina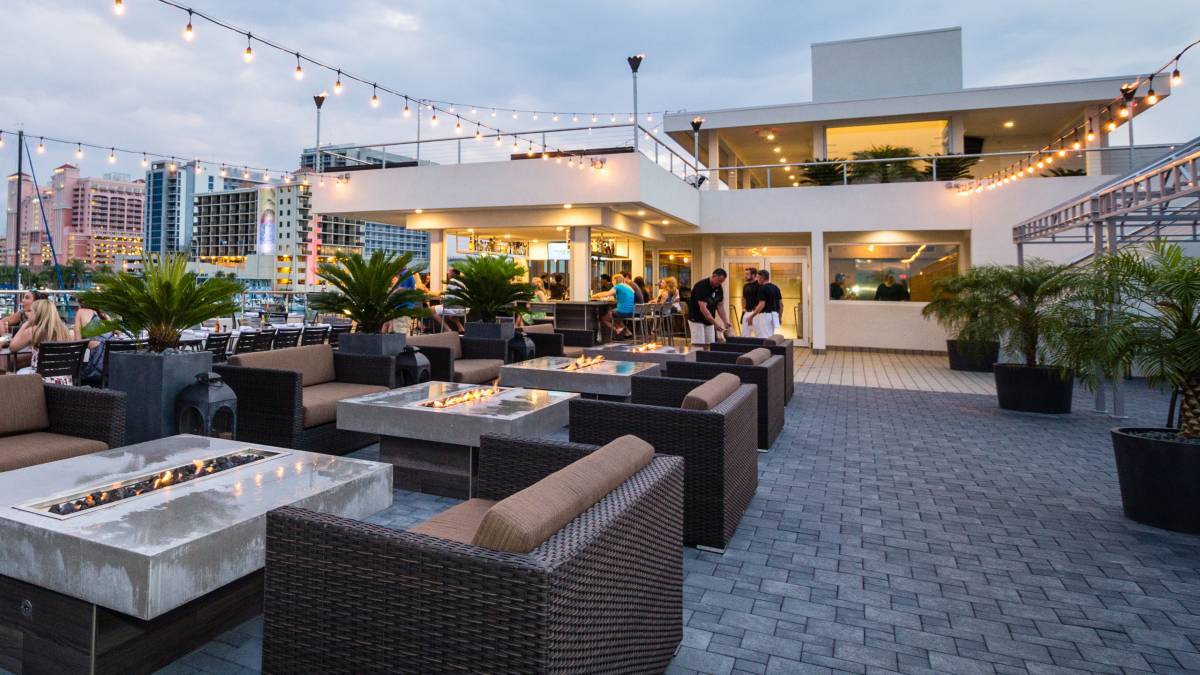 Marina Cantina boasts great views of the harbour and a very large rooftop patio. It's a great spot to grab dinner or cocktails and take in the sunset while enjoying some live music. They have a great list of custom craft cocktails and boast fantastic fresh seafood dishes and upscale Mexican fare.
Island Way Grill
Island Way Grill in Clearwater Beach is a great spot for date night, drinks with friends or a family dinner. They have a great menu, a patio where you can watch the sunset and a great atmosphere to enjoy it all. Don't laugh, but they serve a great 'Early Bird Dinner' – it's cost-effective and perfect pre-sunset!
Cesare Italian Restaurant
Cesare Italian Restaurant offers traditional Italian dishes as well as "coastal Italian" menu items where you'll feel like you're dining near the Mediterranean! They've got a great wine list and everything is made from scratch. This is one of my favourite dining spots in Clearwater Beach.
Columbia Restaurant in Sand Key
Columbia boasts incredible views and great food. They've won a number of awards and received praise from countless media outlets. Their Spanish-Cuban cuisine is incredible, made better only by their stunning beachfront views. This is a great place to enjoy a romantic evening. The photos on their website don't do it justice!
Other Casual Fare
Almost everywhere to eat in Clearwater Beach is casual – remember, you're on the beach! Here are a few of my favourite spots that you can stroll to in your flip flops!
Clear Sky Beachside Cafe
I'm going to mention Clear Sky twice in this post, so it's important to distinguish between the two (yes, they are affiliated with one another). Clear Sky On the Beach has an upscale diner feel, offers a great spot to view the sunset and is honestly one of my favourite lunch spots on Mandalay Avenue.
Spotted Donkey Cantina
The Spotted Donkey Cantina is located inside the Hilton right on the beach. This is a great location for grabbing a bite and then heading out to enjoy a movie on the beach (so fun!). I love their authentic Mexican cuisine – their menu boasts a large variety of dishes so there's something for every taste and spice-love level!
Jimmy's Fish House & Iguana Bar
Jimmy's On the Beach is a bit further south than the other restaurants, but it's definitely worth checking out (it's still in Clearwater Beach). It's located in a great area for an after-dinner stroll, too. Tip: Head to Jimmy's On the Beach for all-you-can-eat Florida Grouper! You won't be disappointed.
Another Broken Egg Cafe
Another Broken Egg Cafe is a great spot for breakfast and brunch. Their menu is full of delicious choices! There is ample parking in the nearby parkade (or parking structure, if you prefer) and is walking distance to the nearby beach. This is a really great family-friendly spot, too.
Cooters Restaurant & Bar
Cooters in Clearwater Beach is about as casual as they come. This is one of my favourite spots for pub fare and great beers! The food is great, the atmosphere relaxed and fun, and the staff are always incredibly pleasant and jovial.
---
Best Places to Eat in Clearwater, Florida
Clearwater, Florida is just across the bridge from Clearwater Beach and is worth mentioning because they've got a few can't-miss dining spots!
Clear Sky on Cleveland
I told you I'd mention Clear Sky again! Clear Sky on Cleveland has a few great features worth mentioning. The front side of the restaurant features high ceilings, exposed brick, a classic cocktail bar and a more vibrant atmosphere. The back side of the restaurant transports you to an Italian Piazza! Great food and drinks, great wine list! Perfect for a night out.
Cristino's Coal Oven Pizza
You know I'm a huge pizza lover (and well, who isn't?!) but Cristino's might be the best pizza joint in Florida. Their al fresco dining features a cozy evening atmosphere with countless string lights overhead! All of their pasta dishes are delicious but Cristino's pizza is something extra great. TIP: You absolutely MUST try their house made pesto sauce. Perfect for dipping bread and pizza crust, you have to try this. I would also finish your meal off with some of their delicious gelato!
---
Best Places to Eat in Dunedin, Florida
Why did I include Dunedin you might ask? Well, I'm a Canadian girl and that's where the Toronto Blue Jays have their Spring Training! Why not catch a ball game in March and then lunch or dinner? Also, Dunedin is full of great little places to stroll, shop and eat. Here are my favourite dining spots:
Casa Tina
Casa Tina in Dunedin features a slightly upscale casual vibe with great authentic Mexican fare. Their margaritas are available by the pitcher and the sauces for their enchiladas are like nothing I've ever had before. Everything I've ever tried on this menu has been incredibly delicious – you can tell they make it from scratch.
The Fenway Hotel
The Fenway Hotel features two great spots: The Hi-Fi Rooftop Bar and Hew Parlour & Chophouse. This is a great place for a slightly fancier night out. I highly suggest getting there early, grabbing a cocktail at the rooftop bar while you watch the sunset and then settling in for dinner at the chophouse.