The Calgary Stampede. Dubbed "The Greatest Outdoor Show on Earth", this event is 10 days of fun in Calgary, Canada.
The event boasts a rodeo with one of the largest pots of the season, a parade, a midway, outdoor concerts, chuckwagon races, a grandstand show and nightly fireworks among its events. Beer gardens, free cowboy breakfasts and "beef on a bun" dinners are also part of the festivities. If you've never attended The Calgary Stampede, but are thinking of including it in your summer vacation plans, I think it's something worth seeing at least once in a lifetime!
Want more details on The Calgary Stampede? Check out Episode 4 of The Real Girl Podcast where I discuss all things Stampede and everything you need to know when attending The Greatest Outdoor Show on Earth!
The Calgary Stampede or just "Stampede" as it's known to locals is a 10+ day period where you can dress like a cowboy without looking like a poser. In fact, it's encouraged. We want you to get into the spirit of the event, so don't worry about any feelings of cultural appropriation! All businesses allow employees to wear denim, boots and hats for the work week upon when the festival falls. It's pretty much tradition at this point.
Most Calgarians have a go-to set of clothing that they pull out once a year. As a long-time Calgarian (almost 20 years now), I've come to collect "Stampede Outfit" items as I see them. It's much easier than trying to scramble through what's left in stores to be picked over by tourists. I often find myself purchasing items I see on sale throughout the year because they'd be "perfect for Stampede". Remember – this event is 10+ days long in July heat so it doesn't lend itself to re-wearing much without washing it in between!
Shop this look: Shirt | Jeans | Belt | Boots | Hat
The weather during Stampede can be a bit funny. It's either blistering hot with a predictable mid-week thunderstorm and brief downpour, or it's rainy and cool. Don't worry – this post will provide you with all of the necessary wardrobe items for you to mix and match for such weather changes!
Not sure what to wear for attending Stampede Week events? We've got you covered! No matter if you're heading to a Stampede Breakfast, the Rodeo or a Stampede work event, everything you need is in this post!
Enter your email address below to unlock additional FREE content! Here's what you'll get:
Necessary Fabrics + How To Wear Them
Must-Have Pieces For Your Stampede Wardrobe
The Right Footwear + Cowboy Boot Alternatives
The Perfect Hat + Cowboy Hat Substitutes
The Best Bags + Accessories to Perfect Your Outfits
Stampede Outfits For Men
What To Know When Dressing for The Calgary Stampede
My Stampede Wardrobe
+ Western Outfit Inspiration
Now that you've got all the pieces, let's put them together! Here is some outfit inspo for your Stampede looks from my own Stampede Wardrobe! P.S. All of these looks are shopable, too!
Not heading to Calgary this summer? These looks will show you some examples of what to wear to a rodeo, too!
This outfit is super easy – this lace-up gingham dress is a natural base for a denim jacket and boots! Finish with a hat, if desired.
Shop this look: Dress | Jacket | Boots
Traditional outfit choices like this are a breeze and these pieces are cute enough to wear all summer long! Hattie certainly agrees!
Shop this look: Shirt | Jeans | Belt | Boots | Hat
Tip: A small front tuck of your shirt adds style and shows off your belt!
Shop this look: Shirt | Jeans | Belt | Boots
On hotter days in July, I prefer to swap out my jeans for shorts. I keep the boots because they're hella comfy and protect my feet.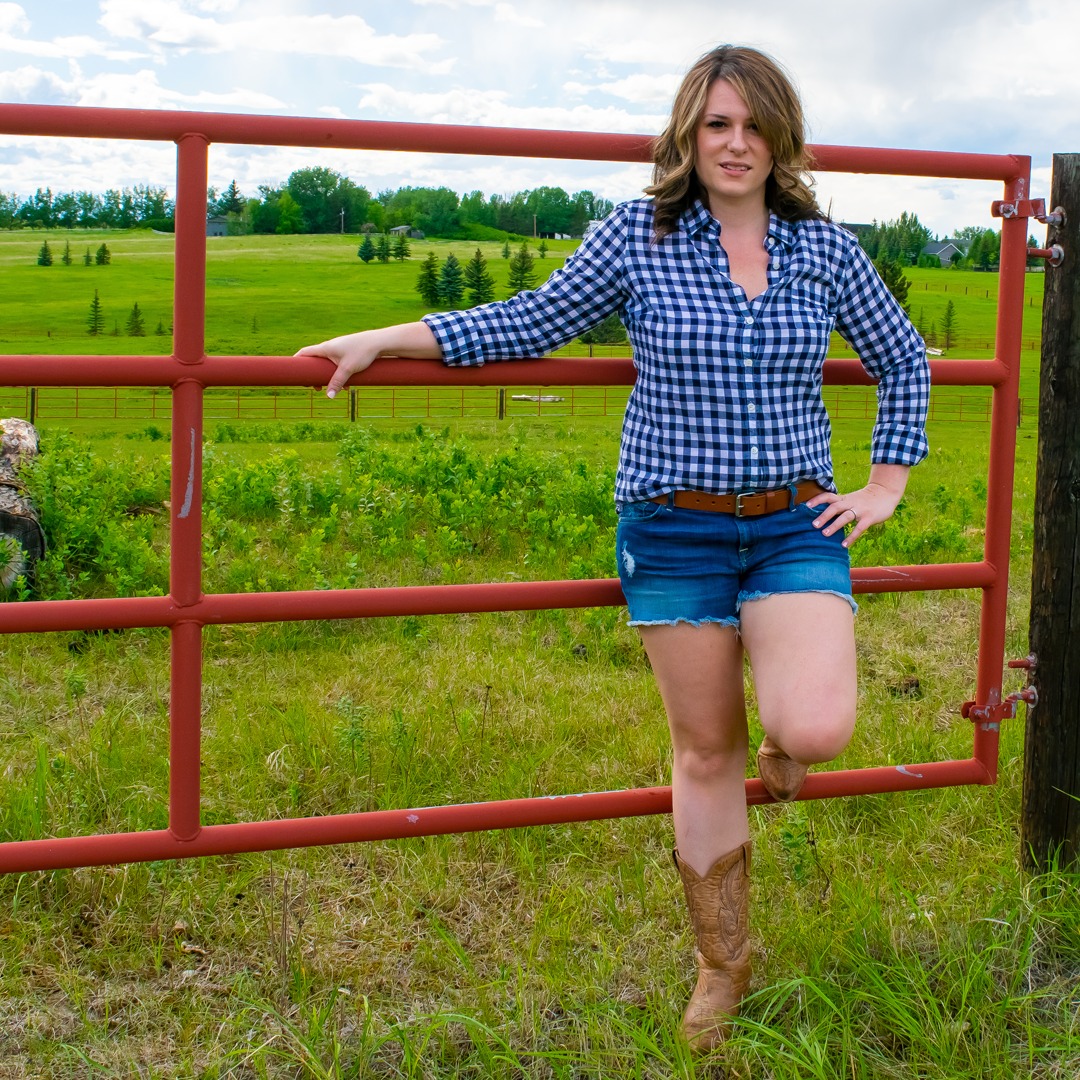 Shop this look: Shirt | Shorts | Belt | Boots
I love off the shoulder styles for summer, and adding boots turns them into a cute cowgirl look!
Shop this look: Dress (similar) | Boots
Off the shoulder styles are the perfect base for showing off your favorite tassel earrings. These gorgeous baubles are from local Calgary company, ULOV Jewelry.
Shop this look: Top | Shorts | Boots | Earrings
Not feeling the full-on western vibe? Here are two looks that are 'western enough' on their own but you can easily add boots, a hat or a denim jacket to if you feel like upping your cowboy game.
Shop this look: Midi Dress | Belt | Wedges
Shop this look: Dress | Panama Hat | Shoes
---
Shop My Stampede Outfits + Wardrobe