This spring we got a new front door and it completely changed the look of the exterior of our home. To say I'm obsessed with this door is an understatement. This is my first fall season being able to decorate it and I love how it turned out. If you want to watch me decorate the space, check out my little video here!
Just The Door
I thought it would be helpful to show how the front porch space looked before I started decorating. It's a pretty blank slate. The door is such a wonderful statement that I hate cluttering anything around it for fear it will take away from its grandeur.
I chose this spartan planter for its modern feel and clean lines. It allows me to switch up the plants for every season without being too obtrusive in the space; it's pretty shallow so I can decorate in front of it, too. I haven't decided what to plant permanently in the front planter (bottom left) yet, so I decided to go with some large potted mums for now (tip: Costco gets these every year and they are gigantic and really inexpensive).
Let's Dress Up The Porch
Here's a shot of the finished product. All of the potted mums haven't fully opened yet, but I wanted to get this post up to inspire you for your own porch before the season was over. I wanted to fill it up with pumpkins, but still have enough space for it to function as an entrance to our home.
Pumpkins, Pumpkins, Pumpkins
I love decorating with pumpkins because they take us from September to Canadian Thanksgiving right through to Halloween. I know this might look a little spartan for some, but it's also a little overboard for others. I wanted to strike a balance between the two. We get a lot of deliveries on our front step, so I wanted to make sure it wasn't too crowded for couriers. Styling with a mix of pumpkin sizes up one side of the stairs only gives me the pop I'm looking for while still keeping the required functionality.
Mums The Word
Mums are one of my favorite plants because of how hardy they are. I'm not a great plant mom and so these mostly frost-resistant blooms are perfect for me. I love that they come in an array of fall tones, too. These giant pots are a mix of orange, red, yellow, purple and white; these add a muted pop of autumn colour. The mums in the pot up top are burnt orange to balance with the tones of the pumpkins.
Extra Fall Decor Touches
I wanted to stay fairly minimal and neutral on my porch with the extra touches that I added. I knew that using only mums and pumpkins to decorate was great, but just not quite enough. I wanted to add a wreath to the door, but struggled to find one that matched my style and didn't feel cliché fall. This one is made of wheat and is accented with tiny red dried berries. It was the perfect natural accent for the space.
I love this wheat sheave broom – the harvest corn and foliage accents on it add the perfect pop of color and add something to balance this side of the deck. I actually stumbled upon it in the floral department of my local grocery store! It even came with attached strings to tie it to a post!
All Set For Fall Holidays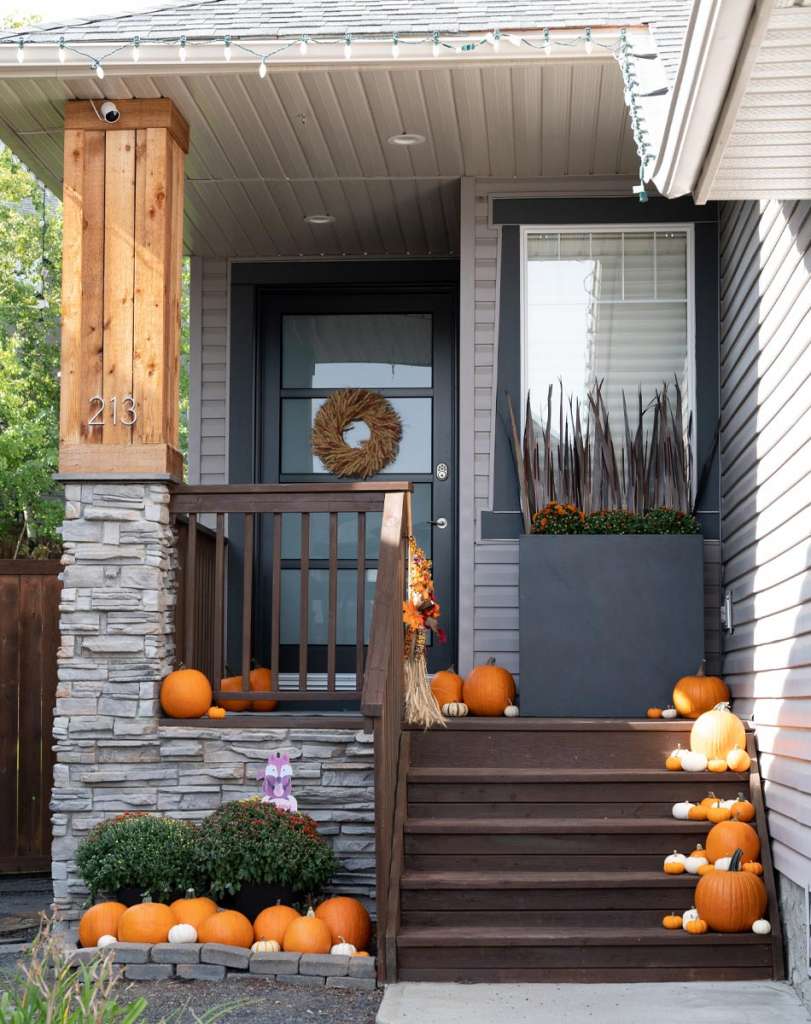 I love that my fall decor can take me from Labour Day to Halloween because Canadian Thanksgiving is right in the middle. Post-Thanksgiving weekend I'll add a few extra touches to make this space Halloween-ready. All it will take is a few cute cutouts, some jack-o-lanterns, maybe some cobwebs and bats and we're set!
Source List
Door: Lux Windows and Doors
House Numbers: Lowes
Planter Box: HomeSense Canada
Wreath: HomeSense Canada
Corn & Wheat Broom: Safeway Canada
Mums (Large, Potted): Costco
Mums (Small, Potted): Real Canadian Superstore
Tall Reeds: IKEA
Pumpkins (Large): Real Canadian Superstore
Pumpkins (Small, Orange & White): Safeway Canada
Sign ("Happy Fall"): Walmart