This fall my husband and I took a weekend getaway out to Post Hotel & Spa in Lake Louise, Canada and the experience was nothing short of amazing. Let me tell you why this is a must-visit destination in the heart of the Canadian Rockies.
Have you ever stayed somewhere that every single member of the staff made your stay more enjoyable? The entire vibe was relaxing while upscale and elegant in the comfortable way you'll only find in this part of the world.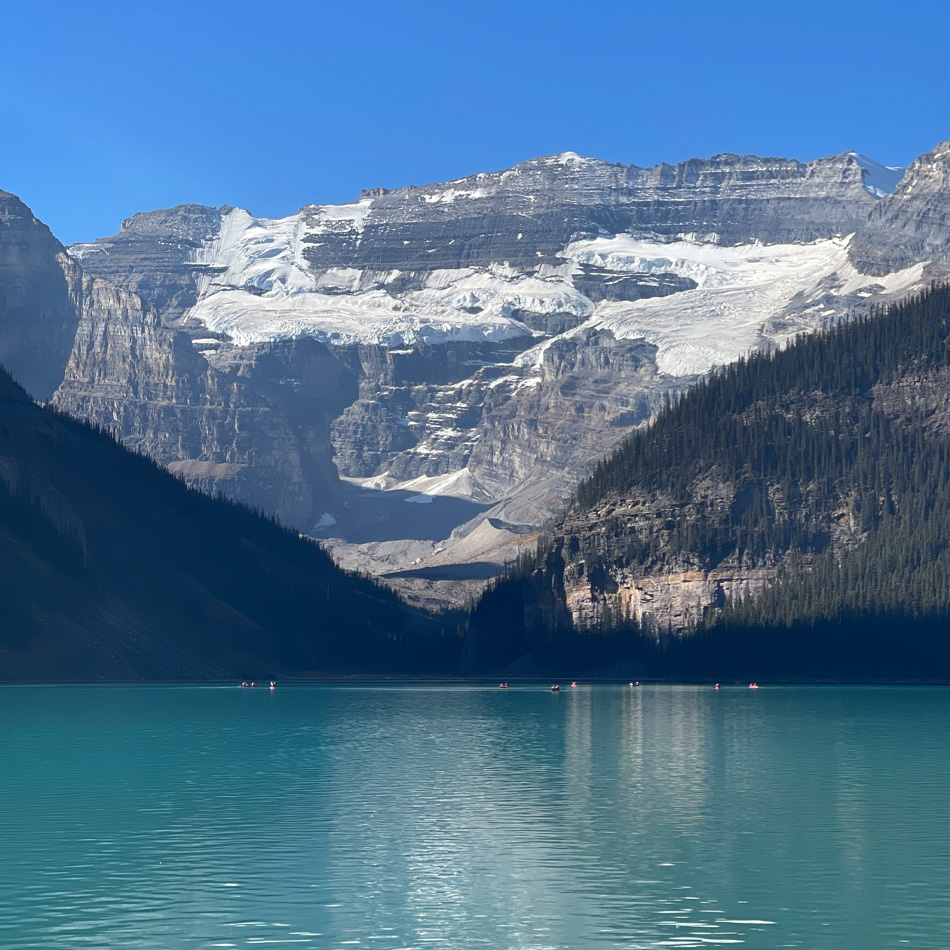 Guests are immediately greeted by the breathtaking views of Banff National Park. The setting of this hotel in Lake Louise Village at any time of year goes without saying. The autumn is one of my favorite seasons to visit this area and we were fortunate enough to be able to see the changing colours of the famed Larch trees in the valley. I must say, though, that I would love to return to this property in the magic of winter. There is something so special about the snow in the mountains, especially with a fireplace in your guest room!
If you've read my blog before, you know that I am a huge fan of Canadian Rocky Mountain Resorts and for good reason. They offer amazing mountain getaways in a peaceful and elegant setting with fine wine and dining and wonderful amenities. Post Hotel & Spa exceeded my expectations. I am confident that it will exceed yours.
The Hotel & Guest Rooms
I love a rustic mountain guest room and those at The Post Hotel feature either a patio or balcony and have the options of amenities such as a wood burning fireplace or a large jetted tub. The beds are comfortable, the linens are the perfect white cotton and the towels are plush. This rooms really check off all of my requirements!
I would also be remiss if I did not mention the hotel's turndown service. There is something to be said about the extra touch of luxury of having your bed turned down and a treat and bottle of water left on your night table.
Fine Dining & Exceptional Wine
There is no way to capture the elegance of the dining experience and cuisine at The Post Hotel. It is no wonder that they've won so many awards!⁠ You know from my travels that the food at Canadian Rocky Mountain Resorts never disappoints and The Post Hotel Dining Room was so fantastic, it's almost indescribable. ⁠
I am someone who loves a dinner menu with choices for each course knowing that each has been carefully planned by a chef to pair well from one dish to the next. I also love when the wait staff are so familiar with each dish and can help me make decisions based on my preferences!
Although I'm not considered a foodie or food blogger of any kind, one of my favourite things about travel is being able to experience incredible cuisine that features ingredients and dishes that are unique to their geography! The menu at The Post Hotel Dining Room not only features traditional 'mountain' cuisine, but also includes ingredients that are sourced from the lands of the Alberta Rocky Mountains.
Restaurant Fondue Stübli
Within The Post Hotel Dining Room lies a small alcove where guests can enjoy a traditional fondue dinner. This place is called Fondue Stübli and features a more casual dining experience over traditional cheese or meat fondue
The Post Hotel Wine Cellar
I always seem to share the food at Canadian Rocky Mountain Resorts but this wine cellar is so unbelievable, I couldn't keep it to myself. What's even better is that they have onsite wine experts to help you choose the perfect pairings for your meals and even teach you a little something about your favorites! ⁠They've been featured regularly in Wine Spectator magazine and it is well-deserved. ⁠
For a deeper dive into this wine cellar, check out my Instagram Reel HERE.
Recommendations For The Post Hotel Dining Room
Breakfast & Lunch: Breakfast and lunch are both available in The Post Hotel Dining Room and are incredible. If you have a busy afternoon of outdoor activities planned, I recommend settling in for a delicious big breakfast. The Rösti is my personal favorite.
Dinner: I highly recommend making reservations for dinner prior to your arrival to ensure you get a spot in their dining room or fondu restaurant as spaces are limited (particularly for Fondue Stübli!!). Some evenings feature a special set chef's menu. Be sure to wear a jacket or something a little more upscale for dinner as well.
All of this information can be found on the hotel website for your reference ahead of your stay. For a bit of a peek of the experience, see my Instagram Reel HERE.
Post Hotel Spa & Salt Water Pool
The spa at Post Hotel is one of many wonderful amenities offered here. Being able to have a massage after a long morning of hiking or even just a day indoors to completely unwind, I highly recommend booking an appointment for yourself. Following your visit to the spa, be sure to take a dip in the hotel's salt water pool.
There is something so elegant about the pool area that makes you feel like you're in a 1960s home in the Hollywood Hills…but with incredible views of the Canadian Rocky Mountains from the windows above the hot tub! Everything about this experience feels elevated but in an approachable and comfortable way.
For a closer look, you can watch my Instagram Reel HERE.
Experience
I know I might be biased because of my love of the mountains and outdoor adventures paired with my love of wine and wine tourism, but our getaway to The Post Hotel & Spa ticked all the boxes! There is something that only a hotel in the Canadian Rockies can offer and Post Hotel does just that.
Couple beautiful scenery and access to the outdoors with world-class dining and wine cellar in an ambiance of ease and elegance
I highly recommend subscribing to their email list and following them on social media to stay informed on upcoming events that you may wish to attend at this property. I have been approached by so many who have watched my Instagram Reels about my stay and when asked how it was, my answer is "absolutely unreal". It's something you really should experience for yourself.