When we set out to remodel our pantry, that renovation spilled into the adjoining laundry room and eventually the mud room walk-in-closet, too. These three spaces are really part of one big room, so we wanted to make sure we did it right to ensure one contiguous space.
Many of the changes that we made in the pantry and laundry room continued into this mud room closet and I'm excited to show you the transformation. My goal (again) was to make this space as functional and stylish as possible. I didn't want to compromise precious storage space for the sake of making a space pretty. Here's how I did it:
We Removed All Existing Shelving
This closet was one that was full of wire shelving and hanging space. Although it appeared to offer a lot of storage, the entire area just felt cramped and messy. It wasn't functioning for our family and I knew we could do better.
I hate wire shelving. Have I mentioned that enough times on my blog? First of all, it isn't the cost-effective solution that it claims to be (MDF is so much cheaper). Second, it just looks so "builder grade" and cheap (despite its price point). Getting rid of the wire shelving was my ultimate goal in this space, even if it was the only change that we made.
Once all this shelving was out, I could get a real sense of the space, and that's when we knew we needed to make a minor, yet "real renovation" change by removing a small wall.
We Removed a Wall
Yes, we removed a little wall in this space. Thankfully there were no utilities running through it and it was in no way load-bearing. It was just a side support for the wire shelving that was installed when we built our home. Taking out this little wall made a huge difference in how much more open the space felt.
Keep in mind that removing a wall means repairing the ceiling and flooring. We were already planning on changing the flooring in the entire space anyways, so this worked out for us. If there is ever a time to do something, it's when you're making these kinds of changes!
We Added Cabinetry
I like closed storage whenever possible because it hides clutter. With the dimensions we had to work with in the space, I opted to add cabinetry on one wall and build custom shelving on the other. We carried the same IKEA Cabinetry and door hardware that we did in the pantry and laundry room through into this space.
I like to maximize storage wherever I can and in this case, a few simple (and inexpensive) organization hacks really made the most of the space that I actually had to work with. I found these bins at IKEA that fit perfectly inside the cupboards that allowed me to store things on the shelves neatly and out of sight!
Once I got everything sorted into these new bins, I realized that I had actually gained storage space in this closet, despite removing some of the shelves.
Bench Seat
I wanted a bench seat with available storage underneath that was easy to access. I opted for drawers from IKEA's Kitchen Cabinetry. This gave me the built-in storage that I needed with pull outs (because, drawers). Their cabinets are available in two depths – I used the shallower of the two because it fit the space I had while making the entire area look "built-in" because it balanced the matching upper cabinets of the same depth so well.
These drawers are perfect for storing items like mitts, gloves and scarves. We live in Canada so these outerwear accessories are a must for us and easy access to them is important because we need them 8+ months out of every year.
I knew that installing this bench with hooks was going to take away a bit of storage space, but I really didn't lose as much as I thought. Plus, it made the entire space feel way more open and less cluttered – a real win-win for me. The bench seat is the same walnut countertop from IKEA that we used in the pantry. It also matches the frame of the mirror in the laundry room (see how I did that?!).
Mud Room Stalls
I love the look of individual stalls in a mud room area with hooks and cubbies for everyone to store their frequently used items, but to get the right look, you need more square footage than I had available.
This area might be the least expensive part of the entire renovation project. It's amazing what you can do with a little MDF, a nail gun, caulking and some paint! We installed the cabinets and the counter top (bench) and then installed the MDF backing and trim pieces to make everything look like a custom built-in. This is something you'd find on a Pinterest board of IKEA Hacks for sure!
I added these hooks that I picked up at Target and spaced them evenly (symmetry matters!). I wanted these hooks to be round enough to not damage coats and sturdy enough to hold the weight of a backpack. I also added a couple of stylish and comfy pillows to lean on when putting on shoes (or for Hattie to nap on!).

Shoe Shelves & Hanging Space
At the end of the day, this is a closet and needs to have closet functions like space to hang coats and store shoes and boots. Here is how I made the most of this space: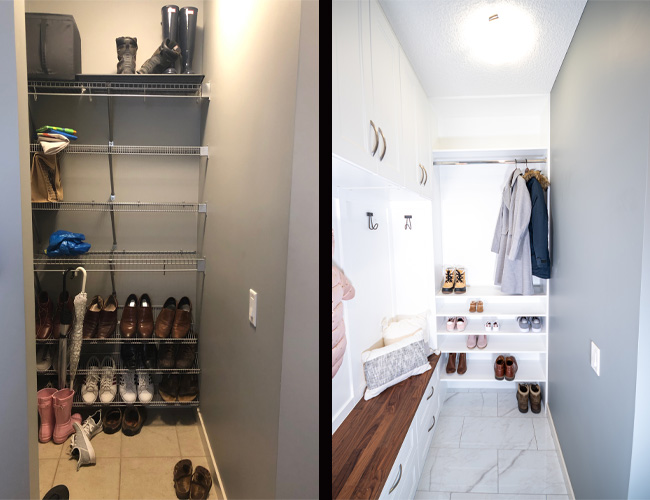 Only hang what needs to be hung. Lightweight items like rainwear or windbreakers don't need to be hung up. They can be folded neatly and kept in a bin or basket as to not take up "hanging space" that can otherwise be allocated to anoraks and parkas. I also pack items such as the aptly named "packable down" and keep them in a bin as well. I keep all of this in the aforementioned bins in the upper cabinets.
I wanted flat shelves rather than angled ones for shoes and boots. I found that storing footwear this way gave me more overall shelf space and if my husband's shoes stuck out over the edge of the shelf in a couple of spots then so be it (it's not the end of the world, really). I also measured footwear a variety of footwear to determine shelf heights; things like booties, hiking boots, sneakers require different heights.
Where do we store extra shoes? We have a cabinet just around the corner in our laundry room! Check it out here.
---
Want to see the rest of the project?
Check it all out here:
Want to see my entire pantry reveal? Click here!
Want to see my laundry room reveal? Click here!
Want the info on our planning and renovation process of this space? Click here!
Want to learn more about IKEA Cabinetry? Click here!
---
Source List:
Paint Color: Grey: Valspar 'Metropolis' (4005-1C) 
Tile: Tile & Stone Source
Cabinetry: SEKTION, IKEA, Door Style: AXSTAD, IKEA
Bench Top (counter): KARLBY counter top (walnut veneer), IKEA
Storage Bins: STUK bin with compartments, IKEA
Hooks: Threshold Collection, Target
Pillows: Hearth & Hand Collection, Target
Shoe Cabinet: HEMNES Shoe Cabinet, IKEA
Shoe Cabinet Hardware: Project62, Target
Mirror: STOCKHOLM Mirror, IKEA