When friends (and strangers!) that I talk to tell me that they're going to be visiting the Okanagan wine region in British Columbia, Canada, I can't help but offer up my favourites for them to visit, and of course which wines are a can't miss! This gem of a wine region is in my opinion highly underrated and still quite unknown in the world when it comes to wines.
In this post I'm going to share my favourite wineries (that I've visited so far) plus my favourite wines from each! This way, if you aren't going to be visiting the area but are looking for some great Canadian wines to try, you're all set! There is no way that I can list every amazing wine and winery in the area in this post, and I truly believe you can't go wrong with any vineyard in the area. This is just a small snapshot of my personal favourites. 
Mission Hill Family Estate
Mission Hill Family Estate has got to be one of my favourite wineries in all of the Okanagan. It's situated on a beautiful piece of property that overlooks the lake atop a hill covered with rows and rows of vines. Couple this with the stunning stone buildings and you'll feel like you're somewhere in the middle of Italy!
I seldom say about a winery that "all of their wines are amazing" but Mission Hill really does offer a large variety, so no matter your tastes, you are sure to find something that you will love. They offer four different collections of wines, each at a different price point, of course. I firmly believe that you can't go wrong with any of their wines, but I do have a few faves I want to put on your radar:
Legacy Collection: Perpetua Chardonnay, any and all of the reds from this collection
Terroir collection: these wines are available exclusively on site!
Reserve collection: some of their best wines are available in this collection
Estate series: anything from this collection!
Quails' Gate Estate Winery
Quails' Gate Estate Winery is another fave in the Okanagan. Their tasting room is quaint and offers beautiful views of vines down to the lake. Their restaurant is one of my faves to visit for a full meal or just a charcuterie board and a tasting flight. If I had to choose only one favourite from them it would be their Old Vines Foch, but many of their wines are absolutely lovely. They also offer some great dessert wines that are worth trying. My faves:
Grey Monk Estate Winery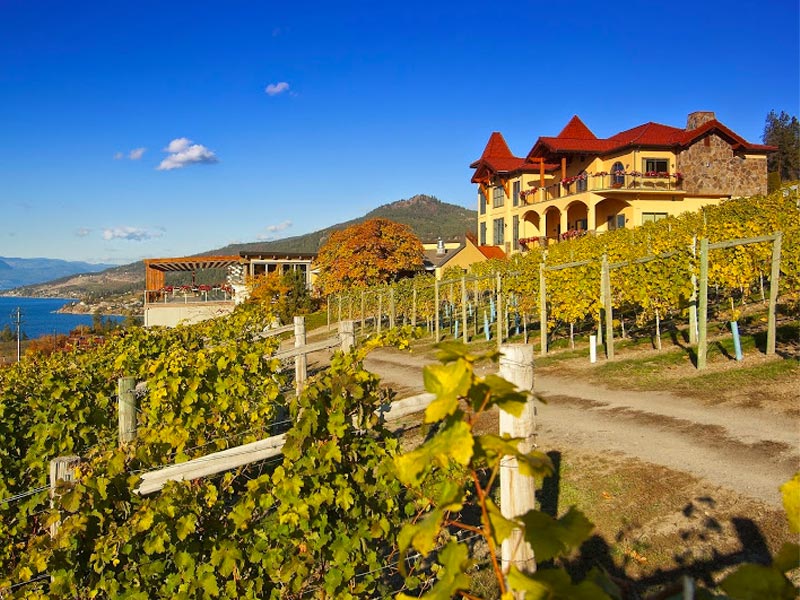 Grey Monk Estate Winery is tucked away from some of the others in the area. This winery offers a pair of wines dubbed "Latitude 50" as they share the same Latitude and terroir as some of the wineries in Europe. Be sure to try their restaurant as well. This winery offers three different series of wines: Odyssey, Latitude 50 and Estate. All are fantastic and have varying price points. My can't miss picks are:
Anything from the Odyssey Collection, particularly the Meritage.
Cedar Creek Estate Winery
Cedar Creek Estate Winery is another amazing property to visit. Located on the opposite side of the lake from Kelowna in Mission, it is quaint and quiet. This is one of my favourite wineries to visit in the winter time as the snow on the surrounding trees makes it feel magical. I have two absolute favorite wines from Cedar Creek that I encourage you to try:
Blasted Church
Blasted Church is a winery with an incredible story and really great wines. They offer an incredible variety and a few different grapes and blends than some of the others in the area, too. It is definitely worth picking up a bottle or twelve. Two of their white wines are some of my absolute favourites. The Blasted Church Gewürztraminer is hands down one of my favorite whites from the Okanagan. Hatfield's Fuse is great super chilled and a diverse crowd pleaser. Again, my faves are:
Summerhill Pyramid Winery
Summerhill Pyramid Winery is one that I always make a stop at when I'm in the area. Their Sunset Bistro restaurant is one of my favourites in Canada and has been for many years. Many of their wines are organic and I believe they are in the process of achieving BioDynamic status soon. Their tasting room is always busy and bustling but it's worth the wait! My favourite Summerhill wines are:
Tinhorn Creek
Tinhorn Creek is a winery that I feel is a true hidden gem. I have not tried a wine from here that I did not like – so much so that we were members of their wine club for a few years! This is another winery with a fantastic restaurant. They also host a number of lovely events throughout the summer months that are worth attending. My favorites from Tinhorn Creek are:
Blue Mountain Vineyard & Cellars
Blue Mountain Vineyard & Cellars is one of the wineries that you'll find further south in the Okanagan, but definitely worth the trip. I have two major favourites from this winery – and we are known to purchase them by the case. If you follow me on Instagram you've heard me mention one of these over and over and over again and it's because it's a cellar staple for me. Your must-try Blue Mountain wines are:
N'kmip Cellars
N'kmip Cellars is an incredibly interesting winery. Located in Osoyoos, it is the only 100% indigenous-owned wineries in Canada and boasts a stunning property and delicious wines. Their wines are made and sold in three different tiers/offerings for you to enjoy: the Winemakers Tier, QWAM QWMT, and Merriym. Whenever I visit The Keg restaurant anywhere in western Canada, you can bet I'm ordering a glass of their Merlot. That being said, my favourite N'kmip wine is:
Okanagan Crush Pad
Okanagan Crush Pad is a new favourite of mine as I visited for the first time on my most recent Okanagan adventure. They offer a really unique selection of wines under four different brands: Haywire, Narrative, Free Form and Bizou & Yukon which allows them to offer different varieties and styles under one main umbrella. Their wines are also aged in concrete which is another thing that makes this winery particularly unique. They also have one of the nicest patios in the area. My favourite offering from Okanagan Crush Pad has to be their variety of bubbles. My faves overall are: