I know some time ago there was a big craze around re-organizing your closets and every other space in your home. I think that those methods might have been a bit too much for some people, so I'm here to share some tips for organizing your closet that will make getting dressed a snap!
For this post, I've partnered with my friends at Bed Bath & Beyond to share some of my favorite organizing products that I've used in my own closets as well as those of friends, family and clients. All of these items can be found online, and many of them in their stores.
Step 1: Clean It Out!
The best way to start is with a clean slate. I recommend taking everything out of your closet and cleaning the space. Vacuum, dust and wipe all surfaces down so that you're putting things back in to a clean space!
Take an inventory of your clothes, shoes, bags, accessories, jewellery, etc. I snagged this little chart from a WhoWhatWear Article that will help you decide what to keep and what to toss:
Step 2: Take a Look at Your Space
Now that everything is cleared out of your closet, it's time to take a good look at the space and figure out if it's working for you. Some homes have basic closets with one hanging bar with one shelf over it and that's okay! We can make that work! BUT there are also some other options that might work even more.
Seriously ask yourself: is.this.working.for.you.?
Step 3: Make a Plan
Start taking some measurements in your closet to see what you have to work with. I also recommend making a list of things that need to be stored in your closet so that you can make a plan. Things like long dresses, skirts, tops, shoes, hats, jewellery, etc. This way you'll know what potential structures, bins, baskets, hangers, that you'll need.
Consider A Closet System
If your closet is very basic, then I really, really recommend some kind of adjustable closet system. What's great about these is that they fit to the closet that you have and aren't permanent (great for renters or those who are afraid to commit).
One of my favourite closet systems is from Relaxed Living at Bed Bath & Beyond (shown above) because it offers different hanging heights as well as shelves for bins (versatility is key). I also love this Small Space Closet System (shown below) that they offer as well!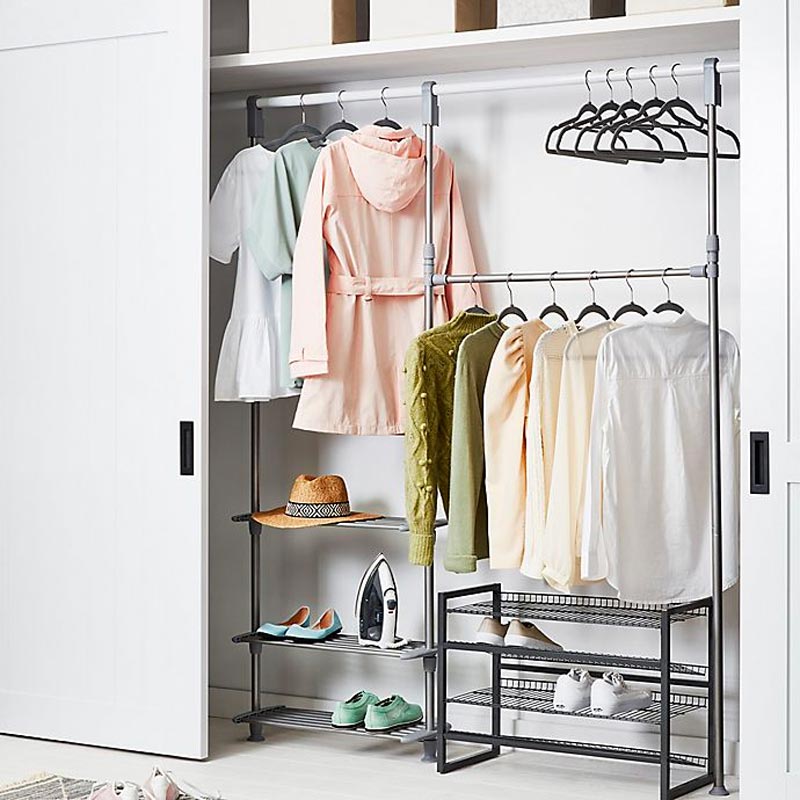 Step 4: Shop For Your Closet!
Before you go shopping, I need to share my favourite closet items with you! If your closet is basic or hella custom, here are some of my favorite items for keeping items at their best:
Velvet Hangers: I recently switched the majority of my hanging clothing to velvet hangers. I love that they are no-slip meaning dresses stay put and so do folded pants! Never use wire hangers or keep clothing on the hangers from the dry cleaner – switch them as soon as you get home!
Clear Bins: I am a huge lover of clear bins! If you have pretty shoes or handbags that you want to see but want to keep safe from dust or anything else, then clear bins are the way to go! They're stackable and don't require labels. These are also great for stacks of folded sweaters.
Coloured Bins/Baskets: I like to keep items that I don't wear often on the higher shelves of my closet in coloured/opaque bins with labels on them. This is also where I store travel items like makeup bags and packing cubes! I also prefer bins with lids to keep dust out.
You can get everything you need in one shopping trip (or one online order) if you plan everything right! I've only listed my faves above, but there are countless options available at Bed Bath & Beyond. They also offer curbside pickup!
Step 5: Carefully Fill Your Closet Back Up
I like to organize my closet by category: All of my dresses are together, organized by length. Shirts are together, organized by fabric. Skirts are kept together. Jeans are kept together. You get the gist.
I organize my folded sweaters by colour: I have a lot of sweaters, probably a silly amount, but regardless of that, I need to store them properly. I never hang knitwear as to keep it from stretching out. For my sweaters, I have them all folded the same way and grouped by colour.
Keep your items together: If you share a closet with a partner, be sure to keep your items together and their items together, not mixing them up. You don't want to be searching through someone else's pants to find a cocktail dress.
Keep what you wear often within reach: I keep clutches and handbags that I only use for special occasions in a box on a high shelf, but I keep things like jeans and tshirts within arms' reach.
Store seasonal clothing in bins or elsewhere: I live in Calgary and so I have a "Stampede Wardrobe" that really only comes out once a year. I keep these items folded neatly in a bin on a high shelf. Consider doing something similar with beach and resort wear.
Fold like a pro: I live to fold clothes, but I know I'm not the norm. I love to be able to fold everything uniformly to fit nicely in a drawer, but I know not everyone has the skill or the patience for this and for those I recommend the MiracleFold Laundry Folder. I have this one and trust me, you won't regret it!