Men are notoriously impossible to shop for. I don't know if it's that when men see something they want, they just buy it for themselves or that they only want the "practical" things but those reasons right there are why I like to share a selection of gifts for the guys in your life!
Practical Gifts
I love small practical gifts for stocking stuffers, but practical with a little splurge. Just because something is useful for his day-to-day doesn't mean it can't be elevated in some way. Taking practical items and finding a luxe version makes gift giving all the more fun!
Fancy Underpants!
My hubby's fave underwear are SAXX but they aren't exactly the kind that come in a bargain multi-pack. Men are often funny about splurging on nice underwear in a way that women just aren't, so why not pick up a few pairs of luxe underpants for your man!
Ties, Socks & Accessories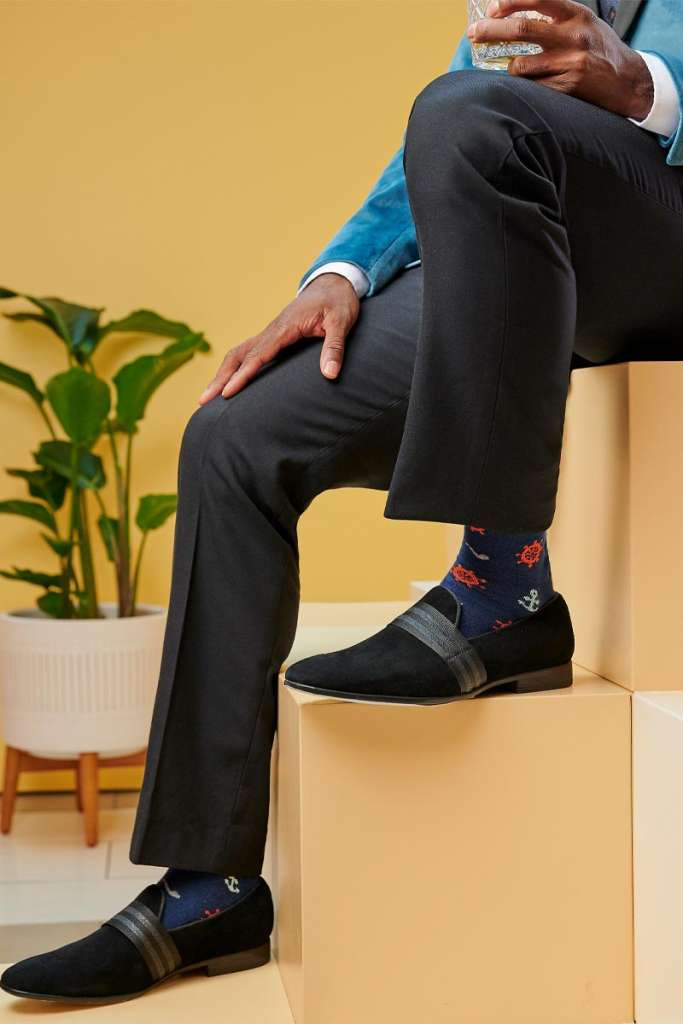 I am a huge fan of adesso. man in Calgary (a great local men's boutique). They offer items like quality dress socks that come in fun patterns without being tacky, gorgeous ties and a selection of other men's accessories. They can even create a little box of goodies and wrap it all up for you! Not local to YYC? Don't worry – you can shop online, too!
Luxury Shaving Goods
Luxury shaving goods are always a wonderful stocking stuffer. This is another place where adesso. man can help with your gift shopping needs. They offer luxe razors and shaving bars, beard care products, as well as skin and hair care products. They also offer some great gift boxes in this department that make gift giving even easier!
Holiday Cheer!
Bottles of Spirits: Spirits are always a great gift. My husband and I are whiskey lovers and so we often like to gift a fancy bottle of something that we enjoy. Some of my favourites enjoy Woodford Reserve Double Oaked bourbon, Jack Daniels Tennessee Honey, Basil Hayden's, or Knobb Creek.
Decanters: I find that decanters are gorgeous on a bar cart or in a home bar and now you can find decanters that aren't too "froofy" or elaborate but rather a more classic and modern, clean-lined version. These are also some of my favourite house warming gifts for bachelors, too! Shown: Direction Decanter, Prospect Decanter, Tino Decanter (Crate&Barrel)
Cocktail Glasses: When I suggest cocktail glasses, I don't mean martini or margarita glasses that let's face it, we never use. I love a great double old fashioned glass – they're great for whiskey neat or on ice or for a mixed drink like a Jack & Coke. Shown: Dylan Double Old-Fashioned Glass (Crate&Barrel)
Ice Cube Molds: With all of the love that crafted cocktails are given, the right ice cube mold is always great to have. I recommend large squares or spheres. Shown: Peak Extra-Large Ice Cube Tray (Crate&Barrel)
If you need some great Old Fashioned recipes, look no further than this post here.
Splurge-Worthy Gifts
Green Mountain Grills Jim Bowie Prime Plus: This grill does it all – it smokes, it grills, it makes amazing food. We have this grill and even though it was more of a gift for my husband, I feel like it was so much a gift for me, too. He loves to cook and I love to eat all of the delicious things that he cooks for me, so this is a win-win.
Get Him To Create His Own Wishlist
Having the men on your list create their own wish lists would make life so much easier – and now they can! The WishSlate app is SO helpful – it's where anyone can create an account and add items to a wish list for any occasion! Follow your friends and family and see what's on their list for the next occasion! It really helps reduce gift giving anxiety, too! Download it here!