Saks Fifth Avenue is opening their first store in Western Canada this week (their third in Canada)…and it's in Calgary! I had the privilege of getting a sneak peak of the store this week and I'm so excited to share it with you! This store has some pretty neat features that I know you're going to love! (Disclaimer: You know by now that when I love something I tell you all about why I love it, and this post is no exception!)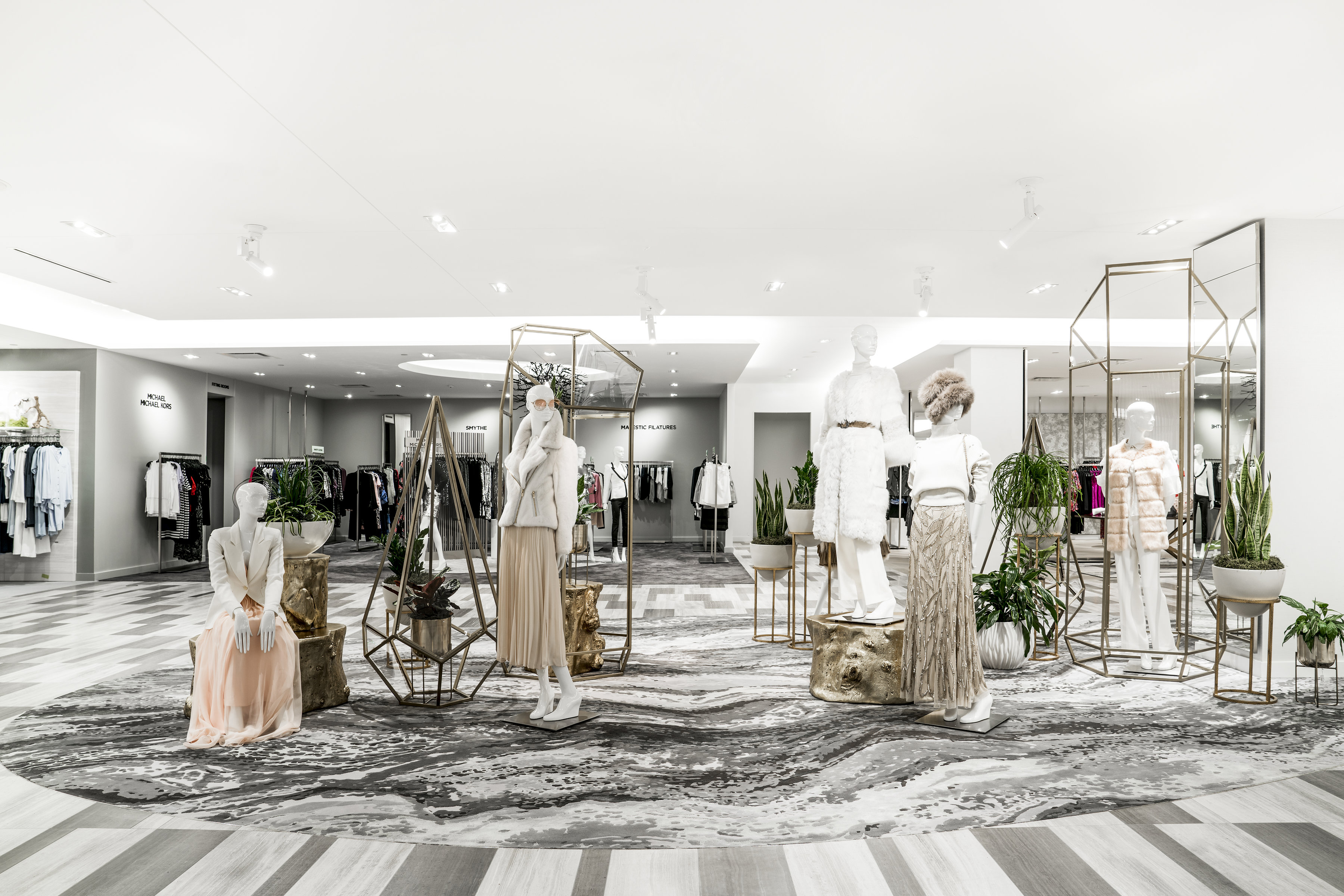 I've always loved Saks. From the first time I set foot in their Fifth Avenue store in New York City, I've been in love with shopping there. What I love about Saks is that although they are a high-end luxury retailer, you don't feel out of place shopping there or like you don't belong. I think this comes from both the variety of brands and styles that they carry and the overall customer service experience.
"Our strategy for all stores in North America is to create one-of-a-kind experiences for our clients―this is what we call 'The New Luxury," stated Marc Metrick, president, Saks Fifth Avenue, "This is an experience clients cannot get anywhere else and we look forward to joining the Calgary community."
Here are my favorite features of the Saks Fifth Avenue Calgary Store:
Women's Denim + Ready To Wear
It's no secret that I wear denim almost every day, mainly high-quality designer denim. Finding pieces to incorporate into my semi-dressy, semi-casual wardrobe just became that much easier with Saks' Women's Denim and Women's Ready to Wear departments.
Saks Calgary's Women's Ready to Wear department features a unique blend of well-known designer brands (like a personal fave of mine Alice + Olivia), Canadian designers and Saks house brands (like Scripted).
I love how each department's displays are teeming with current trends and outfit inspiration for even the fashion novice! Still not sure what you're doing? The store offers personalized styling services!
Women's Handbags + Accessories
Any department store's accessory section is always a favorite of mine – and I'm sure I'll be spending plenty of time in the one at Saks Calgary.
There's something about shopping for a great handbag! The brand variety, as well as a few designer salons, make Saks Calgary the perfect place to look for your next designer bag. Just window shopping? Their displays are Instagram-worthy perfection.
One of the many things I think is worth noting about the store's layout and design are the open sight lines on the main floor. If your man is shopping at one end and you're testing out a new skincare product in another, you can still see each other!
Department Design Details
There are so many things that I love about this store…it's more than just a store. The design details are incredibly well-executed and no detail was missed. From the herringbone floors in the Men's Department to the circular design centred around a stunning chandelier in Beauty, every aspect was thought out.
The furniture choices in each private lounge and shoe department are stylish, elegant and incredibly comfortable. You feel like you're curling up in a couch in your own living room.
A Beauty Lover's Shopping Dream
This circular beauty department is divided between sections of apothecary, skincare, makeup and fragrance and the new layout is a first for Saks in the Calgary store. As mentioned above, the department revolves around an eye-catching crystal chandelier.
The beauty department features more than just makeup and skincare – it also offers beauty experiences that include makeovers, skincare analysis, on-the-go facials and personalized fragrance consultations. Saks also offers private treatment rooms where customers can indulge in beauty treatments such as facials and massages – and trust me, this space is like a high-end spa. You'll definitely want to spend some time here.
Heaven For Shoe Lovers
I think that one of my favorite design elements in the store is the hand-crafted glass installation in the 10022-SHOE department (check out how it flows into the stunning wallpaper behind it). The glass was created in the Czech Republic and was installed by a local artist. It's a modern take on a similar installation in their NYC store.
P.S. The chairs and couches in this shoe department are insanely comfortable – I could sit there all day long!
The store not only features beautiful design elements, but "in honour of the store opening, Saks Calgary will spotlight local artwork, collected from Newzones Gallery of Contemporary Art and Christine Klassen Gallery, in-store and in the windows throughout Feb. 2018. Featured artists include Johnathan Forrest, Yechel Gagnon, Birgit Piskor, Ulrich Panzer and Rocio Graham, among others."
For The Boys
The Saks Calgary Men's Department is a shopping dream for the every day man. It's uncluttered and well-spaced and carries many brands that you can't find anywhere else. Some of my favorite items include their suiting and made-to-measure services.
This department also features a great variety of denim and ready to wear styles that compliment the Calgary man's wardrobe.
The Men's Shoe Department not only includes great designer dress shoes for men, but a collection of designer sneakers as well. They carry brands and styles that you likely won't find anywhere else in town.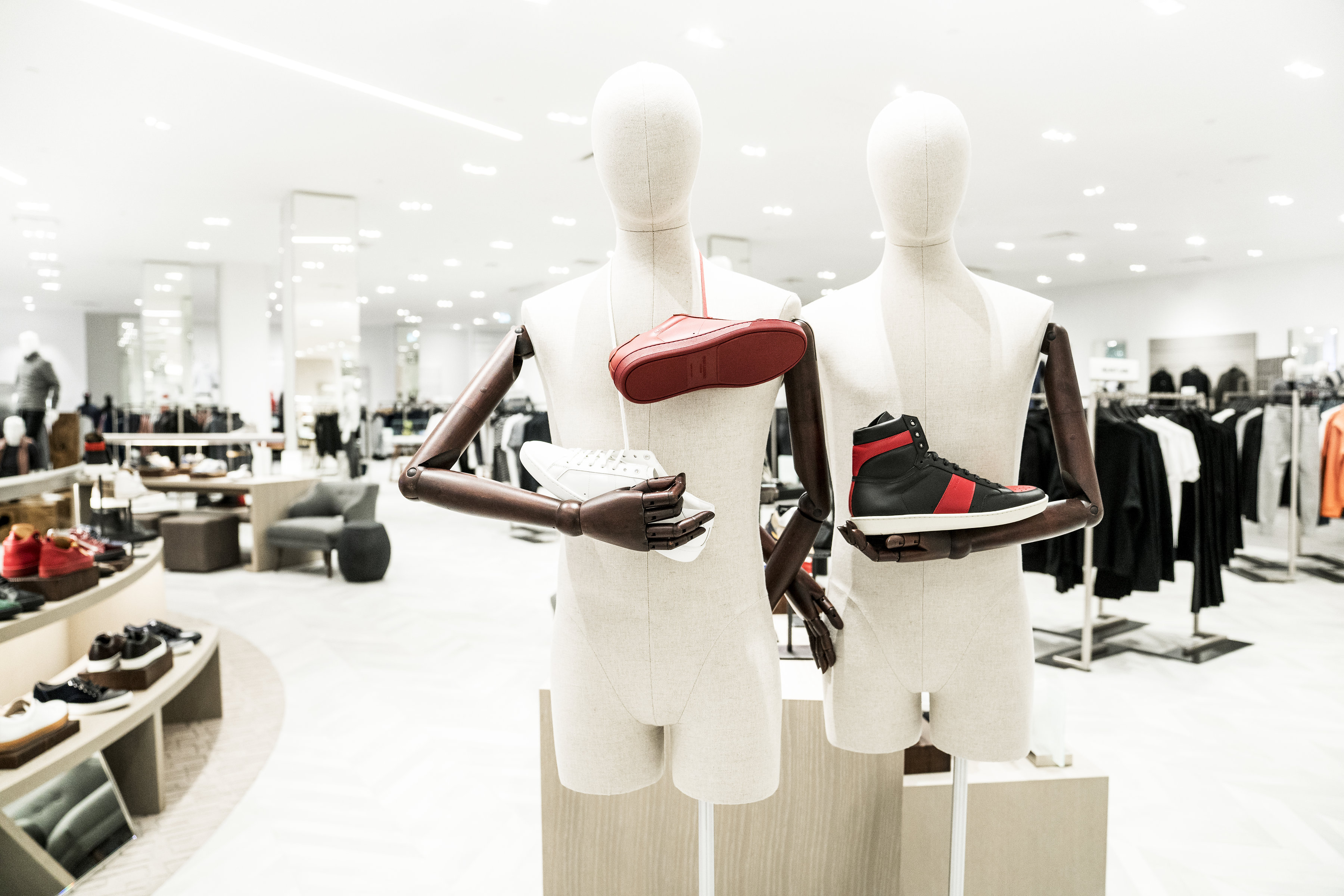 My favorite part of the men's department has to be the Men's Lounge. It's a stylish and quiet oasis where men can relax while they're shopping for themselves, or maybe hideaway and scroll through reddit while you're shopping!
Tip: On Saturday's this lounge will feature a cocktail bar! 
Private Shopping Suites
Within this amazing store are a few different lounges, facilities and private areas that are open to all customers, regardless of spending status. One of my favorites (apart from the aforementioned Men's Lounge) has to be the Women's Private Shopping Suite on the 2nd floor.
Pop in to this area to relax while shopping and enjoy a glass of champagne or book a private shopping party for you and a group of friends!
The store has a strong focus on outerwear brands (because winter seems to last forever here), but more than just featuring Canada Goose, Saks Calgary also has a gorgeous fur salon!
Last but not least of the private shopping areas is the Jewelry Viewing Room for a more intimate jewelry shopping experience. The Saks Calgary jewelry department carries both high-end costume jewelry (think Alexis Bittar) to high-end designer brands, all showcased perfectly for browsing.
Other Highlights
Online Shopping: One brick and mortar store can't house everything that you might want and for that, there's Saks.com. The site offers duty-free shopping with free shipping to their customers 24/7.
Restaurant: Opening soon is Buffo at Saks Calgary, a restaurant that is "inspired by traditional recipes and quality ingredients [and] celebrates the simplicity and generosity of rustic Italian cooking. Serving lunch, dinner and weekend brunch, Buffo's menus will feature a wide variety of soul-satisfying pizzas, pastas, local meats and seafood. Open seven days a week, Buffo is the perfect setting for everything from a quick glass of Prosecco to a lively feast among family and friends."
As detailed as this article is, I can't touch on everything that Saks Calgary offers because there is just.so.much. The store offers a large selection of brands and a long list of services that are exclusive to Saks, yet tailored to the Calgary market. I hope you visit the store soon. Let me know if you love it as much as I do!
Love This Post?
Subscribe to get posts like this delivered to your inbox every week