Gifts from new parents can be tricky sometimes. Not everyone registers when they have a baby, and if this is their second, third, umpteenth child, they've probably got the majority of the gear that they need. So what do you get for the parent who has everything?
I'm a huge fan of gifts that give back – I mean, who doesn't love a double win? Below I'm sharing some of my favourite gifts for parents and babies that also offer a feel-good charitable component. I'm also offering gift ideas for new parents, not just new moms. Babies come to families in all sorts of different ways and not all parenting teams look the same so I want to acknowledge that here, too.
Gifts for Babies
It's always fun to buy gifts for little ones, especially babies! There are so many cute things out there. If in the gift giving process you're able to give back to a family or a baby in need, then all the better! Here are some of my favourite gifts for babies that give back:
Cuddle + Kind
Cuddle + Kind products are not only adorable, but they give back in a multitude of ways. Each of their dolls (available in 2 sizes) is fair trade and hand made in Peru (creating jobs!) and provides 10 meals to children in North America and around the world.
I love that these dolls are non-toxic, hypoallergenic and made with premium cotton and materials. Plus, let's face it – they are just so super duper cute. The price point is a little luxurious but I always like to purchase gifts that someone would love to have but might not splurge on for themselves. (Shown: Stella the Polar Bear + Violet the Fawn)
Cuddle + Kind also sells inspirational prints that match their dolls. Each of these prints provides 5 meals! These prints are adorable for a nursery or play room and feature a cute character and a lovely saying. Gallery wall anyone? (Shown: Violet's Print)
Love to Dream SWADDLE UP
I am a huge fan of Love to Dream SWADDLE UP sleep sacks (shown above, too!). They are one of my absolute fave for my little and I have given them as gifts many times. What's really exciting is the newest member of the SWADDLE UP family: The Rainbow SWADDLE UP. This gorgeous new pattern is available on their already amazing sleep sacks, but proceeds from these go to an organization called First Candle, a charity dedicated to reducing SIDS and providing bereavement support to parents through early miscarriage, pregnancy loss, and infant loss.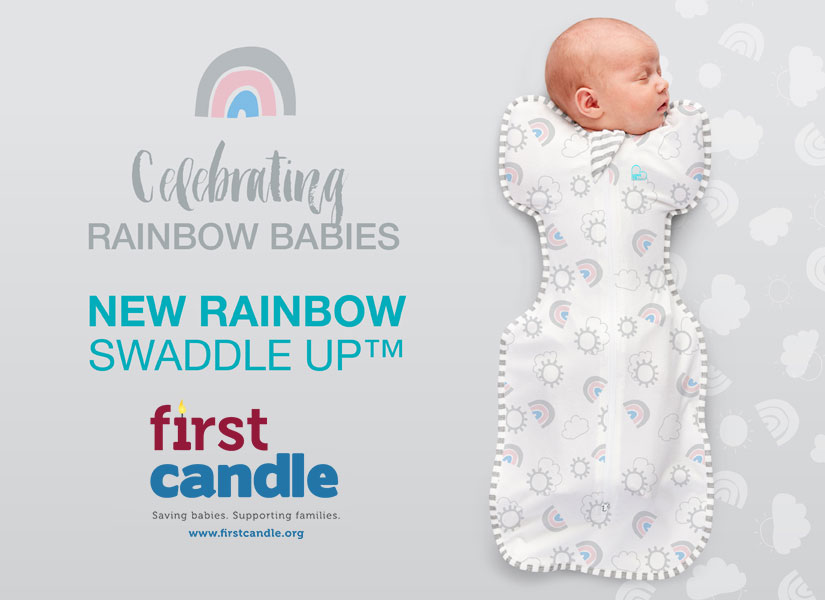 Why the rainbow pattern? Sadly about 15-25% of recognized pregnancies end in miscarriage. However, hope is at hand for those parents, as 80% of women who experience a miscarriage will go on to experience a healthy pregnancy and deliver a Rainbow Baby. The Rainbow SWADDLE UP is designed to help families both celebrate their Rainbow Baby and honour the babies they lost.
BirdRock Baby
BirdRock Baby makes some adorable baby items, most specifically their moccasins! These adorable little shoes come with a lifetime guarantee (perfect for hand-me-downs) and come in so many adorable colours and patterns, you're sure to find something that feels personal to the family you're gifting them to.
BirdRock Baby has partnered with Feed My Starving Children to give back to communities in need. This organization was chosen because 90% of donations go directly to feeding those who are hungry all across the globe. Proceeds from all of their sales (shoes, layette, etc.) give back – not just specific items.
PediPed Cares
I'm a huge fan of PediPed baby shoes for their function and design, but I'm also a huge fan of how they give back to the community in a large number of ways.
PediPed Cares not only donates countless pairs of shoes to those who need them, they also contribute to amazing organizations like the Make-A-Wish Foundation. They don't solely provide financial assistance to organizations, either – their employees go out into the communities in which they work and offer volunteer support where it's needed, too.
---
Twinning Gifts for Parents
Who doesn't love a little matchy-matchy with their little? This set of gift ideas is more for babes when they're a little older as it's often tricky to find infant-parent matching items. Why do I mention these? Because babies grow hella fast and everyone seems to love buying newborn clothes, but kiddos are going to need clothes for a lot longer than the infant stage.
These matching items give you something to look forward to wearing in the future and a fun surprise in the closet once your kiddo grows into them! It'll make your recipient feel special on not just the day that they receive this gift, but also on the day that they start wearing it!
The Lewiston Label
The Lewiston Label clothing and accessories line is made locally in Calgary, Canada and is clothing with a purpose. Supporting the Love for Lewiston Foundation, a legacy charity that supports The Alberta Children's Hospital and SMA Families and Research, this clothing is about more than cute styles.
I personally love the soft cotton and simple designs of each of these pieces and to be honest, a gift of something so comfy to a new mama (whether she gave birth or not!) is always welcome. There are so many cute matching items for mamas and kiddos. My favourite are the Heart Pink Kids Crew and Heart Pink Adult Crew (both limited addition). You'll be sure to see my little and I modelling these soon!
Small + Mighty by Jacob.Grace Designs
I'm a huge fan of Jacob.Grace Designs and this particular gift pick of mine is specific to parents with babes born a little early. The beautiful kiddos of the founder of this Canadian company were all born premature and spent countless days in the NICU before being able to come home. With that in mind, The Small + Mighty Project was founded as a way to offer support to families who were in the same situation.
I love the simple designs, the colours and the quality of the fabric. I also love how they partner with NICUs all across the country. It's also a great way to add some Canadiana to a babe's wardrobe! Another fun twist is their new offering of ready-to-tie-dye items!
Sock Footage
I feel like so frequently with baby gifts that Dads can be left out! I loved having matching items with my Dad when I was a kid, didn't you? I'm a huge fan of Sock Footage, an organization that when you purchase socks from them also sends you pairs to donate! They not only sell socks for Dads, but matching ones for Moms and kiddos, too! Then the whole family can match!
Did you know that socks are the most needed, yet least donated item to homeless shelters? Sock Footage also has a subscription program where they send you two new pairs of socks each month for you and two pairs to donate! For more on Sock Footage and their incredible work, check them out here.
---
A New Way To Register For Gifts
I've spoken a number of times about how much I love gift registries and how useful I find them. Sometimes, though, parents don't want to go through the registry process (especially if this isn't their first baby) but they still want a list that people can refer to when buying gifts. This is where one of my fave apps comes in handy!
Enter WishSlate where anyone can create an account and add items to a wish list for any occasion! Follow your friends and family and see what's on their list for the next occasion! It really helps reduce gift giving anxiety, too! Download it here!
Want an easier way to shop my Gift Guides? I'm always updating my WishSlate wish list with my must-haves for the most recent occasion, so be sure to follow me (styledtosparkle, of course!).