The last thing you want to deal with at a special event (think: hot summer wedding) is chafed inner-thighs, blistered feet (because those stilettos were so gorgeous!), bad breath or any other beauty emergency!  None of these things are sexy, but they happen to all of us.  Here are my tried and true remedies (and preventative measures) to help you out of any uncomfortable beauty bind.
Monistat Chafing Relief Powder-Gel, $5.99, Target
This product is something I will never go on vacation without.  Sometimes seams and fabrics mixed with humidity and perspiration will cause inevitable chafing.  Even the most breathable cotton can be a problem, especially if held against your skin by a backpack or purse.  It takes care of already chafed skin, but also prevents it from happening as well.
This is also great for chafing caused by sports equipment (often a problem in tournaments when gear does not have a chance to dry between games).
Band-Aid Friction Block Stick, $5.29, Target.
Referred to affectionately as "the blister stick", this product does more than just prevent blisters.  I keep one of these in my clutch at special events and I don't ever travel without one.  This is a must-have for wearing new shoes to an event (especially with bare feet!), but I always swipe it across my feet when I wear heels, new or not, just in case!  I'll also rub a bit of it on my inner thighs to keep them from chafing (admit it – everyone's rub together when you're in a cocktail dress!).  I rubbed this on the inside of my arms to prevent irritation from the beading on the bodice of my wedding dress.
Colgate Wisps, $2.99 (12ct), Target
These are so tiny, they will fit into any clutch or mini-purse!  Great for a mini "brush up" and breath freshener after a meal or to avoid "wine teeth".
Band-Aid Heal Blister Bandages, $3.69 (6ct), Target
Too much dancing last night but you still need to slip into those shoes for brunch this morning?  These are fantastic – they cover, help heal and cushion blisters.  They're also fairly nude, so they aren't too obvious!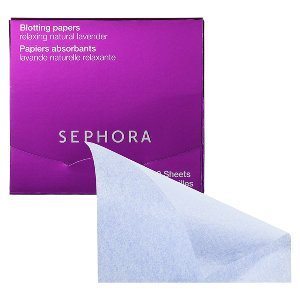 Lavender Blotting Papers, $7, Sephora Collection
Always put your best face forward for those photos!  These are great for not only blotting excess oil, but the lavender formula also helps to control excess shine.  The package is nice and compact, so it easily tucks into any evening bag.