We aren't all born with a green thumb and I'll be the first to say that I never wanted a garden as plant care seemed like too much responsibility! Over the last few years, having a garden has grown on me (pun very much intended). Hopefully my trial and error can help you!
Here are some basics to get you started.
Stay tuned in this section and follow @StyledToSparkle on Instagram for more tips and tricks for a beautiful garden this year!
Where to Begin
Asses your space and decide how ambitious you want to be. Whether you are in an apartment or in a large sub-division, it's important to have a vision. Tip: Start small and build from there – nothing is built in a day and it might take a few seasons to figure out what grows best in what areas (trial and error can be inevitable).
What to Plant
I like to plant a combination of annuals and perennials. Each year I add a few more perennials to the mix to save myself some time for next year. I also like to plant bulbs in the fall like tulips as it is always so exciting to see them come up in the spring (more on that in later posts).
Perennials: These are plants that come back every year (theoretically!). Living in a northern climate, some perennials don't survive the winter or require "winterization" at the end of the season such as covering in burlap or a bed of mulch to ensure they are insulated from the elements and can return next year.
Annuals: These will only last through the season (usually – some breeds have been known to re-seed themselves without notice!).  I like annuals because they allow me to change up my color scheme each year and are a great way to try something new with very little long-term commitment.
Planting Tip: Learning all of the plant and flower names can be really intimidating.  When planting something new, I always keep the tags from my disposable pots and stick them into the ground next to the plant so that each time I water, I see the plant name, helping me to memorize it!  You can also get cute little tags like these for herbs!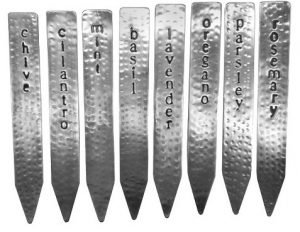 Color Choice
So many flowers come in varying colors and it's totally up to you if you want a full rainbow or if you choose to stay in the same palette throughout your outdoor space.  I like to buy really bright (almost neon) petunias for really sunny areas as the sun tends to bleach them mid-season.
Style
Personal style needs to be a part of this process as your outdoor space is an extension of your home.  I don't like clutter or too much mis-matching in general, and my garden is no exception to this.  However…I don't love to decorate with much pink, but my garden certainly lets me express my love for the color more than I would indoors.
Tip: I love to use tall grasses such as dracaena in the centre of my flower puts to create height and add interest.  In window boxes, I love flowers that spill over like a wave petunia.

Soil
It really makes a difference which soil you use in your pots and your flowerbeds.  I've had the best luck with Miracle Grow Moisture Control. I find the plants are more nourished and I don't have to water as often.  The additional price per bag is negligible when you see the benefits.
Tools
It's important to have the right tools to get your garden started.  See my post on Garden Tools of the Trade for more info.