For the last few years, TOMS has created a special collection for "Mow-vember" that features tiny moustaches on some of their classic designs.  Just as every product you purchase from TOMS gives back to something specific, 5% of the sales from each product is donated to The Mowvember Foundation to raise funds and awareness for men's health.
This year's collection features 3 styles of shoes for men, 2 shoe styles for women and 2 pairs of unisex sunglasses ($84 each, both in matte grey).  I love the herringbone print and tiny embroidered moustache on each shoe.  There is a slight variation to the herringbone mixes between the men's and women's styles and each features a really cute barbershop striped pattern inside.
Movember Herringbone Mix Paseos, $69 each – Men's & Women's


Movember Herringbone Mix Classics, $59 each – Men's & Women's


Movember Herringbone Mix Brogues, $98, Men's Only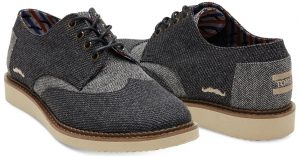 Shop the entire Movember Collection here!
Love This Post?
Subscribe to get posts like this delivered to your inbox every week