I have to admit that this winter was a little harder on my skin than previous seasons. I don't know if it's the extra dry climate of where I live (Calgary, Canada) or the colder temperatures but my skin was begging for revitalization.
When I was first approached by Vivier to give their products a try, I was really excited. First of all, they're a Canadian company that creates pharmaceutical-grade skin care products, which always excites me because I like to support Canadian businesses whenever possible. But besides that, there are a number of other features that I liked.
To start my new skin care regime with a fresh face, I visited Rejuvenation Dermatology & Aesthetics in Calgary for a Vivier Peel. There are a few different peel options available and a skin care consultant will help determine which is best for you. Never had a peel before? It is a pretty relaxing experience – similar to getting a facial!
The peel left my skin feeling fresh and rejuvenated (pun not intended), perfect for starting a new skin care routine! It also gave the skin care specialist an opportunity to try some of the Vivier products on my skin.
I want to note that as I'm currently pregnant, I did consult with my doctor before moving forward with the Vivier Peel once being given the green light. If you're trying to get pregnant or currently are, please do the same!
By now you know that packaging matters to me…and not just because I want my skin care to look pretty in flat lays and on Instagram. Skin care is something that we use every day and often keep on our bathroom vanities, so it's something you'll want to look nice. Vivier's packaging isn't just nice – it's quite luxurious (especially their jars).
My Vivier Skin Care Regime
Now let's talk about the important stuff – the products and their results. I tried five different products for my skin care regime. Each was selected by an experienced skin care professional at a local skin care clinic; she did an assessment of my skin, my lifestyle and my needs before making her recommendations. Here's what I tried:
What I loved about all of the products was the texture and the distinct lack of strong scents. I'm not someone who wants to smell my moisturizer on my skin all day and Vivier's products have a subtle scent at most. Each product seems formulated to go on smooth so you aren't pulling on your skin at all during application. It's also worth noting that a little goes a long way.
Before & After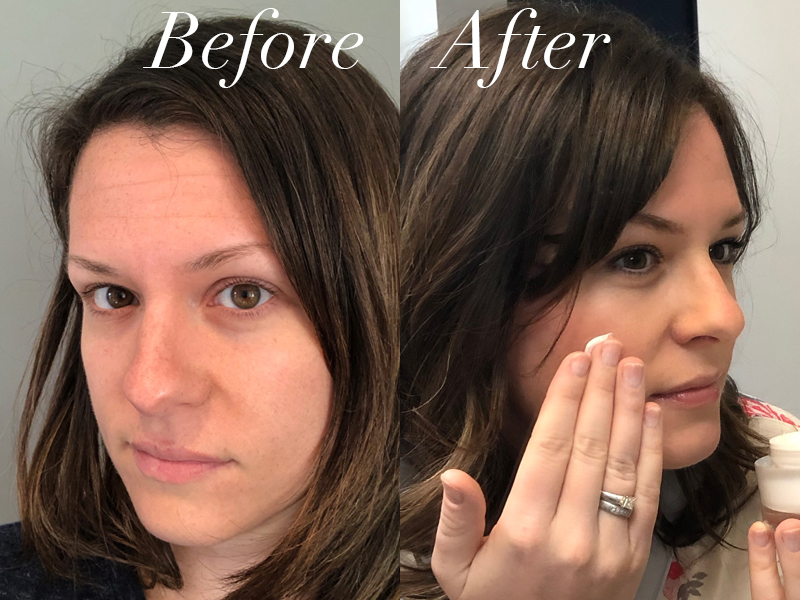 As you can see from the before and after picture above, the extra moisture made a huge difference in reducing my fine lines. I believe this is also because the Vivier Foaming Cleanser wasn't stripping the natural moisture from my skin either. The serum helped to boost my skin's natural radiance and glow when before it was feeling tired and dull. I'm also now more open to wearing a daily sunscreen to prevent any further sun damage.

Other Products
It's definitely worth noting that Vivier has an absolutely fantastic anti-aging skin care line. I wasn't able to give it a try due to potential ingredient concerns with my current pregnancy, however, once I'm through with breast feeding, I'd love to give them a try because I've heard nothing but stellar reviews from friends who've tried them!
If you're interested in learning more about Vivier or want to find a clinic or authorized online reseller to purchase their products, you can visit www.vivierskin.com.
Love This Post?
Subscribe to get posts like this delivered to your inbox every week