I am so excited to share my office gallery wall with you!  I had so much fun putting this together and feel like it is a small collection of self-expression in my home office.  I was able to use some inspiring art prints that I'd found, a wedding photo, an old shopping bag and more!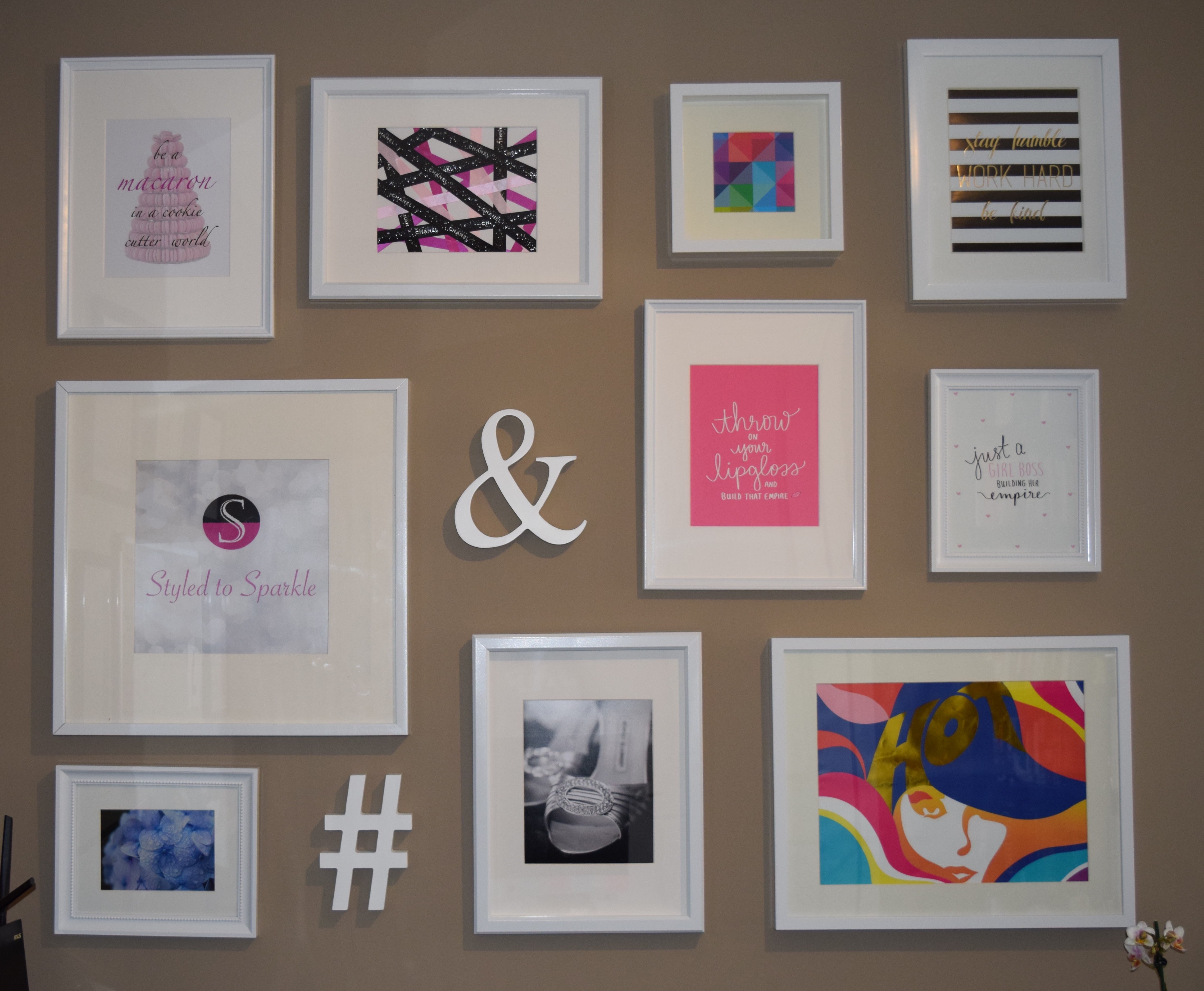 Layout:
Once I had established which frames and prints I was using, I measured out the area of my wall space on the floor (corners denoted by post-its) and played around with the layout until I decided on the final product (shown here).

Frames:
I used a variety of textures, sizes and styles of frames so to keep things a bit more cohesive, I spray painted them all the same shade of gloss white.
Frames & Artwork:
Print: "Be a macaron in a cookie cutter world" (my husband created this for me and I printed it at Costco)
Frame: KNOPPÄNG (20x25cm), $5.99, IKEA
Print: I made this 'print' using scrapbook tape and some pink, magenta and black Chanel satin ribbon.
Frame: GUNNABO (31x41cm), $9.99, IKEA
Print: Art card (NLA), 5 for $3, IKEA
Frame: RIBBA, white (23x23cm), $9.99, IKEA
Print: "Stay Humble, Work Hard, Be Kind" foil art print, $14.99, TJMaxx
Frame: This was a pre-framed print.
Print: Styled to Sparkle logo (printed at Costco)
Frame: RIBBA, white (50x50cm), $19.99, IKEA
Wall Letter: White Ampersand (NLA), $5.50, IndigoChapters
Print: "Throw on your lipgloss and build that empire" art print, $20.56, DaynaLee Collection
Frame: KNOPPÄNG (20x25cm), $5.99, IKEA
Print: "Just a girl boss building her empire" art print, $20.56, DaynaLee Collection
Frame: SÖNDRUM (20x25cm), $9.99, IKEA (mat removed)
Wall Letter: White Hash Tag (NLA), $5.50, IndigoChapters
Print: Manolo Blahnik Sederaby D'Orsay Sandals (my wedding shoes), photography by Martha Edwards.  I loved this photo from my wedding and have been waiting for the perfect spot to frame it for my home.
Frame: GUNNABO (31x41cm), $9.99, IKEA
Print: "Hot" shopping bag from Bloomingdales – I loved that I was able to include a colorful shopping bag that I'd saved from a few years ago.
Frame: RIBBA, white (41x51cm), $14.99, IKEA