This year marks my ten year wedding anniversary – I can hardly believe it! Almost ten years ago, my husband and I were married at the Riu Vallarta all-inclusive resort in Neuvo Vallarta, Mexico.
Over the past 10 years, we have been asked so.many.questions. about our wedding, what it was like to have a destination wedding, what we would have done differently and what we would still do, etc.
In this post I'm going to share all of this with you plus some of my favorite wedding photos! Keep scrolling!
---
On my most recent episode of The Real Girl Podcast I shared what I learned from my destination wedding. I though it would be good to have it all in written form (with pictures!) for you here, too!
You can listen to #TheRealGirlPodcast HERE!
If you like the podcast, please subscribe! I'm always sharing travel tips and tricks here that you might not find on the blog!
---
One of the trickiest things for us is that neither of us, nor our immediate family had ever been on an all-inclusive vacation before (I know, right?). Thankfully we had plenty of friends who had been, and we even had a close friend whose brother was married at the resort next to ours (within the same brand) the year before. But aside from that, we were flying blind – basing everything on TripAdvisor reviews and whatever limited information we could find online. Don't worry – you won't have to do that – I've got everything for you here!
Enter your email address below to unlock additional FREE content! Here's what you'll get:
Everything you need to know for planning your destination wedding!
The Advantages + Disadvantages of Destination Weddings.
All the legal details of getting married abroad – legal vs. symbolic ceremonies.
10 Must-Know Things For Planning a Destination Wedding.
What to consider when setting a date + sending out invites.
What to expect when meeting with your resort wedding planner + choosing the right wedding package.
The importance of choosing the right resort and what factors to consider when choosing the property.
Photographers: Use theirs or bring your own?
Decorations, how to incorporate traditions and everything in between.
After parties – yay or nay? Should you have one?
The Honeymoon! How To Extend Your Trip.
How To Be A Good Guest at a Destination Wedding!
---
My Regrets About My Destination Wedding
+ What I Would Do Differently
Of course we all look back at our weddings and think "what was I thinking about XYZ here?!" For instance, I hated my bridesmaid dresses and was never in love with the groomsmen's suits. However, I would wear the same dress, choose the same resort and the same photographer and the same food. P.S. Our cake was super delicious and I am still in love with our photos.
Would I wear the same dress if I got married today? No, but I'm also ten years older. But these are all things that you can ponder no matter where you get married.
Guest List: I would invite fewer people – I thought I wanted a larger wedding, but in all reality, 35 guests ended up feeling like a lot for those intimate moments at the end of the day.
I would have invited fewer people to our destination wedding and then potentially had a large after party immediately upon our return or early in the new year. I know we wanted to settle into married life, but we disappointed a lot of people. I know it's not about what everyone else wants, but I can't say I would have hated having another party.
Local Flare: I would have hired a mariachi band. We were in Mexico after all and adding something traditional from the area would have been a nice touch.
The Extras: I probably would have cared less about all of the details and stationary because at the end of the day, none of that really matters…but I guess try telling that to a 24 year old bride! Also, I got married before Pinterest (yes, there was such a time), so every idea I had came from Martha Stewart!
Major Takeaways
I felt like there weren't fewer things to consider with a destination wedding, as there is still a ton of planning and logistics to be considered – they're just different plans and logistics than a home town event.
I liked not having to coordinate caterers or florists because the resort had a wedding planner who did all of that for us – and that was all included in the cost of the wedding. I know that wedding planners aren't cheap, but having one handle all of that for us took a lot of stress off of our plates.
---
A Few of My Favorite Wedding Photos
So many of these photos are so artistic that we have them framed and hung throughout our home.
These were taken in the main lobby of our hotel.
Some of my favorite photos are of us getting ready…


And of course photos of the ceremony itself…

Some fun shots of the bridal party:
A Traditional Photo or Two…

I think this was the photo we sent out with our 'thank you' cards!
Cutting the cake…
And the reception…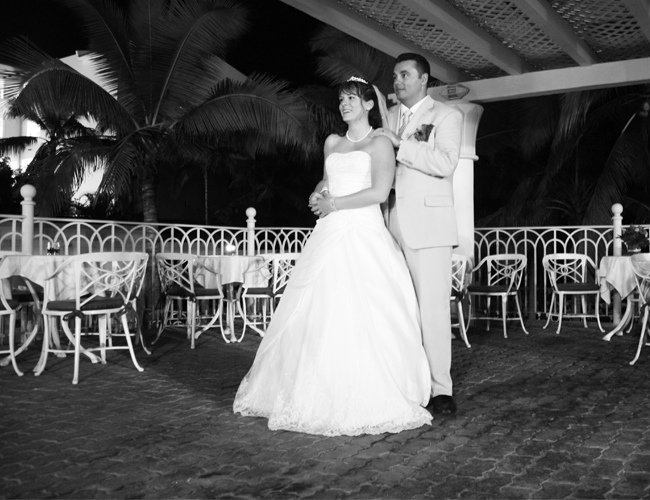 She was able to capture candid snapshots of our guests drinking and dancing and having a good time, too.
We also had some photos taken before our rehearsal dinner…
The Extra Elements: Our photographer was able to capture extra details like our wedding rings in my bouquet and the table scape at our reception…even a few extras of the resort!
---
I hope that this post has inspired your Destination Wedding or at least given you some ideas! If you think I've missed something or if you have any questions, feel free to reach out to me at info@styledtosparkle.com!
Photo Credits: Martha Edwards
Love This Post?
Subscribe to get posts like this delivered to your inbox every week