In my quest to find items that I love for baby, I had a few main goals: I wanted pieces that were soft, cozy and comfy. I wanted basics like sleepers and onesies that could be unisex that had snaps and zippers (no buttons please!). I also wanted non-seasonal pieces that would breathe well in any temperature. I went to several major retailers and baby boutiques and then I stumbled upon Kyte Baby.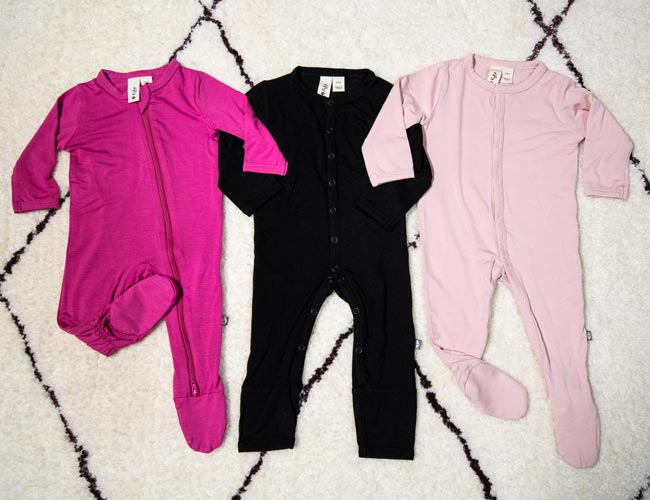 One touch of Kyte Baby's items and you will be in love! They are perhaps the softest baby clothes and linens that I have ever felt in my life. You can ask my husband: I tell this to everyone who even mentions Kyte Baby in my vicinity! (I might have a mild obsession)
Why Kyte Baby Is So Soft
Kyte Baby's items are so soft because they're made from bamboo! What I love about the fabric is that it is soft and more breathable than cotton. It also absorbs and evaporates humidity better than other fabrics. This to me is a clear winner for clothes and pjs but also for things like sleep sacks and bed linens.
If sustainability is something that is important to you (or a friend that you're buying a gift for), I'm sure you'll be happy to know that bamboo is among the most sustainable and eco friendly resources on the planet. This is a gift with a low carbon footprint!
Kyte Baby's Product Lineup
Kyte Baby offers basics for both baby and toddler that include onesies, pants, rompers, sleepers, and footies. They also offer hats, mittens and newborn layettes. They even offer toddler undies that are super soft and cute!
Items are available in classic soft neutrals, bold trendy colours and cute patterns, too! There's something for every taste.
One thing that Kyte Baby offers that is often hard to find with baby and kid's clothes is items in black. For whatever reason colours such as black and grey can be difficult to find for littles, but Kyte Baby offers it in many of their items.
Kyte Baby Nursery + More
If softness, breathability and style are important to you for baby's wardrobe, then they're likely just as important for sleep comfort, too! One of Kyte Baby's other lovely products are their sleep bags which are available in a variety of warmths (tog). These are cozy and incredibly soft and feature two-way zippers. You can also get them in "sleep walker" style!
Kyte Baby offers items for the nursery and swaddling – change pad covers, crib sheets, swaddle blankets, loveys and more! Also available are baby and adult bath robes, hooded towels and other bathing essentials such as brushes, natural sponges and wash cloths.
Why I Love Kyte Baby
I know I've talked a lot about the softness and breathability of Kyte Baby's products, but I love them for a few other reasons, too. I love any brand that I can shop online that has great shipping and returns. I also love that they carry sizing for toddlers, too, so just because my baby has grown doesn't mean that I can stop shopping their site for cozy items!
Want to get in on all the Kyte Baby goodness? Take 20% off your first order with Kyte Baby promo code: SPARKLE20