Patio season is almost upon us! I can't wait to fire up the pizza oven, open up the patio umbrella and whip up some fresh salads!
You might remember that a couple years ago we tore out our old stone patio and built a large, low-rise deck. We also built a wood-fired pizza oven to make Neapolitan-style pizzas (among other things). Now that all of the hard (and dirty!) work is done, it's time for the fun part: the furniture, accessories and finishing touches.
This year I am really inspired by all of the outdoor furniture, planters and dining items from Joss & Main. Okay, let's be honest, I think we all got a little addicted to their stuff from watching Property Brothers at Home: Drew's Honeymoon House (I know I definitely did!).
My Patio Vision
When I think of a patio party in my own backyard, I think of hosting pizza parties with our wood-fired pizza oven. I think of clean, basic dishes where the colors of the food can really shine alongside stemless flutes of Prosecco or mineral water.
I gravitate towards a neutral and classic color palette that allows me to add pops of color with napkins and fresh flowers. Of course you will see a ton of navy and white (I'm still me, after all!) but these gorgeous neutrals allow everything else to shine! Love patterns? Don't worry – I've included some gorgeous patterned and textured pieces that add additional depth to the color palette that I've chosen.
In this post, I'm going to take you through my vision of designing my patio space from the deck up! I hope that you find inspiration here for your own outdoor spaces. Don't worry – everything you see below is easily shopable by either clicking the links that you see or by clicking through the shopping guide at the bottom of the post!
Set The Stage
#1: The Garden: It's an Outdoor Space After All!
Large Square Planters: I love to have a few annual flowers in the backyard to change up the colors each year. These pots are perfect for framing the triple french doors on the back of our house with a pop of greenery.
Clay Wall Planter: I love growing fresh herbs each summer and this pot set is ideal for just that! The frame is easy to drill into one of our fence posts and the pots swing in and out for easy planting and watering. Plus, having them right beside the deck makes them easy access for summer salads and of course, pizza!
#2: The Furniture + Fixtures
Large Dining Table + Matching Chairs: We love entertaining and this particular table is extendable and comes with 8 chairs. It's classic, just modern enough in its design and is topped with a weather-resistant composite material.
Big, Bright Umbrella: The afternoon sun can get pretty toasty, so I find it important to have a large umbrella for some shade. I like this cantilever style because it adjusts to a ton of angles so you can follow the sun. It also means you don't require a table with an umbrella hole. I also find that an umbrella is the perfect item to have in a bright color, like this vibrant red! It just makes everything seem more summer-y and it plays so well with the blue, white and natural tones throughout the rest of the space.
Bar/Serving Cart On Casters: Yes, an outdoor bar space is always a great nice to have, but this one doubles as an outdoor kitchen for us. Pizzas cook in our wood-fired oven in less than 5 minutes, so it's ideal to have a workspace close to the action. It also allows my husband to interact with guests while making the pizza, rather than having to run in and out of the house for each one.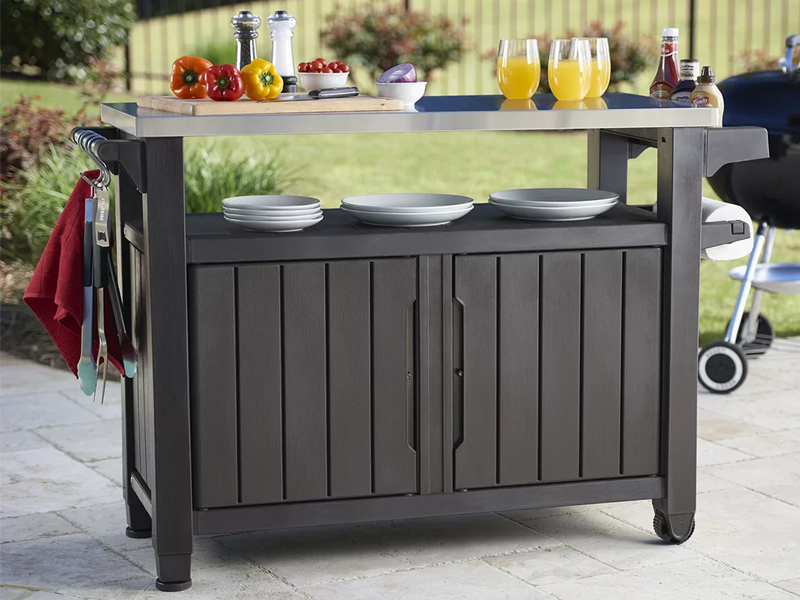 The stainless steel top is perfect for spreading pizza dough, or serving drinks! It also features a ton of sealed storage space, so it's great for keeping extra napkins, hand towels and bbq tools! Not to mention it's a great spot to store extra drinks and ice!
#3: Textile Touches
Patterned Area Rug: I love this giant rug for a few reasons: it defines the dining space on the deck, adds a great pop of color to an otherwise blandly neutral space and it provides a warm and soft rest for those bare feet! I love to be outside in bare feet – it's one of my favorite parts of summer. This rug keeps them feeling comfy while I'm on the deck! I chose an indoor/outdoor option because they're often of nicer quality than those strictly for outdoor use.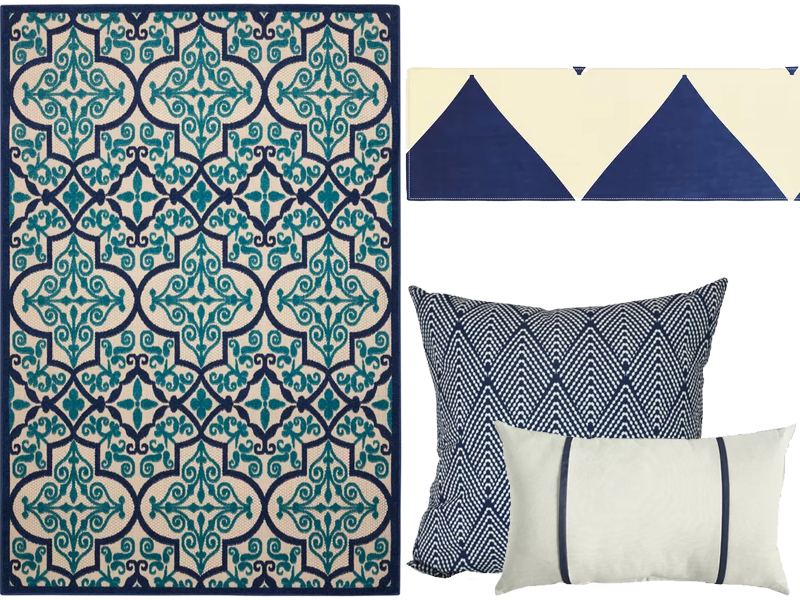 Fun Runner: I prefer a table runner vs. a table cloth. I've just always been that way! I like that a runner provides a designated area for the food, water pitchers and napkins to sit. Runners are also a great way to add some seasonal color to your table.
Comfy Pillows: I love pillows! I feel like it's the one place that I can run wild with pattern and texture. In this case, I opted for a mix of fun and basic in neutral shades as to not overwhelm the space. I also always try to look for Sunbrella fabric when choosing outdoor cushions and pillows because of their undeniable long-lasting quality.
#4: Additional Lighting
String Lights: There's something romantic about the glow from these globe string lights. We've already hung these in our backyard and the ambiance that they create is fantastic! Not to mention, they do put out a good amount of light for a glass of wine in the evening! P.S. These also hang nicely from pergolas and arbours!
Modern Lanterns: These cube pillar lanterns are a great way to add candlelight and ambiance in a modern way. They look great sitting on a table runner or on various corners of the deck to add some mood lighting.

For The Table
I always prefer white dishes so that the vibrant colors of the food are showcased on a clean backdrop. If I must add additional colors, I'll match as best I can to the existing aesthetic so that the food is still the star.
#1: Dining
Melamine Plates + Platters: Melamine is one of my favorite materials for outdoor dishes; it's super durable, lightweight and easy to clean. But these aren't your grandma's camping dishes!
Melamine dishes now come in a ton of really great shapes, patterns and shades that look like real stoneware and ceramics. I'm a huge fan of the ones shown above and can't wait to use them at my summer patio parties!

#2: Drinking
Stemware: I tend to dislike the formality of stemware at the best of times, but when it comes to the patio, I always opt for stemless flutes and wine glasses. Whether you're sipping spirits, bubbles or mineral water, a casual stemless glass is perfect.
Glassware: I prefer glassware to be clean, crisp and clear. I love how this set of drinking glasses comes with two sizes. That way, regardless of beverage choice, the table still looks cohesive.

#3: Serving
Stoneware: It's no secret that I love, love, love anything that Le Creuset makes and the items that I've selected here are no exception. These pieces not only add a French Provincial vibe to your table, they also serve a purpose! Like their cooking counterparts that hold heat for hours, these items help keep things cool on your summer table. I love this pitcher for ice water and this platter for keeping colorful salads or plates of burrata and tomatoes fresh!
P.S. Each of these Le Creuset items comes in variety of vibrant colors, if you prefer to add color to your table that way! Also – how great is the weight on this napkin holder?!
Tapas + Charcuterie: When it comes to appetizers and small plates, rather than mix in yet another platter, I opt for a cheeseboard with natural elements like marble or mango wood.
This tray of small bowls is perfect for nuts, olives and other tasty nibbles! Another way to use it is for mint leaves, berries and small pieces of fruit that can be added to sweeten cocktails and mineral water! (like the drinks shown above)
---
Shop The Look:
Furniture, Fixtures, Lighting, Textiles
Shop The Look:
Table Top, Serving, Dining
---
For more great inspo, head to Joss&Main to check out their other outdoor items!
Love This Post?
Subscribe to get posts like this delivered to your inbox every week