I know I say this every time Target does a designer collaboration, but I mean it with this one, too: you.will.want.everything! Hunter for Target arrives this week, so get ready!
Most of us know Hunter for their stylish rain boots, but this collaboration goes way further. It of course includes their iconic footwear as well as fashion for the whole family, bags and outdoor gear. Click any of the imagery below to shop! 
My Fave Looks From Hunter for Target
These are just a few of my favorite looks from the Hunter for Target collection. Which one is your favorite?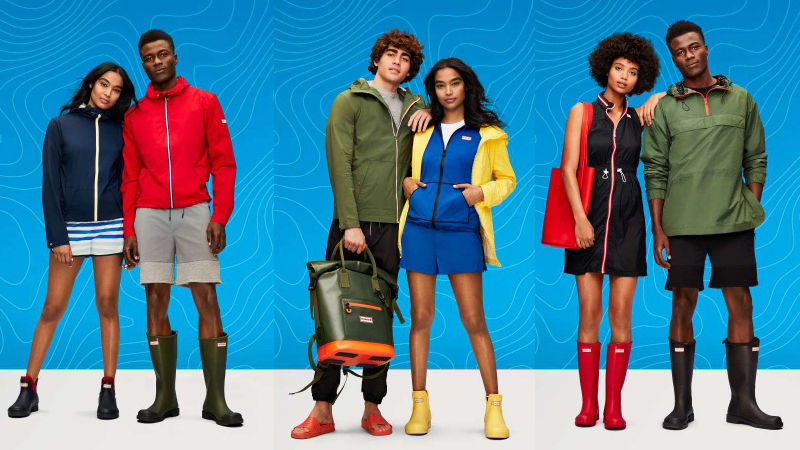 Items I'll Be Picking Up
This is such a great collection that I'll definitely be picking up a few items for myself! These pieces are here just in time for our late arriving Spring! (click titles to shop)
1. Duffle Bag ($54) – 2. Mesh A-Line Dress ($47)
3. Large Pouch ($12) – 4. Unisex Packable Raincoat ($55)
5. Rain Boots ($54) – 6. Boot Tray ($27) – 7. Wagon ($108)
Adorable Picks For Your Littles
Hunter can be a bit pricy, so what better way to pick up a few spring items and pairs of boots for your growing littles without breaking the bank! Have multiples? These items each come in a variety of colors, so there's no mixups! (click titles to shop)

1. Kids Packable Rain Coat ($40), Toddler Packable Rain Coat ($34)
2. Embossed Sweatshirt ($34)
3. Hooded Short Sleeve Romper ($40) – 4. Athletic Shorts ($27)
5. Toddler Rain Boot ($34), Kids Rain Boot ($40)
6. Satin Sport Skirt ($27) – 7. Performance Hoodie ($40)
8. Kids Rash Guard ($21) – 9. Performance Pleated Skirt ($27)
Gear & Accessories
---
Want Early Access?
Something that Target is offering this time around is that REDcard holders get early access to exclusive items online on April 7th!!! It will be available in stores to the rest of us from April 14 – June 14. (Want in? You can get your REDcard here)
Details from Target: Hunter for Target will be available in select Target stores and on Target.com beginning Saturday, April 14, through June 14, or while supplies last. Prices range from $5 to $80, with most items under $30, and will be offered in sizes XS-3X for women, S-XXL for men and 18M-XL for kids and toddlers. Want to get in on the REDcard early access on April 7? Apply for a REDcard, here!