What to pack for a trip can be a daunting task, especially if you've never been to wherever you're visiting. I'd never been to Japan before and I really wanted to make sure I packed appropriately. I wanted my outfits to be functional, casual but not too casual, and fashionable so that my photos were Instagram-worthy! I am a blogger after all…
It's easy to say "wear cotton" or "dress in layers" but those recommendations are so hopelessly vague that they offer little to no help. Aside from the SLR in my hands, I didn't want to look hopelessly like a tourist, either. If you're reading this, you likely know exactly what I mean.
Enter your email address below to unlock additional FREE content! Here's what you'll get:
A Detailed Guide of What To Pack For Japan + What To Wear In Japan
6 Things to Consider When Packing for Japan + Choosing Outfits To Wear In Japan
5 Things I Didn't Pack For Japan + What I Wouldn't Wear In Japan
My Capsule Wardrobe: What To Pack for Japan In The Spring
---
What I Wore In Japan In April:
7 Outfit Ideas For Your Trip
Click any of the titles to shop these outfits! 
Shop the Look: Skirt | Shirt | Bag | Sunglasses | Shoes
location: Osaka Castle Park, Osaka, Japan
Shop the Look: Tee | Pants | Shoes | Bag
location: Arashiyama Bamboo Grove, Kyoto Prefecture, Japan
Shop the Look: Dress | Shoes | Bag | Sunglasses
location: Ninenzaka near Kiyomizudera, Kyoto, Japan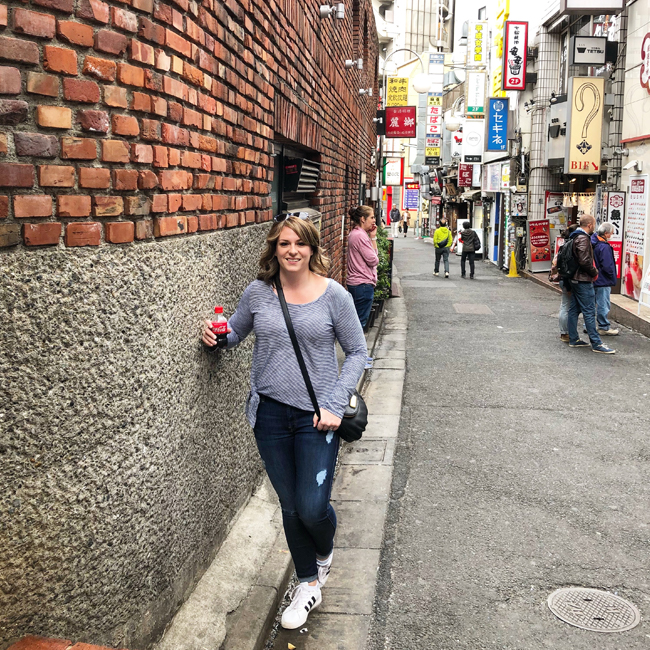 Shop the Look: Shirt | Jeans | Bag | Shoes | Sunglasses
location: Shibuya, Tokyo, Japan
Shop the Look: Dress | Shoes | Bag | Sunglasses
location: Sensō-ji Temple, Asakusa, Tokyo, Japan
Shop the Look: Shirt | Jeans | Bag | Sunglasses
location: Gion, Kyoto,  Japan
Shop the Look: Jacket | Jeans | Shirt | Bag
location: Golden Gai, Shinjuku, Tokyo, Japan
Shop HER Look: Jeans | Jacket | Bag | Shoes
Shop HIS Look: Jeans | Jacket | Shoes
location: Zenkō-ji Temple, Nagano, Japan